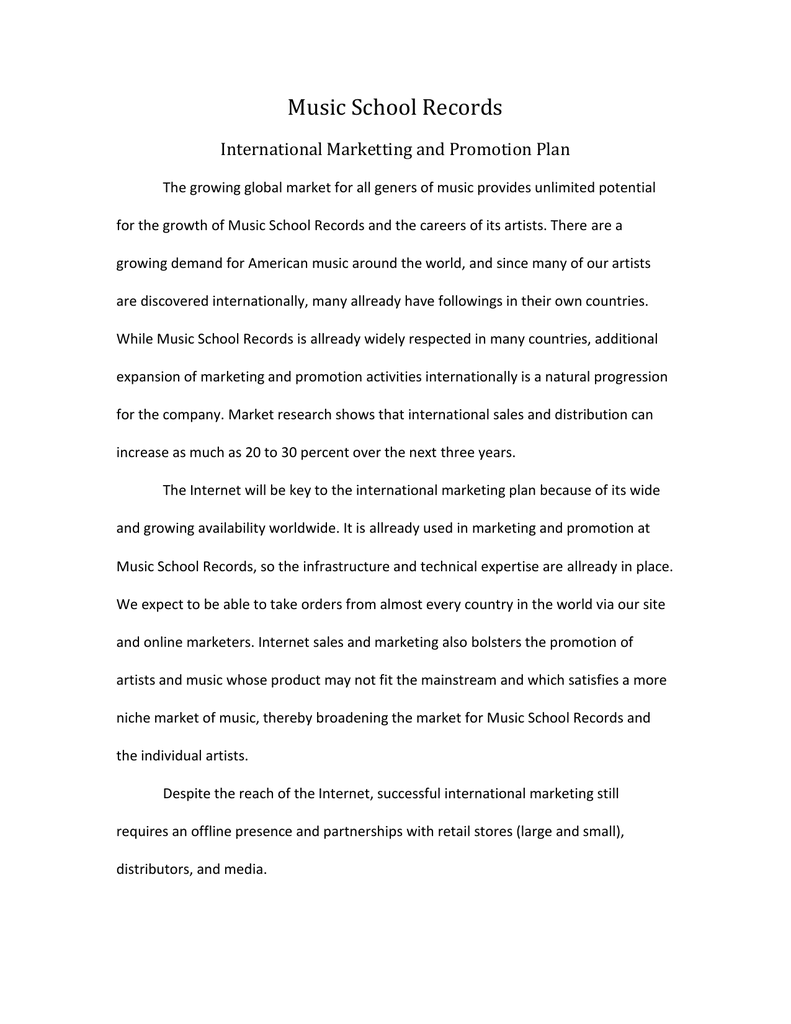 Music School Records
International Marketting and Promotion Plan
The growing global market for all geners of music provides unlimited potential
for the growth of Music School Records and the careers of its artists. There are a
growing demand for American music around the world, and since many of our artists
are discovered internationally, many allready have followings in their own countries.
While Music School Records is allready widely respected in many countries, additional
expansion of marketing and promotion activities internationally is a natural progression
for the company. Market research shows that international sales and distribution can
increase as much as 20 to 30 percent over the next three years.
The Internet will be key to the international marketing plan because of its wide
and growing availability worldwide. It is allready used in marketing and promotion at
Music School Records, so the infrastructure and technical expertise are allready in place.
We expect to be able to take orders from almost every country in the world via our site
and online marketers. Internet sales and marketing also bolsters the promotion of
artists and music whose product may not fit the mainstream and which satisfies a more
niche market of music, thereby broadening the market for Music School Records and
the individual artists.
Despite the reach of the Internet, successful international marketing still
requires an offline presence and partnerships with retail stores (large and small),
distributors, and media.
Most of the large media companies have a global presence, so alliances with
them will be a major push in the international marketing plan. Small companies, some
of which may only do business in one company or one region, will also be important,
however. Several teams will be put in place to develop relationships and sign contracts
with these various types of companies. We will be looking for companies with proven
records of success in marketing young musicians in a variety of genres. Teams will also
develop contacts by attending conferences such as:
 MIDEM
 MIPCOM
 MIPTV
 Millenium Music Conference
 Canadian Music Week
 Billboard MECCA
 What Teens Want
 The Music Upfront
Music School Records' financial team will be responsible for monitoring
international economic trends that may affect the business. Political events, economic
situations, and any number of unforeseen events that are impossible to plan for can put
pressure on the music industry and adversely impact business; however, they can also
lead to growth in new and emerging markets. Additional resources will need to be
focused on international economic research.
International distribution strategies will include:
 Licensing – Music School Records will provide master recordings to licensor
from which copies will be made for distribution and promotion.
Compensation paid to licensors will generally be an advance against local
sales figures.
 Exporting – Music School Records will ship finished recordings to an
international distributor. Price will be set to allow a reasonable profit after
manufacturing costs.
 Joint ventures – Allows Music School Records more control over
manufacturing, marketing, and distribution internationally and results in
access to additional resources and shared costs.
The financial team will also be responsible for monitoring and accounting for
international royalties, sources of which may include:
 Performance royalties
 Recording royalties for international sales
 Artist royalties for international recording sales
 Artist royalties for international merchandise sales
International touring will also play a large role in the international marketing
of Music School Records' artists. Many allready have followings internationally and
are comfortable with worldwide touring. Resources such as international agents,
international sub-agents of domestic agencies, and large domestic agencies with a
wide global presence will be used. Any international agents will be expected to
generate ticket sales through promotional and marketing techniques appropriate to
the local market.