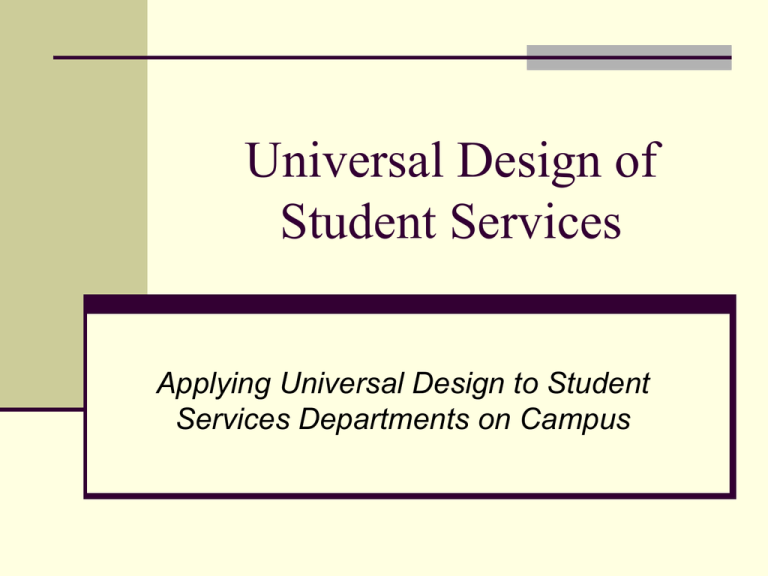 Universal Design of
Student Services
Applying Universal Design to Student
Services Departments on Campus
Our Goal in Student Services
 Ensure that everyone who needs to use our
service can do so comfortably and efficiently.
 Our staff want to ensure that everyone feels
welcome and can




get to the facility and maneuver within it;
communicate effectively with support staff;
access printed materials and electronic
resources;
fully participate in events and other activities.
Universal Design
 Thinking proactively about the types of
students we serve and how they will access
our programs and resources is universal
design.
 Universal design is "the design of products
and environments to be usable by all people,
to the greatest extent possible, without the
need for adaptation or specialized design
(The Center for Universal Design)
Universal Design is a Process
Identify the Service
Define the Universe
Involve Consumers
Adopt
Guidelines/Standards
Apply
Guidelines/Standards
Plan for Accommodations
Train and Support
Evaluate
Identify the Service
 Within your area, what specific services do
you offer for students?





Counseling?
Class registration?
Application for financial aid?
Links to outside resources?
Opportunities for campus involvement?
Define the Universe
 What types of students do you serve? What
are their characteristics? Consider things like:






Gender
Age
Disability
Ethnicity and race
Native language
Level of general "college knowledge"
Involve Consumers
 How do you gain information about what
works and what students need? Consider:


Soliciting feedback from a diverse group of
students when designing new programs and
services
Creating opportunities for ongoing feedback
and evaluation from students using your
services – be prepared to make changes
based on feedback!
Adopt and Apply Guidelines and
Standards
 Don't feel like you have to reinvent the wheel!


Check out what other student services
departments on campus are doing that is
working well
Gain ideas from other campuses by talking to
staff or visiting their programs
 Integrate the principles of universal design
along with the other best practices you find
Plan for Accommodations
 Implementing universal design minimizes the
need for accommodations but there will still
be times when accommodations are
necessary.
 BE PREPARED!


Make sure your staff know how to respond to
accommodation requests and do so in a timely
matter
Keep a resources list handy so staff know who
to contact and how to refer students
Train and Support
 Talk with your staff about the value of
diversity and the make sure they are
equipped to answer questions and provide
good customer service to ALL students
 Providing ongoing training and reinforcement
of best practices based on the unique
situations in your office
Evaluation
 Think about the design of your evaluation tool
as well as the population you receive
feedback from


Provide multiple, accessible ways for
individuals to give feedback about services
and service delivery
Solicit feedback from a diverse population that
represents both service users and staff
Think "Big Picture"
 Planning, policies and evaluation

Consider diversity issues in planning and
evaluating services and in the procurement
process
 Physical environments and products

Ensure physical access, comfort, and safety in
an environment that is welcoming
 Staff

Prepare staff to work with all students
Think "Big Picture"
 Information resources and technology

Make publications, websites, and technology
resources accessible
 Events

Ensure everyone can participate in events and
clearly publicize the process for requesting
accommodations
Don't Wait! Start Now!
 Universal Design is a process and is
measured on a continuum.


Start small – pick one program or service area
to research and develop an implementation
plan
Continue to build on the programs and
strategies you find to be most effective.