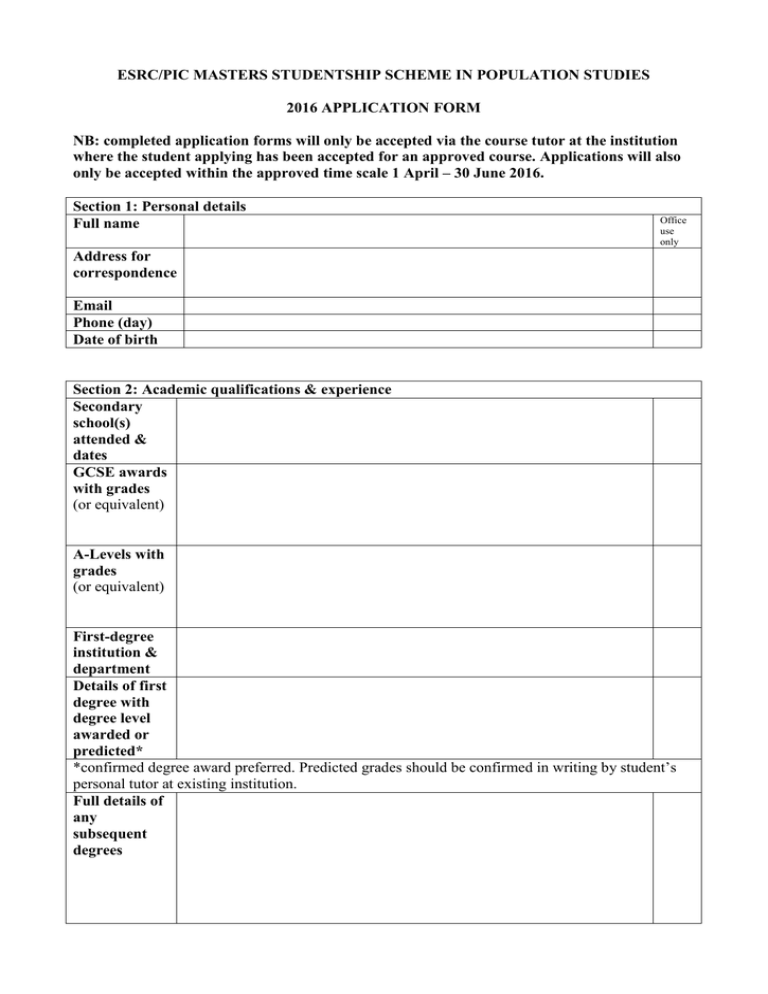 ESRC/PIC MASTERS STUDENTSHIP SCHEME IN POPULATION STUDIES
2016 APPLICATION FORM
NB: completed application forms will only be accepted via the course tutor at the institution
where the student applying has been accepted for an approved course. Applications will also
only be accepted within the approved time scale 1 April – 30 June 2016.
Section 1: Personal details
Full name
Office
use
only
Address for
correspondence
Email
Phone (day)
Date of birth
Section 2: Academic qualifications & experience
Secondary
school(s)
attended &
dates
GCSE awards
with grades
(or equivalent)
A-Levels with
grades
(or equivalent)
First-degree
institution &
department
Details of first
degree with
degree level
awarded or
predicted*
*confirmed degree award preferred. Predicted grades should be confirmed in writing by student's
personal tutor at existing institution.
Full details of
any
subsequent
degrees
Relevant
demographic
experience –
please give
full details of
any previous
demographic
training or
training that
you feel is
relevant to
this
application
Quantitative
and/or
qualitative
experience –
please give
details of any
previous
training in
quantitative
or qualitative
methods
Relevant
work
experience –
in as much
detail as
practicable.
Section 3: Proposed training
Institution &
Department
Full title of
proposed
Masters
programme
Full-time one
year or parttime twoyear?
Planned
modules –
please list if
known
Research
topic (if
known) or
main
research
interests**
** it is appreciated that research topics may well not be known at this stage, in which case a listing
of the student's current research interests should be included.
Section 4: Personal statement & future plans
Details of why
you are
applying for a
scholarship to
study
population
issues:
personal
statement
(please give as
much
information as
possible about
your interests
in the field up
to a maximum
of 2 x A4
pages,
including the
reasons why
you consider
yourself a
suitable
candidate for a
Scholarship.)
Future plans:
please indicate
if you propose
to go on to
study for a
PhD or your
future plans at
this stage***
*** It is appreciated that candidates may well not know at this stage if they propose to continue to
PhD level. However, some indication of how candidates see their future career developing would be
welcome and will be taken into consideration. .
Residential criteria: Scholarships will only be awarded to students who are normally UK resident
or EU students meeting standard ESRC eligibility requirements. In particular, rather than being
based on British nationality as previously, all candidates should have settled status in the UK and
have been ordinarily resident here for at least three years. Residence in the UK as a full-time student
does not qualify non-EU nationals for an award. Institutions applying on behalf of candidates are
responsible for ensuring that the residential criteria are fulfilled.
ESRC residential criteria can be accessed here
Confirmation of eligibility Yes / No (please delete as appropriate)
I confirm that all information given in this application is correct to the best of my knowledge:
Signature:
Date:
Print name:
All applications must be accompanied by two references, preferably from people able to
comment on your academic ability and potential. It is strongly recommended that your
previous undergraduate tutor(s) supply a reference if possible. Alternatively, prospective
tutors may comment on prospective student's suitability, as may previous employers. Please
give names, posts, and institutional positions of your two referees below
Referee name
Post
Institutional position
A full CV may also be attached to this application form.
The decision of the PIC/ESRC Scholarship Committee is final and there is no appeal again this
decision.