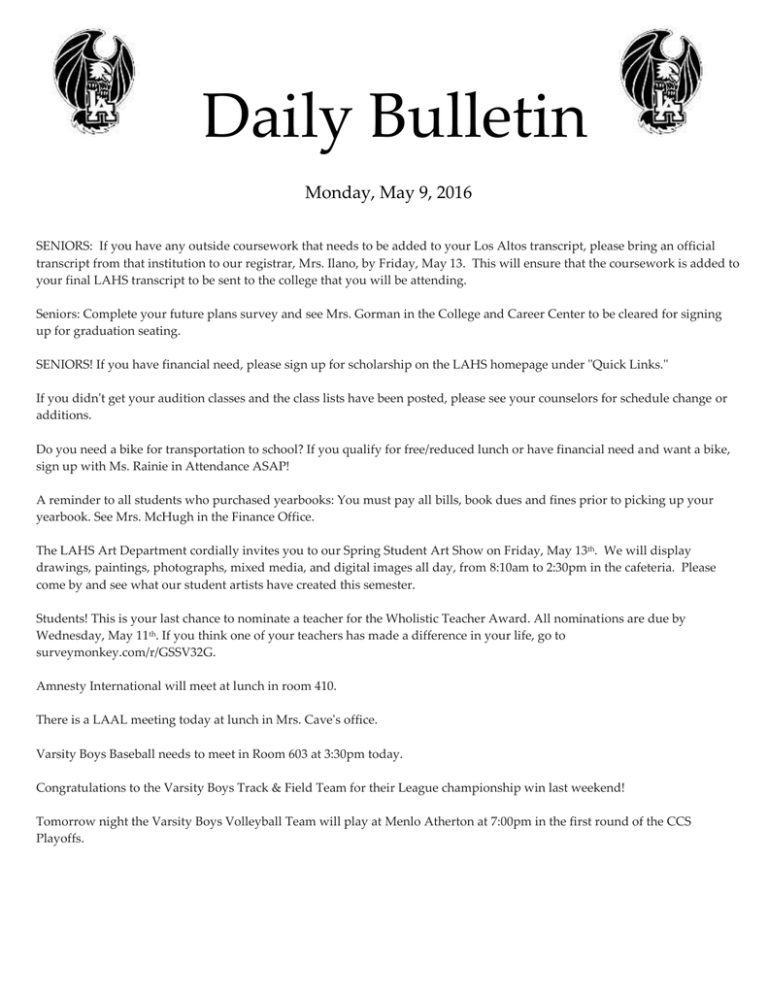 Daily Bulletin
Monday, May 9, 2016
SENIORS: If you have any outside coursework that needs to be added to your Los Altos transcript, please bring an official
transcript from that institution to our registrar, Mrs. Ilano, by Friday, May 13. This will ensure that the coursework is added to
your final LAHS transcript to be sent to the college that you will be attending.
Seniors: Complete your future plans survey and see Mrs. Gorman in the College and Career Center to be cleared for signing
up for graduation seating.
SENIORS! If you have financial need, please sign up for scholarship on the LAHS homepage under "Quick Links."
If you didn't get your audition classes and the class lists have been posted, please see your counselors for schedule change or
additions.
Do you need a bike for transportation to school? If you qualify for free/reduced lunch or have financial need and want a bike,
sign up with Ms. Rainie in Attendance ASAP!
A reminder to all students who purchased yearbooks: You must pay all bills, book dues and fines prior to picking up your
yearbook. See Mrs. McHugh in the Finance Office.
The LAHS Art Department cordially invites you to our Spring Student Art Show on Friday, May 13th. We will display
drawings, paintings, photographs, mixed media, and digital images all day, from 8:10am to 2:30pm in the cafeteria. Please
come by and see what our student artists have created this semester.
Students! This is your last chance to nominate a teacher for the Wholistic Teacher Award. All nominations are due by
Wednesday, May 11th. If you think one of your teachers has made a difference in your life, go to
surveymonkey.com/r/GSSV32G.
Amnesty International will meet at lunch in room 410.
There is a LAAL meeting today at lunch in Mrs. Cave's office.
Varsity Boys Baseball needs to meet in Room 603 at 3:30pm today.
Congratulations to the Varsity Boys Track & Field Team for their League championship win last weekend!
Tomorrow night the Varsity Boys Volleyball Team will play at Menlo Atherton at 7:00pm in the first round of the CCS
Playoffs.