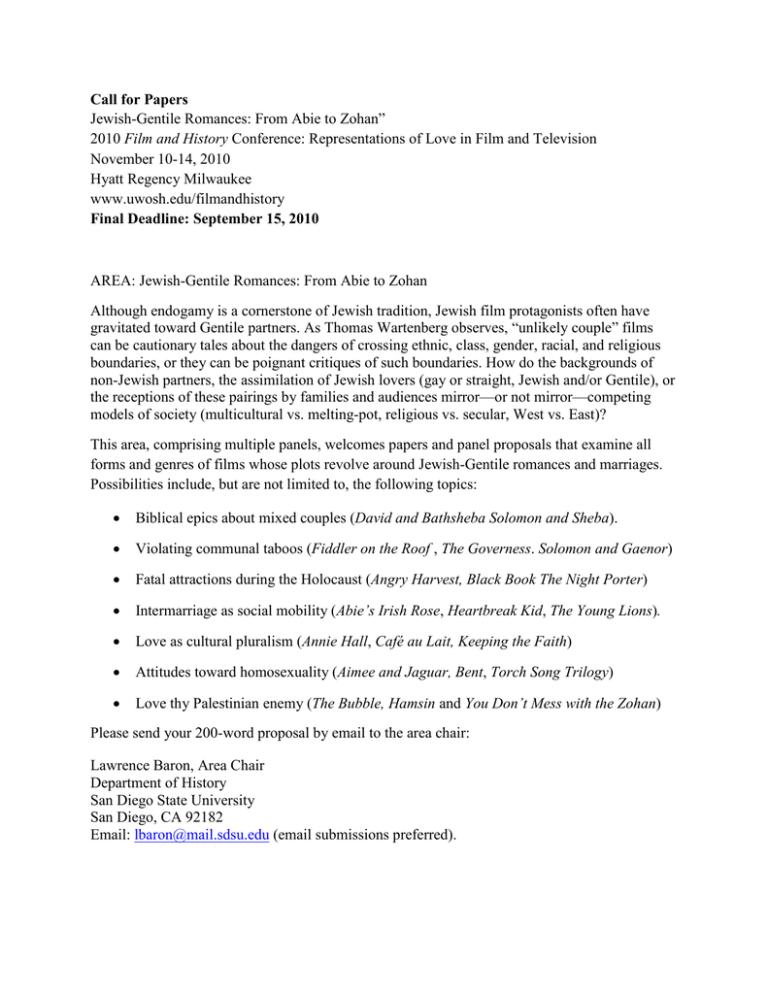 Call for Papers
Jewish-Gentile Romances: From Abie to Zohan"
2010 Film and History Conference: Representations of Love in Film and Television
November 10-14, 2010
Hyatt Regency Milwaukee
www.uwosh.edu/filmandhistory
Final Deadline: September 15, 2010
AREA: Jewish-Gentile Romances: From Abie to Zohan
Although endogamy is a cornerstone of Jewish tradition, Jewish film protagonists often have
gravitated toward Gentile partners. As Thomas Wartenberg observes, "unlikely couple" films
can be cautionary tales about the dangers of crossing ethnic, class, gender, racial, and religious
boundaries, or they can be poignant critiques of such boundaries. How do the backgrounds of
non-Jewish partners, the assimilation of Jewish lovers (gay or straight, Jewish and/or Gentile), or
the receptions of these pairings by families and audiences mirror—or not mirror—competing
models of society (multicultural vs. melting-pot, religious vs. secular, West vs. East)?
This area, comprising multiple panels, welcomes papers and panel proposals that examine all
forms and genres of films whose plots revolve around Jewish-Gentile romances and marriages.
Possibilities include, but are not limited to, the following topics:

Biblical epics about mixed couples (David and Bathsheba Solomon and Sheba).

Violating communal taboos (Fiddler on the Roof , The Governess. Solomon and Gaenor)

Fatal attractions during the Holocaust (Angry Harvest, Black Book The Night Porter)

Intermarriage as social mobility (Abie's Irish Rose, Heartbreak Kid, The Young Lions).

Love as cultural pluralism (Annie Hall, Café au Lait, Keeping the Faith)

Attitudes toward homosexuality (Aimee and Jaguar, Bent, Torch Song Trilogy)

Love thy Palestinian enemy (The Bubble, Hamsin and You Don't Mess with the Zohan)
Please send your 200-word proposal by email to the area chair:
Lawrence Baron, Area Chair
Department of History
San Diego State University
San Diego, CA 92182
Email: [email protected] (email submissions preferred).
Panel proposals for up to four presenters are also welcome, but each presenter must submit his or
her own paper proposal. For updates and registration information about the upcoming meeting,
see the Film and History Website (www.uwosh.edu/filmandhistory).