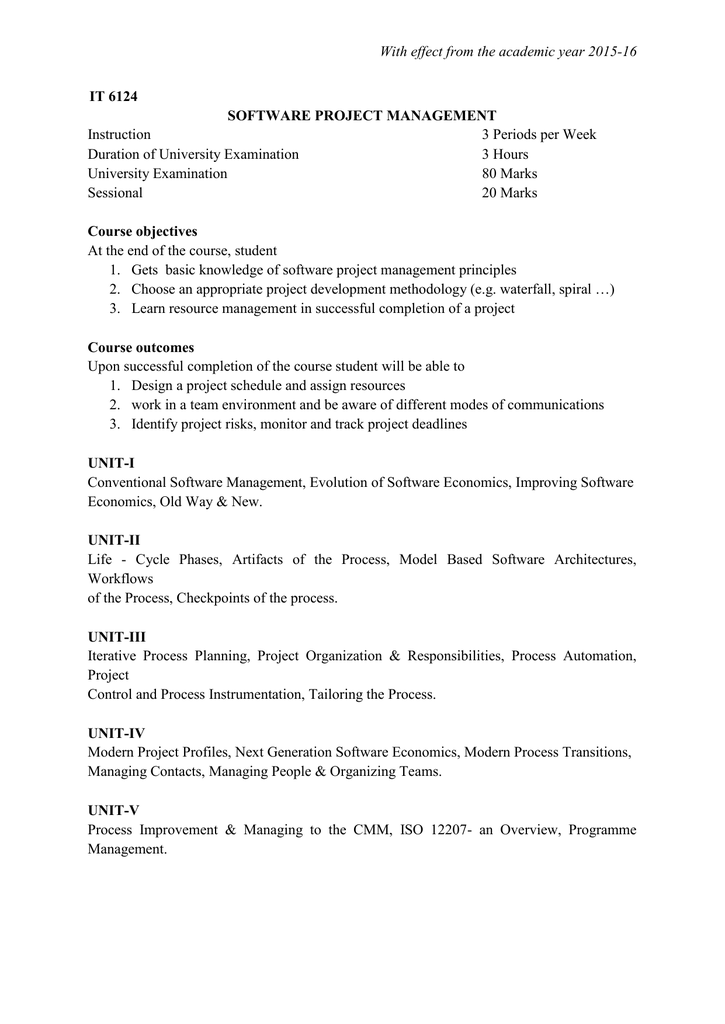 With effect from the academic year 2015-16
IT 6124
SOFTWARE PROJECT MANAGEMENT
Instruction
3 Periods per Week
Duration of University Examination
3 Hours
University Examination
80 Marks
Sessional
20 Marks
Course objectives
At the end of the course, student
1. Gets basic knowledge of software project management principles
2. Choose an appropriate project development methodology (e.g. waterfall, spiral …)
3. Learn resource management in successful completion of a project
Course outcomes
Upon successful completion of the course student will be able to
1. Design a project schedule and assign resources
2. work in a team environment and be aware of different modes of communications
3. Identify project risks, monitor and track project deadlines
UNIT-I
Conventional Software Management, Evolution of Software Economics, Improving Software
Economics, Old Way & New.
UNIT-II
Life - Cycle Phases, Artifacts of the Process, Model Based Software Architectures,
Workflows
of the Process, Checkpoints of the process.
UNIT-III
Iterative Process Planning, Project Organization & Responsibilities, Process Automation,
Project
Control and Process Instrumentation, Tailoring the Process.
UNIT-IV
Modern Project Profiles, Next Generation Software Economics, Modern Process Transitions,
Managing Contacts, Managing People & Organizing Teams.
UNIT-V
Process Improvement & Managing to the CMM, ISO 12207- an Overview, Programme
Management.
With effect from the academic year 2015-16
Suggested Reading:
1) Walker Royce, "Software Project Management - A Unified frame work", Pearson
Education,
Addision.
2) Bob Hughes, MilkeCotterell- "Software Project Management", Tata McGraw Hill, 3rd
Edition.
3) Watt S. Humphery, "Managing Software Process", Addison - Wesley, 1998.