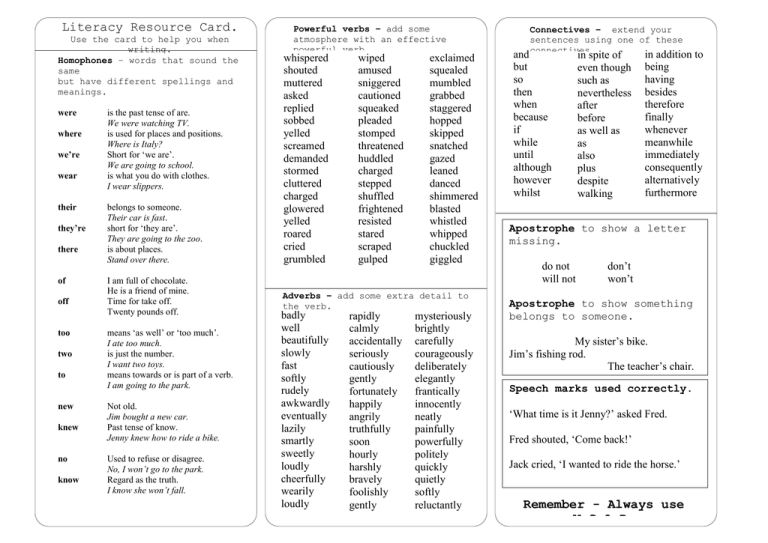 Literacy Resource Card.
Use the card to help you when
writing.
Homophones – words that sound the
same
but have different spellings and
meanings.
were
where
we're
wear
their
they're
there
of
off
too
two
to
new
knew
no
know
is the past tense of are.
We were watching TV.
is used for places and positions.
Where is Italy?
Short for 'we are'.
We are going to school.
is what you do with clothes.
I wear slippers.
belongs to someone.
Their car is fast.
short for 'they are'.
They are going to the zoo.
is about places.
Stand over there.
I am full of chocolate.
He is a friend of mine.
Time for take off.
Twenty pounds off.
means 'as well' or 'too much'.
I ate too much.
is just the number.
I want two toys.
means towards or is part of a verb.
I am going to the park.
Not old.
Jim bought a new car.
Past tense of know.
Jenny knew how to ride a bike.
Used to refuse or disagree.
No, I won't go to the park.
Regard as the truth.
I know she won't fall.
Powerful verbs – add some
atmosphere with an effective
powerful verb.
whispered
shouted
muttered
asked
replied
sobbed
yelled
screamed
demanded
stormed
cluttered
charged
glowered
yelled
roared
cried
grumbled
wiped
amused
sniggered
cautioned
squeaked
pleaded
stomped
threatened
huddled
charged
stepped
shuffled
frightened
resisted
stared
scraped
gulped
exclaimed
squealed
mumbled
grabbed
staggered
hopped
skipped
snatched
gazed
leaned
danced
shimmered
blasted
whistled
whipped
chuckled
giggled
Adverbs – add some extra detail to
the verb.
badly
well
beautifully
slowly
fast
softly
rudely
awkwardly
eventually
lazily
smartly
sweetly
loudly
cheerfully
wearily
loudly
rapidly
calmly
accidentally
seriously
cautiously
gently
fortunately
happily
angrily
truthfully
soon
hourly
harshly
bravely
foolishly
gently
mysteriously
brightly
carefully
courageously
deliberately
elegantly
frantically
innocently
neatly
painfully
powerfully
politely
quickly
quietly
softly
reluctantly
Connectives – extend your
sentences using one of these
connectives.
and
but
so
then
when
because
if
while
until
although
however
whilst
in spite of
even though
such as
nevertheless
after
before
as well as
as
also
plus
despite
walking
in addition to
being
having
besides
therefore
finally
whenever
meanwhile
immediately
consequently
alternatively
furthermore
Apostrophe to show a letter
missing.
do not
will not
don't
won't
Apostrophe to show something
belongs to someone.
My sister's bike.
Jim's fishing rod.
The teacher's chair.
Speech marks used correctly.
'What time is it Jenny?' asked Fred.
Fred shouted, 'Come back!'
Jack cried, 'I wanted to ride the horse.'
Remember - Always use
V.C.O.P.