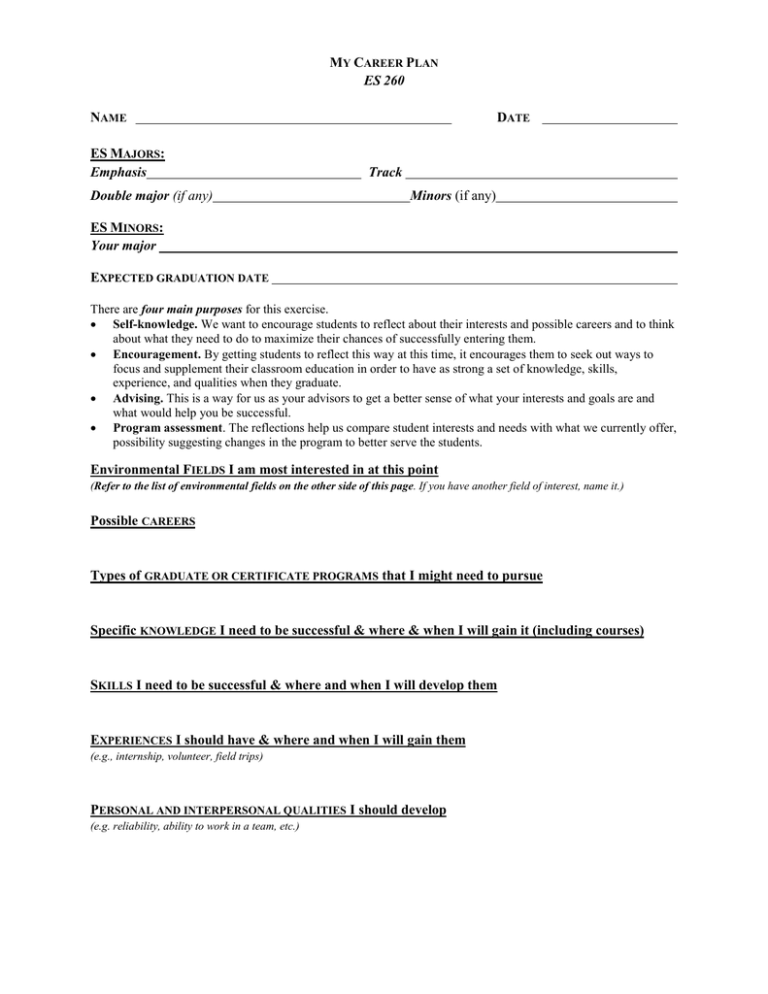 MY CAREER PLAN
ES 260
NAME
ES MAJORS:
Emphasis
Double major (if any)
DATE
Track
Minors (if any)
ES MINORS:
Your major
EXPECTED GRADUATION DATE
There are four main purposes for this exercise.
 Self-knowledge. We want to encourage students to reflect about their interests and possible careers and to think
about what they need to do to maximize their chances of successfully entering them.
 Encouragement. By getting students to reflect this way at this time, it encourages them to seek out ways to
focus and supplement their classroom education in order to have as strong a set of knowledge, skills,
experience, and qualities when they graduate.
 Advising. This is a way for us as your advisors to get a better sense of what your interests and goals are and
what would help you be successful.
 Program assessment. The reflections help us compare student interests and needs with what we currently offer,
possibility suggesting changes in the program to better serve the students.
Environmental FIELDS I am most interested in at this point
(Refer to the list of environmental fields on the other side of this page. If you have another field of interest, name it.)
Possible CAREERS
Types of GRADUATE OR CERTIFICATE PROGRAMS that I might need to pursue
Specific KNOWLEDGE I need to be successful & where & when I will gain it (including courses)
SKILLS I need to be successful & where and when I will develop them
EXPERIENCES I should have & where and when I will gain them
(e.g., internship, volunteer, field trips)
PERSONAL AND INTERPERSONAL QUALITIES I should develop
(e.g. reliability, ability to work in a team, etc.)
FIELDS FOR ENVIRONMENTAL STUDIES MAJORS
Conservation Biology / Field Ecology
Conservation Warden
Environmental Advocacy
Environmental Business Management
Environmental Chemist / Toxicologist
Environmental Communication
Environmental Education / Interpretation
Environmental Geologist
Environmental Journalism
Environmental Law
Environmental Policy
Fisheries and Limnology
Geographic Information Systems
International Relations & Global Environmental Politics
Land Use Planning
Natural Resource Management
Park Ranger
Sustainable farming
Wildlife Management
If you see yourself in a field that is not listed above, please name and explain it.