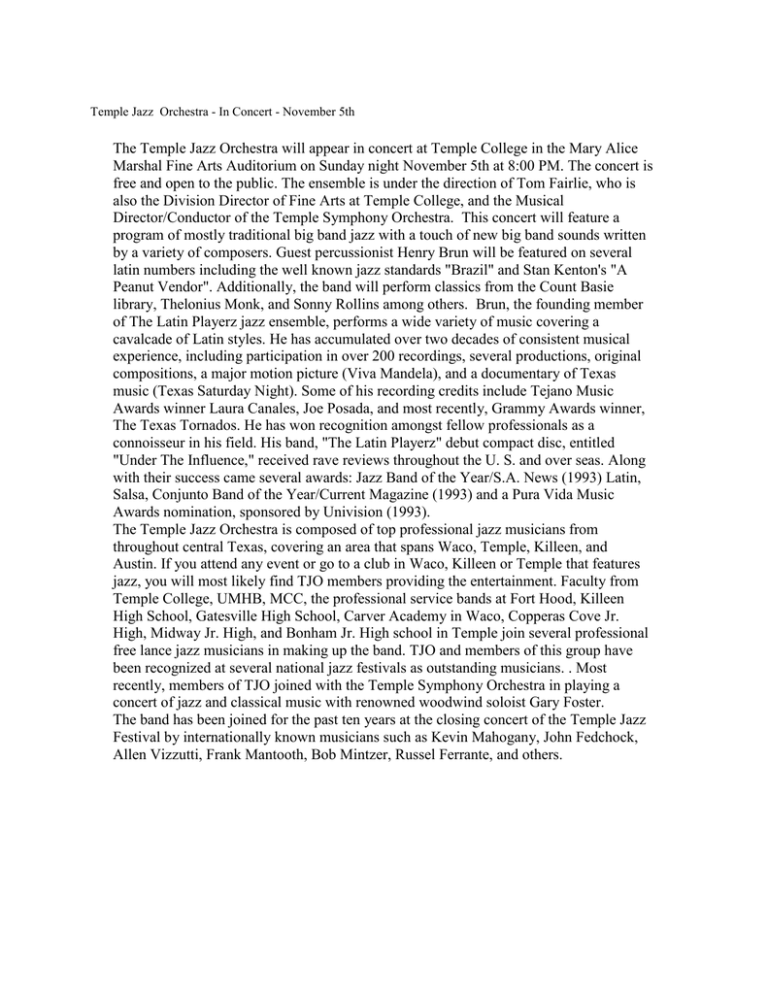 Temple Jazz Orchestra - In Concert - November 5th
The Temple Jazz Orchestra will appear in concert at Temple College in the Mary Alice
Marshal Fine Arts Auditorium on Sunday night November 5th at 8:00 PM. The concert is
free and open to the public. The ensemble is under the direction of Tom Fairlie, who is
also the Division Director of Fine Arts at Temple College, and the Musical
Director/Conductor of the Temple Symphony Orchestra. This concert will feature a
program of mostly traditional big band jazz with a touch of new big band sounds written
by a variety of composers. Guest percussionist Henry Brun will be featured on several
latin numbers including the well known jazz standards "Brazil" and Stan Kenton's "A
Peanut Vendor". Additionally, the band will perform classics from the Count Basie
library, Thelonius Monk, and Sonny Rollins among others. Brun, the founding member
of The Latin Playerz jazz ensemble, performs a wide variety of music covering a
cavalcade of Latin styles. He has accumulated over two decades of consistent musical
experience, including participation in over 200 recordings, several productions, original
compositions, a major motion picture (Viva Mandela), and a documentary of Texas
music (Texas Saturday Night). Some of his recording credits include Tejano Music
Awards winner Laura Canales, Joe Posada, and most recently, Grammy Awards winner,
The Texas Tornados. He has won recognition amongst fellow professionals as a
connoisseur in his field. His band, "The Latin Playerz" debut compact disc, entitled
"Under The Influence," received rave reviews throughout the U. S. and over seas. Along
with their success came several awards: Jazz Band of the Year/S.A. News (1993) Latin,
Salsa, Conjunto Band of the Year/Current Magazine (1993) and a Pura Vida Music
Awards nomination, sponsored by Univision (1993).
The Temple Jazz Orchestra is composed of top professional jazz musicians from
throughout central Texas, covering an area that spans Waco, Temple, Killeen, and
Austin. If you attend any event or go to a club in Waco, Killeen or Temple that features
jazz, you will most likely find TJO members providing the entertainment. Faculty from
Temple College, UMHB, MCC, the professional service bands at Fort Hood, Killeen
High School, Gatesville High School, Carver Academy in Waco, Copperas Cove Jr.
High, Midway Jr. High, and Bonham Jr. High school in Temple join several professional
free lance jazz musicians in making up the band. TJO and members of this group have
been recognized at several national jazz festivals as outstanding musicians. . Most
recently, members of TJO joined with the Temple Symphony Orchestra in playing a
concert of jazz and classical music with renowned woodwind soloist Gary Foster.
The band has been joined for the past ten years at the closing concert of the Temple Jazz
Festival by internationally known musicians such as Kevin Mahogany, John Fedchock,
Allen Vizzutti, Frank Mantooth, Bob Mintzer, Russel Ferrante, and others.