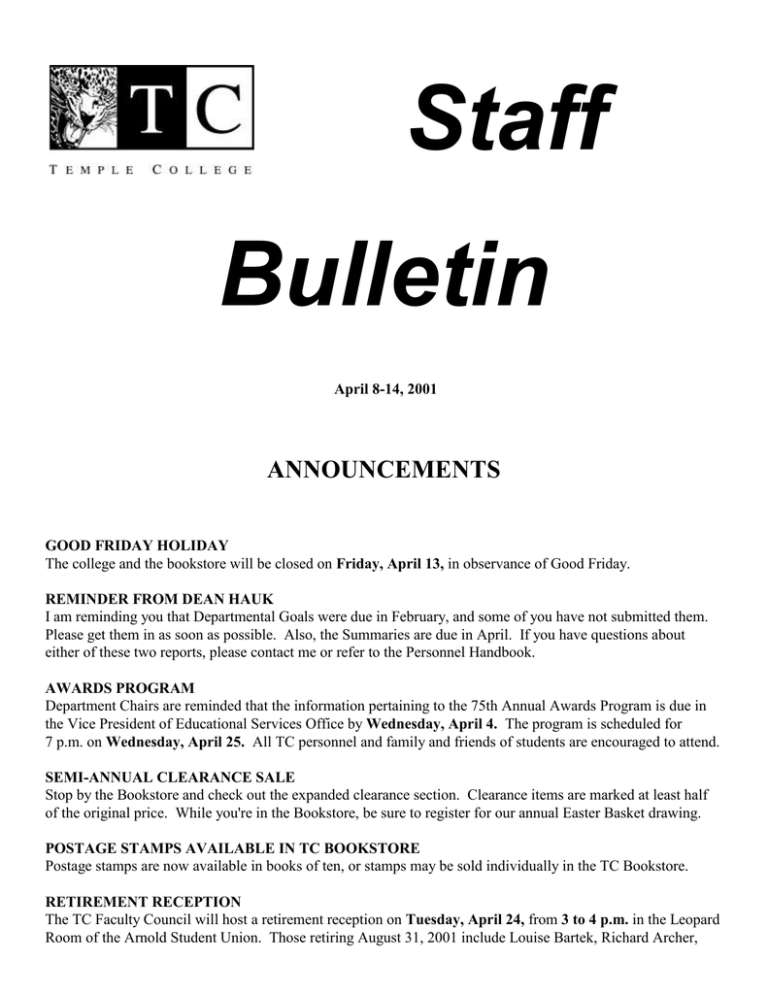 Staff
Bulletin
April 8-14, 2001
ANNOUNCEMENTS
GOOD FRIDAY HOLIDAY
The college and the bookstore will be closed on Friday, April 13, in observance of Good Friday.
REMINDER FROM DEAN HAUK
I am reminding you that Departmental Goals were due in February, and some of you have not submitted them.
Please get them in as soon as possible. Also, the Summaries are due in April. If you have questions about
either of these two reports, please contact me or refer to the Personnel Handbook.
AWARDS PROGRAM
Department Chairs are reminded that the information pertaining to the 75th Annual Awards Program is due in
the Vice President of Educational Services Office by Wednesday, April 4. The program is scheduled for
7 p.m. on Wednesday, April 25. All TC personnel and family and friends of students are encouraged to attend.
SEMI-ANNUAL CLEARANCE SALE
Stop by the Bookstore and check out the expanded clearance section. Clearance items are marked at least half
of the original price. While you're in the Bookstore, be sure to register for our annual Easter Basket drawing.
POSTAGE STAMPS AVAILABLE IN TC BOOKSTORE
Postage stamps are now available in books of ten, or stamps may be sold individually in the TC Bookstore.
RETIREMENT RECEPTION
The TC Faculty Council will host a retirement reception on Tuesday, April 24, from 3 to 4 p.m. in the Leopard
Room of the Arnold Student Union. Those retiring August 31, 2001 include Louise Bartek, Richard Archer,
Estherbell Caesar, Louise Cox, Patricia Creed, Wilma Easley, Leta Green, Bill Hermon, Cenallda Lopez,
Vincent Lopez, Jewell McBryde, and Robert Schlieker. Gladys Cobb is retiring in May, and Trinidad Lozano is
retiring in June. If you are on the list, would like to be on the list, or are glad you are not on the list of retirees,
please plan to attend and make the event a fond "farewell" to those who have served Temple College faithfully
through the years.
FACULTY COUNCIL MEETING
The next regularly scheduled Faculty Council meeting is scheduled for Thursday, April 19, at 3:30 p.m. in the
Leopard Room.
FACULTY COUNCIL ELECTIONS
All members or future members of the TC Faculty Council should begin thinking about what offices to which
they would like to be nominated for the 2001-2002 academic year. Elections will soon be here, and nominees
should be ready. Note: All voting this year will be done on chad-free ballots.
CRIMINAL JUSTICE SPONSORING OPERATION KICK-OFF
The criminal justice department is sponsoring "Operation Kick-Off" on Wednesday, April 25, from 2 to
3 p.m. in the Backstage Theatre. Convicted felons from the Texas Department of Corrections in Huntsville will
be speaking on prison life. For more information, contact Michael Santiago at ext. 8634.
MEDIA CENTER MOVE
The Media Center will be moving to its new location in the ISC during the week of April 16-20. There will be a
period during that time when the copy machine and other equipment will not be operational. Please plan ahead
and allow extra time for duplication jobs that will be needed during the transition period. Employees will be
notified by e-mail exact dates when machines will be moved.
A LIBRARY IS MORE THAN A BOOK COLLETION AND A BUILDING
Library staff and services will be moving to the ISC, Room 150 and surrounding rooms and offices during the
week of April 23-27 in preparation for the expansion and renovation of the H.M. Dawson Library building.
This area in the West ISC will house library staff, computers, reserve materials, videos, CDs, and selected books
and journals. To accomplish this move, the library will be closed Thursday and Friday, April 26 and 27.
Faculty members who will be teaching this summer should notify the library of any books and journals they
want to have moved with the library. We need this information ASAP as all books and journals not chosen for
the move to the ISC will be boxed and stored for the summer while the library undergoes renovation. Moving
of the book collection will begin April 30.
INTRAMURALS
All faculty and staff are urged to participate in intramural sports along with the students. For more information,
contact Pam Lee, Rec. Sports, at ext. 8521. (See attached April Intramurals schedule.)
TCAT TRUCK RAFFLE/DINNER FUNDRAISER
The next fundraiser for TCAT is the Truck Raffle/Dinner scheduled for Saturday, May 5, at 5:30 p.m. at the
Knights of Columbus Hall in Taylor (Hwy. 79 North, one mile East of Taylor). Tickets are $150 each. The cost
of the ticket includes two BBQ plates with all the trimmings prepared by Mopsie's Catering. Open Bar is also
included. If you are unable to attend the drawing, you may send a representative, with your contributor's letter,
to claim your prize. If you are splitting a donation number and bringing more than two people, there will be an
additional donation of $10 per person above the two. The first number drawn will receive a bond worth $150.
The 75th number drawn will receive a bond worth $300. The 150th number drawn will receive a bond worth
$400. The last number drawn (200th) will receive $10,000 toward the purchase of a vehicle. After the grand
prize number is drawn, an additional door prize of $500 will be given toward the purchase of a vacation of your
choice. You must be present to win this prize. If a ticket has been sold to another person, only the last owner is
eligible. For more information, contact Paulette McConchie in Taylor at (512) 365-6927 or Linda Barnes in the
College Communications Office, ext. 8590.
75th ANNIVERSARY COMMEMORATIVE WALKWAY
The Temple College Foundation has announced plans for the 75th Anniversary Commemorative Walkway at the
entrance to the Arnold Student Union. The walkway will be accented with paving bricks, each beautifully
engraved with the individual or family name of the donor. The cost of each engraved brick is $50. Graduates,
alumni, students, employees, and friends of Temple College may participate in this project. For additional
information or to purchase a brick, contact Dick Archer at the Uptown Center, ext. 8592 or Linda Barnes in the
College Communications Office, ext. 8590.
HAPPENINGS
Thursday, April 5
ON-CAMPUS MASSAGE BY BODY WORKS
A massage therapist from Body Works will be back on campus to give chair massages to employees at the low
cost of $13 for 15 minutes and $25 for 30 minutes. A session is scheduled for 1:30 to 6 p.m. on Thursday,
April 5, in the small conference room in the Arnold Student Union. Call Pam Lee at ext. 8521 to make an
appointment.
Through April 23
ART EXHIBITION BY MEMBERS OF CENTRAL TEXAS PASTEL SOCIETY
An art exhibition of recent works by members of the Central Texas Pastel Society will continue through April
23 at Temple College. The exhibition includes 60 works by 20 artists and will be on display in the foyer gallery
of the Mary Alice Marshall Fine Arts Building on the TC campus through April 23. Artists included in the
exhibition are Whitney Sholars, D. B. Meyer, D. Larue Mahlke, Caralen Rose, Judy Lamar, Pauline Howard,
Carmen Johnson, Neldene Matusevich, Marilyn Kovacs, Caroline Ratliff, Dr. James W. Brown, Bob Johnson,
Nancy Manoogian, Katherine Pickens, Peter Camonier, Kathy McCarter, Betty Klasel, Kim Roberti, Sara Sharp
and Carol Jean Davis. The exhibition is sponsored by the Temple College Art Department. Gallery hours are
8 a.m. to 4 p.m. Monday through Thursday or by appointment.
EVENTS
Thursday, April 5
BROWN BAG TRAVEL SERIES ON ISTANBUL
The TC Brown Bag Travel Series will present a slide presentation entitled, "The City of the Golden Horn:
Istanbul" by Amy Smith on Thursday, April 5. Istanbul, the only city that spans two continents, was named by
the Ottoman Turks when they conquered it in the 15th century. Previously, it had been Constantinople, capital
of the Eastern Roman Empire, and built on the site of ancient Byzantium. It has been the capital of three
empires, and is rich in the art and architecture of each one. "In Istanbul today Christian churches, Islamic
mosques, Turkish palaces, and Roman aqueducts co-exist easily to create one of the most exotic environments
in the world," Ms. Smith said. A member of the TC art faculty, Ms. Smith teaches art history and has traveled
extensively. The program will be at 12:15 p.m. in the Leopard Room of the Arnold Student Union. Persons are
invited to bring a brown gag lunch, or lunch may be purchased in the TC cafeteria prior to the presentation.
This is the final program in the Brown Bag Travel Series.
Sunday, April 8
WIND SYMPHONY CONCERT IN THE PARK
The Temple College Wind Symphony, conducted by Stephen Crawford, will present a Concert in the Park as
their fourth and final concert of the 2000-2201 season on at 3 p.m. on Sunday, April 8. The Wind Symphony
will feature guest performers Jim Gibson and Daniell Synan performing the trumpet duet "The Swiss Boy" by
Paul de Ville. Written in 1902, "The Swiss Boy" is a typical trumpet duet of the time commonly heard in such
concerts in the park. Gibson is the band director at Copperas Cove Jr. High School and Ms. Synan is a middle
school band director from Killeen. The program will have a historic and patriotic flavor. Some of the pieces
performed will include "Concord Overture" by Ralph Hermann, "Irish Tune from County Derry" by Percy
Grainger, "Emblem of Unity March" by J. J. Richards, "The Trombone King March" by Karl King, "American
Overture" by Joseph Wilcox Jenkins, "America the Beautiful," arr. by Carmon Dragon, "Stars and Stripes
Forever," by John P. Sousa, and an arrangement of "Texas, Our Texas." Assistant conductor Dennis Beaver
will also conduct two pieces.The concert will be held in the park on the east side of the Downtown Santa Fe
Train Depot. The Santa Fe Depot is the home of the Railroad and Heritage Museum. The Depot is located on
West Ave. B in downtown Temple. The public is encouraged to bring lawn chair, blankets, and picnic lunches.
Tuesday, April 10
FLUTE BROWN BAG CONCERT
The Temple College Flute Ensemble, directed by Sheryl Goodnight, will present a Brown Bag Concert at
12:15 p.m. on Tuesday, April 10, in the auditorium of the Mary Alice Marshall Fine Arts Building. Members
of the ensemble are flutists Julia Aguilar, Phillip Ludwig, Crissy Wizorek, and Megan Zbroned. Melissa Weiss,
a sophomore music major at the University of Mary Hardin-Baylor, will be a guest flutist in the ensemble for the
performance. Valeria Pitrucha will be pianist. Works included on the program are compositions from the Flute
Symphony, arranged by G.E. Holmes, consisting of "Dancing Doll" by Poldini, "Intermexxo" by Mascagni,
"Badinage" by Bach and the "Galway Piper" (Irish Air). Various members of the group will be featured
performing solo compositions from the standard flute repertoire. Persons are invited to bring a lunch for the
informal concert which is free and open to the public.
Tuesday, April 10
JOINT CONCERT OF TEMPLE SYMPHONY CHORALE AND TC SHOW CHOIR
The Temple Symphony Chorale and Temple College Show Choir will join together for a music-filled concert at
7:30 p.m. on Tuesday, April 10, in the Mary Alice Marshall Fine Arts Auditorium. The Chorale will present
"Music From Around the World" and the second half will feature the TC Show Choir's program "Swingin' to
Broadway." "Music From Around The World" will feature selections from Italy, Germany, England, and
America. With selections to please even the pickiest music lover, concert-goers will be entertained with pieces
such as Brahms' "Von Edler Art," Handel's "Sing Unto God," Stephen Foster's "Laura Lee," and Irving Berlin's
"Say it with Music." In "Swingin' to Broadway," the Show Choir will taking you back in time with several
swing dance tunes such as "In The Mood," "Zoot Suit Riot," and "Jump, Jive an' Wail," which are sure to get the
audience's feet tapping. To cool things down, the Show Choir will end its portion of the concert with an
extended medley from one of Stephen Sondheim's best musicals "Into The Woods." The group will show you
how Little Red Riding Hood, the Witch, Jack (of bean-stalk fame), Cinderella, Rapunzel, and other favorite
story book characters intertwine their stories to reveal an underlying idea of how one deals with growing up;
with the relationship between parents and children; with taking responsibility; with developing a code of
morality, and with wish fulfillment. The Show Choir is made up of ten select members. The group consists of
Sena Ash, Michelle Atkins, Kendra Beck, Martin Harvey, Ryan Malsbary, Sean McMurrer, Amy Terry, Julian
Waneck, Martha Waneck, and Sharissa Wills. Valeria Pitrucha is accompanist for both the Temple Symphony
Chorale and the TC Show Choir.
Tuesday, April 10
STARLINK TELECONFERENCE
A Starlink teleconference, "A Workshop on Streaming Video," will be held on Tuesday, April 10, from 1:30 3 p.m. in the Bijou Theatre of the Hubert L. Dawson Library. Topics include basic elements of streaming video,
software and hardware requirements, best practices and examples, and content creation tools. The workshop
will be presented by Douglas Mazina, Senior Technologist at Microsoft Corporation. If you have streaming
video questions, you may e-mail him at hhartman@dcccd.edu, and Mr. Mazina will discuss them during the
program. For more information or to make a reservation, call Jo Ann Cox in the Media Center at ext. 8421.
Thursday, April 12
PLAZA FORUM
Plaza Forum, a seniors educational and social group, will meet on Thursday, April 12, at 3 p.m. in the Leopard
Room of the Arnold Student Union. Dick Archer , director of institutional advancement, will be the speaker.
CAFETERIA MENU
The TC cafeteria serves delicious and nutritious food at reasonable prices for the convenience of students,
faculty, staff, and any visitors. The cafeteria serves lunch from 11:30 a.m. to 1:40 p.m. Monday through Friday.
Lunch is $4.33 (tax included). Soup and salad is available for $2.98. The cafeteria also is open for breakfast
from 7:30 to 8:30 a.m. Breakfast is available for $2.98. Dinner is served from 5 to 7 p.m. Cost is $4.33.
Week of April 9-13
Monday
Lasagna
Sausage
Peas & Carrots
Mashed Potatoes
Chicken Noodle Soup
Chocolate Cake
Tuesday
Hamburger Casserole
Chicken Fried Stead
Mashed Potatoes
Broccoli
Corn
Potato Soup
Wednesday
Roast Beef
Chicken Casserole
Mashed Potatoes
Green Beans
Beets
Vegetable Soup
Thursday
Sweet & Sour Pork
Grilled Chicken
Rice
California Mix
Italian Soup
Peanut Butter Cookies
Friday
Chicken Fried Chicken
Mashed Potatoes
Corn
KUDOS
Bea Wohleb, Board of Trustees and assistant administrator of support services at Scott and White Memorial
Hospital, has advanced to fellow status in the American College of Healthcare Executives, an international
professional society representing nearly 30,000 healthcare executives. Fellow status is the highest level of
professional achievement in ACHE.
Deborah Durham, Health Science Division director and Dental Hygiene Program chair, was elected president
of the newly formed Texas Dental Hygiene Educators' Association at the organization's recent conference. The
organization conducted its first conference and business meeting March 23-24 in Austin. The organization
exists to promote the professional development of dental hygiene educators, act as an organized voice in
legislative matters, act as an advocate of the public and the dental hygiene profession, develop and share
educational resources, and promote the profession of dental hygiene. Other faculty member attending the
conference were Angela Bartz, Melissa Machalek, Norma Maedgen, Jeannie Nieto, Laura Ruiz, and
Jennifer Rush.
Thank Yous
To the Employees of Temple College,
Thanks for the lovely daisies that were sent to honor my daughter's birth. I appreciate the thoughtfulness of
being remembered during this happy time. --- Angela Balch
THANKS TEMPLE DENTAL COLLEGE & SANDRA LEIDY
I want to express my deepest appreciation for you and for my dental hygienist, Sandra. You all were much more
than I had anticipated.
What wonderful professionalism Sandra has!!. She is so dedicated and committed to being a dental hygienist. It
seems to me it is not "just a job" to her but a "calling" to help and be of service to people. She is so thorough
and good at the job, but it is still more than that. Her true goodness and character come through without her even
realizing it. By her attitude and actions, it is easy to tell she is a good person in every way.
Even at my age (over 55), I'm still scared to death of dentists and dental hygienists, but she is so skillful in her
job and so compassionate and caring, she immediately put me at ease and made me comfortable. The other
hygienists and doctors who came in from time to time were also wonderful and I appreciate them also.
I just know Sandra will be very successful in her job and whoever employs her will be so very pleased and
thankful for her. I sure am!!
Thanks for Temple Dental College and for Sandra!!!
Most sincerely,
Dorries Lawler
Temple, Texas
etcetera
Anjanette Mesecke, educational services, represented Temple College during the Second Annual Absolutely
Incredible Kid Day Luncheon held at the Bell County Expo Center on Thursday, March 29. The event honored
local citizens for their contributions to youth and ten Incredible Kids from Bell and Coryell Counties.
Absolutely Incredible Kid Day began nationally in 1997 as Camp Fire's call to action urging all adults to write
letters of love, appreciation, and encouragement to children. The Tejas Council of Camp Fire Boys and Girls
has expanded this idea to include a luncheon honoring local adults who have made important contributions to
youth and recognizing local children who are absolutely incredible.
Charles Statz, chairman of the automotive and industrial technology departments; Gracie Conner, director of
business and community education; Danette Toone, associate vice president for advancement, business, and
community education; and Jimmy Roberts, Tech Prep project director, attended the Texas Association of
College Technical Educators (TACTE) in Austin. The Coordinating Board presented new Guidelines for
Instructional Programs in Workforce Education (GIPWE). Dr. Ray Garcia, legal lobbyist for the Texas
Association of Community Colleges, briefed attendees on what is happening in Austin, including redistricting.
Dr. Pat Smith, coordinator of information technology corporate training and workforce development, was one
of the judges at the 45th Annual Central Texas Science & Engineering Fair held at Baylor University on March
22-23.
Cynthia Martinez, math; Hal Ward, management; Michael Santiago, criminal justice; Billye Weaver,
medical laboratory technology; Bill Cornelius, respiratory care; Joe Teakell, webmaster; Jennifer Rush, dental
hygiene; Ben Liles, biology; Melissa Crawford, philosophy; Randy Simpson, math; Claudia Turner,
nursing; Barbara Carpenter, CIS; Daniel Spencer, medical laboratory technology; Ray Lanford, English;
and Dr. Marc Nigliazzo, college president, attended the Teacher/Learning Faculty Workshop Retreat held at
Cedarbrake on March 30. The workshop was organized by Daniel Spencer, Faculty Council president, hosted
by the TC Faculty Council, and supported by Dr. Nigliazzo. This retreat was a follow-up to the faculty dialogue
that Dr. Nigliazzo had with the faculty at the start of the spring semester. Barbara Carpenter, Ray Lanford,
and Dr. Nigliazzo, were presenters at this Teaching/Learning Faculty Workshop Retreat. Barbara Carpenter
presented a three hour presentation that included topics on: statistics comparing student performance in her
traditional vs. non-traditional classes, tips and frustrations in creating/converting education courses for nontraditional delivery and the importance of developing a good student orientation. Dr. Nigliazzo held a squaretable discussion on the direction and focus of traditional and non-traditional course offerings at Temple College.
Ray Lanford presented cost data and policy information that he developed since his appointment as Distance
Education/Learning Coordinator.
Kathy Fulton, Division Director of Learning Resources, recently attended the annual conference of the Texas
Library Association. As Chair of the Community and Junior College Discussion Group, she presided over a
meeting on library budgeting essentials as well as the CJCDG business meeting.
WEEK AT A GLANCE
Thursday, April 5
Brown Bag Travel Program on Istanbul, 12:15 p.m., Leopard Room, SUB
Saturday, April 7
Leopards Baseball vs. Collin, 1 p.m., Danny Scott Athletic Complex
Saturday, April 7
Leopards Softball vs. Brookhaven, 1:00/3:00 p.m., Dallas
Sunday, April 8
Wind Symphony Concert in the Park, 3 p.m., Santa Fe Train Deport
(West Ave. B in downtown Temple)
Sunday, April 8Monday, April 9
TC Golf Team in Texas State Championship, Quicksand Golf Course,
San Angelo
Monday, April 9
Leopards Baseball vs. Eastfield, 2 p.m., Danny Scott Athletic Complex
Tuesday, April 10
Flute Ensemble Brown Bag Concert, 12:15 p.m., Auditorium, FAB
Tuesday, April 10
Joint Concert of Temple Symphony Chorale and TC Show Choir, 7:30 p.m.
Auditorium, FAB
Wednesday, April 11
Leopards Baseball vs. Vernon, 1 p.m., Vernon
Wednesday, April 11
Leopards Softball vs. Vernon, 2:00/4:00, Danny Scott Athletic Complex
Thursday, April 12
Plaza Forum, 3 p.m., Leopard Room, SUB
Thursday, April 12Saturday, April 14
Men's and Women's Tennis Teams in S.W. JUCO Championship, TBA,
Temple
Friday, April 13
COLLEGE IS CLOSED FOR GOOD FRIDAY HOLIDAY
Friday, April 13
Leopards Softball vs. North Central, 1:00/3:00, Gainesville
Headline of the Week
HOT TOPICS
Summer 2001
Early Registration Schedule
Early Registration is April 16 - April 26 by appointment during office hours. Students may make appointments
in the Advising Center beginning April 2. Schedule changes are allowed only on April 27 from 8:30 a.m. until
3 p.m. Payment for Early Registration must be received n the Cashier's office by May 22. Students can make
their payment at the Cashier's office in One College Centre or may mail payment to the following address:
Temple College
Cashier's Office
2600 South First Street
Temple, TX 76502
If payment is not received by the deadline date, students' schedules will be dropped.
Regular Registration for Summer I
Regular Registration for Summer I is May 23 - 24.Registration on May 23 will be by appointment only. Open
Registration and Schedule Changes will take place on May 24 from 8:30 a.m. - 6 p.m. Payment is due at time
of registration.
Regular Registration for Summer II
Regular Registration for Summer II is July 5 from 8:30 a.m. – 6:00 p.m. Students may also make schedule
changes on this date. Payment is due at time of registration.