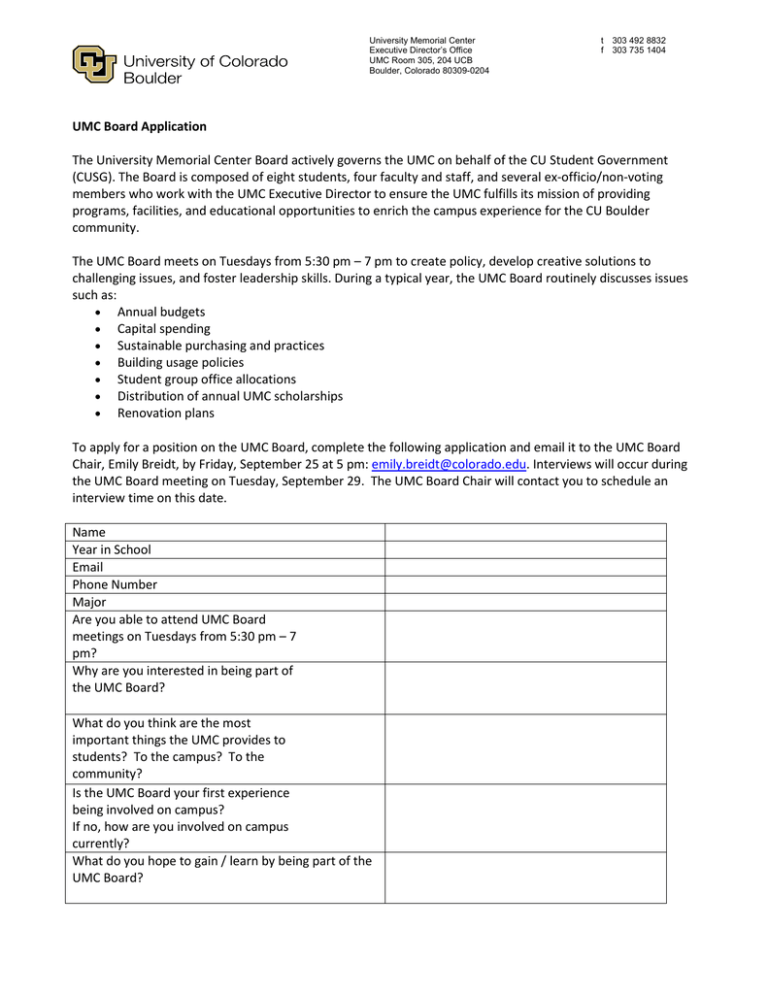 University Memorial Center
Executive Director's Office
UMC Room 305, 204 UCB
Boulder, Colorado 80309-0204
t
f
303 492 8832
303 735 1404
UMC Board Application
The University Memorial Center Board actively governs the UMC on behalf of the CU Student Government
(CUSG). The Board is composed of eight students, four faculty and staff, and several ex-officio/non-voting
members who work with the UMC Executive Director to ensure the UMC fulfills its mission of providing
programs, facilities, and educational opportunities to enrich the campus experience for the CU Boulder
community.
The UMC Board meets on Tuesdays from 5:30 pm – 7 pm to create policy, develop creative solutions to
challenging issues, and foster leadership skills. During a typical year, the UMC Board routinely discusses issues
such as:
 Annual budgets
 Capital spending
 Sustainable purchasing and practices
 Building usage policies
 Student group office allocations
 Distribution of annual UMC scholarships
 Renovation plans
To apply for a position on the UMC Board, complete the following application and email it to the UMC Board
Chair, Emily Breidt, by Friday, September 25 at 5 pm: [email protected] Interviews will occur during
the UMC Board meeting on Tuesday, September 29. The UMC Board Chair will contact you to schedule an
interview time on this date.
Name
Year in School
Email
Phone Number
Major
Are you able to attend UMC Board
meetings on Tuesdays from 5:30 pm – 7
pm?
Why are you interested in being part of
the UMC Board?
What do you think are the most
important things the UMC provides to
students? To the campus? To the
community?
Is the UMC Board your first experience
being involved on campus?
If no, how are you involved on campus
currently?
What do you hope to gain / learn by being part of the
UMC Board?