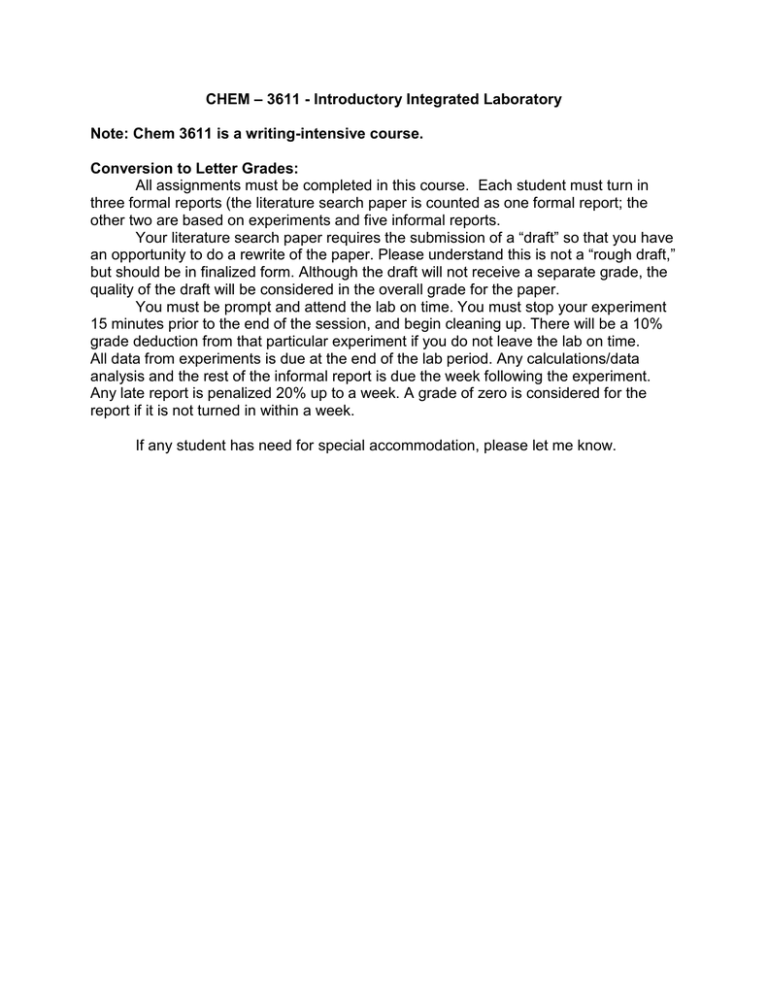 CHEM – 3611 - Introductory Integrated Laboratory
Note: Chem 3611 is a writing-intensive course.
Conversion to Letter Grades:
All assignments must be completed in this course. Each student must turn in
three formal reports (the literature search paper is counted as one formal report; the
other two are based on experiments and five informal reports.
Your literature search paper requires the submission of a "draft" so that you have
an opportunity to do a rewrite of the paper. Please understand this is not a "rough draft,"
but should be in finalized form. Although the draft will not receive a separate grade, the
quality of the draft will be considered in the overall grade for the paper.
You must be prompt and attend the lab on time. You must stop your experiment
15 minutes prior to the end of the session, and begin cleaning up. There will be a 10%
grade deduction from that particular experiment if you do not leave the lab on time.
All data from experiments is due at the end of the lab period. Any calculations/data
analysis and the rest of the informal report is due the week following the experiment.
Any late report is penalized 20% up to a week. A grade of zero is considered for the
report if it is not turned in within a week.
If any student has need for special accommodation, please let me know.