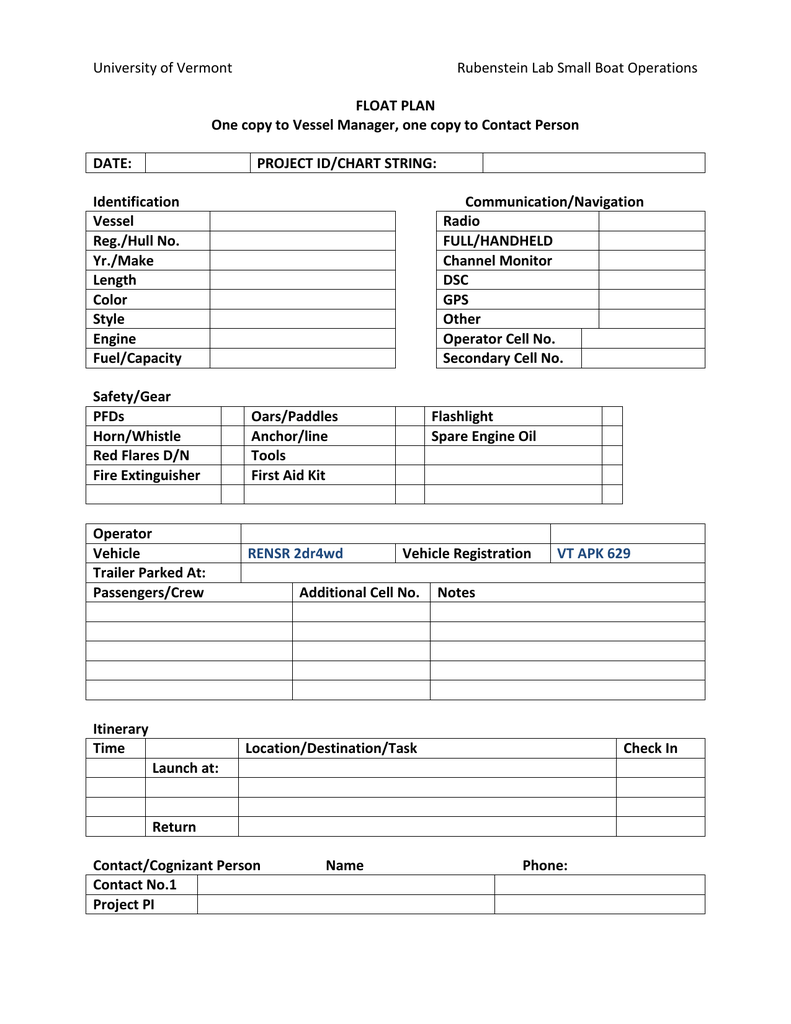 University of Vermont
Rubenstein Lab Small Boat Operations
FLOAT PLAN
One copy to Vessel Manager, one copy to Contact Person
DATE:
PROJECT ID/CHART STRING:
Identification
Vessel
Reg./Hull No.
Yr./Make
Length
Color
Style
Engine
Fuel/Capacity
Safety/Gear
PFDs
Horn/Whistle
Red Flares D/N
Fire Extinguisher
Operator
Vehicle
Trailer Parked At:
Passengers/Crew
Itinerary
Time
Communication/Navigation
Radio
FULL/HANDHELD
Channel Monitor
DSC
GPS
Other
Operator Cell No.
Secondary Cell No.
Oars/Paddles
Anchor/line
Tools
First Aid Kit
RENSR 2dr4wd
Flashlight
Spare Engine Oil
Vehicle Registration
Additional Cell No.
VT APK 629
Notes
Location/Destination/Task
Check In
Launch at:
Return
Contact/Cognizant Person
Contact No.1
Project PI
Name
Phone:
Instructions for Contact/ Cognizant Person
As per the float plan, the vessel underway is to contact you at the agreed time(s) listed.
Should the vessel fail to contact you follow the following steps:
Step One: Attempt to contact the primary operator by cell phone, VHF radio or text.
Step Two: If no response attempt to contact any other members of the group using the
contact information given on the float plan.
Step Three: Contact Vessel Manager (802-343-5801) or Priniciple Investigator listed for
instructions. If unavailable :
Step Four:
Contact Coast Guard Station Burlington (802-951-6792) or local rescue or law
enforcement agency. Using the float plan, be prepared to supply vessel description, number
of persons on board, and itinerary. Forward float plan if possible.