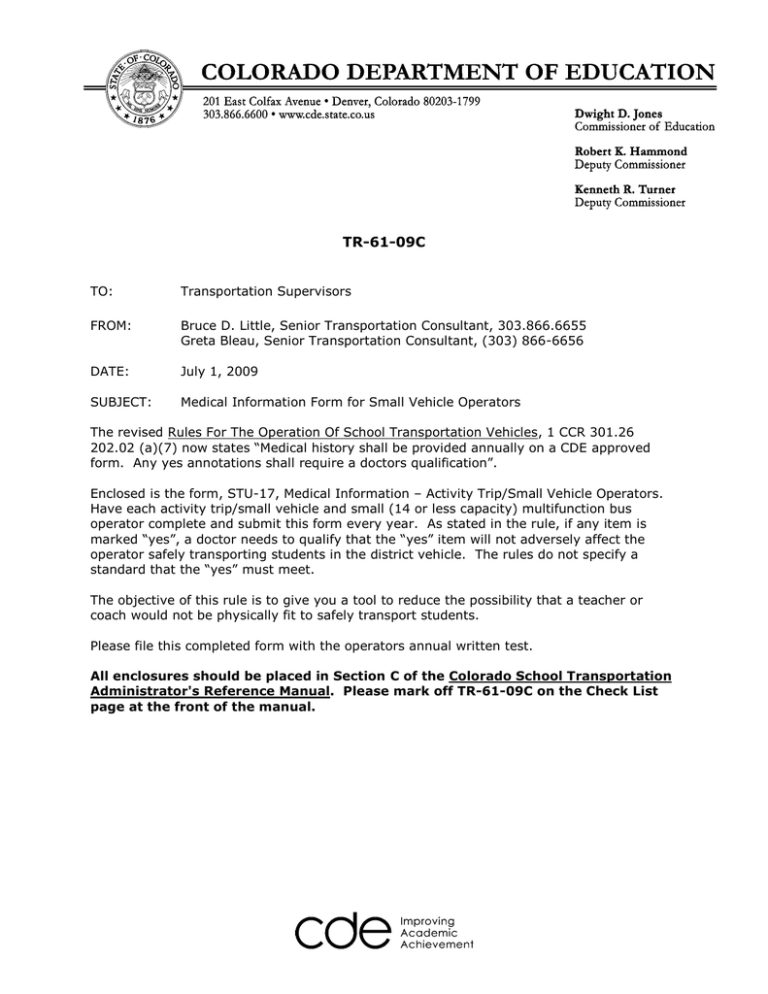 TR-61-09C
TO:
Transportation Supervisors
FROM:
Bruce D. Little, Senior Transportation Consultant, 303.866.6655
Greta Bleau, Senior Transportation Consultant, (303) 866-6656
DATE:
July 1, 2009
SUBJECT:
Medical Information Form for Small Vehicle Operators
The revised Rules For The Operation Of School Transportation Vehicles, 1 CCR 301.26
202.02 (a)(7) now states "Medical history shall be provided annually on a CDE approved
form. Any yes annotations shall require a doctors qualification".
Enclosed is the form, STU-17, Medical Information – Activity Trip/Small Vehicle Operators.
Have each activity trip/small vehicle and small (14 or less capacity) multifunction bus
operator complete and submit this form every year. As stated in the rule, if any item is
marked "yes", a doctor needs to qualify that the "yes" item will not adversely affect the
operator safely transporting students in the district vehicle. The rules do not specify a
standard that the "yes" must meet.
The objective of this rule is to give you a tool to reduce the possibility that a teacher or
coach would not be physically fit to safely transport students.
Please file this completed form with the operators annual written test.
All enclosures should be placed in Section C of the Colorado School Transportation
Administrator's Reference Manual. Please mark off TR-61-09C on the Check List
page at the front of the manual.