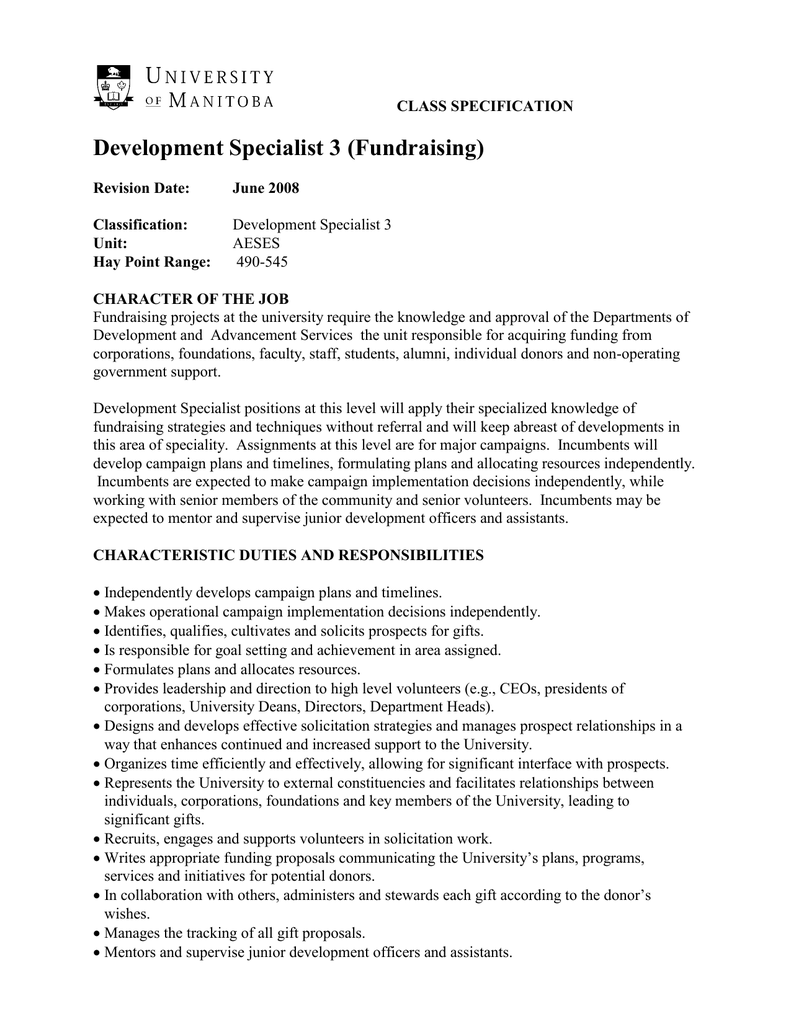 CLASS SPECIFICATION
Development Specialist 3 (Fundraising)
Revision Date:
June 2008
Classification:
Unit:
Hay Point Range:
Development Specialist 3
AESES
490-545
CHARACTER OF THE JOB
Fundraising projects at the university require the knowledge and approval of the Departments of
Development and Advancement Services the unit responsible for acquiring funding from
corporations, foundations, faculty, staff, students, alumni, individual donors and non-operating
government support.
Development Specialist positions at this level will apply their specialized knowledge of
fundraising strategies and techniques without referral and will keep abreast of developments in
this area of speciality. Assignments at this level are for major campaigns. Incumbents will
develop campaign plans and timelines, formulating plans and allocating resources independently.
Incumbents are expected to make campaign implementation decisions independently, while
working with senior members of the community and senior volunteers. Incumbents may be
expected to mentor and supervise junior development officers and assistants.
CHARACTERISTIC DUTIES AND RESPONSIBILITIES
 Independently develops campaign plans and timelines.
 Makes operational campaign implementation decisions independently.
 Identifies, qualifies, cultivates and solicits prospects for gifts.
 Is responsible for goal setting and achievement in area assigned.
 Formulates plans and allocates resources.
 Provides leadership and direction to high level volunteers (e.g., CEOs, presidents of
corporations, University Deans, Directors, Department Heads).
 Designs and develops effective solicitation strategies and manages prospect relationships in a
way that enhances continued and increased support to the University.
 Organizes time efficiently and effectively, allowing for significant interface with prospects.
 Represents the University to external constituencies and facilitates relationships between
individuals, corporations, foundations and key members of the University, leading to
significant gifts.
 Recruits, engages and supports volunteers in solicitation work.
 Writes appropriate funding proposals communicating the University's plans, programs,
services and initiatives for potential donors.
 In collaboration with others, administers and stewards each gift according to the donor's
wishes.
 Manages the tracking of all gift proposals.
 Mentors and supervise junior development officers and assistants.
 Performs other related duties as required or assigned.
QUALIFICATIONS REQUIRED
The minimum qualifications necessary for acceptable (satisfactory) job performance are:
Level of Formal Education
● University Bachelor's
degree; Master's degree preferred.
● Certified Fund Raising Executive (CFRE) designation or other professional designation
required.
Experience
● Seven
to eight years directly-related experience in fundraising, with at least two years
experience in major gift solicitation.
● A proven record of successful major gift fundraising and success interacting with the public in a
wide variety of settings required.
● Experience in public speaking and making presentations required. Evidence of successful
fundraising required.
● Experience with higher education fundraising an asset.
An acceptable equivalent combination of education and experience may be considered.
Skills and Abilities
 Superior communication skills in writing, public speaking and presentations required.
 Demonstrated ability to plan, organize and supervise activities.
 Excellent communication skills to deal effectively with senior level positions in the University
and with CEOs and upper management of corporations.
 Demonstrated organizational skills and the ability to work independently essential.
 Demonstrated ability to guard confidentiality.
 Proven ability to communicate verbally and on pepr with groups and individuals from a wide
variety of backgrounds essential.
 Skilled in computer applications.
Physical Requirements
Capable of performing the duties as assigned.
This class specification is intended to illustrate the characteristics of this classification level and
should not be interpreted as a description of any one individual position within this classification
level.