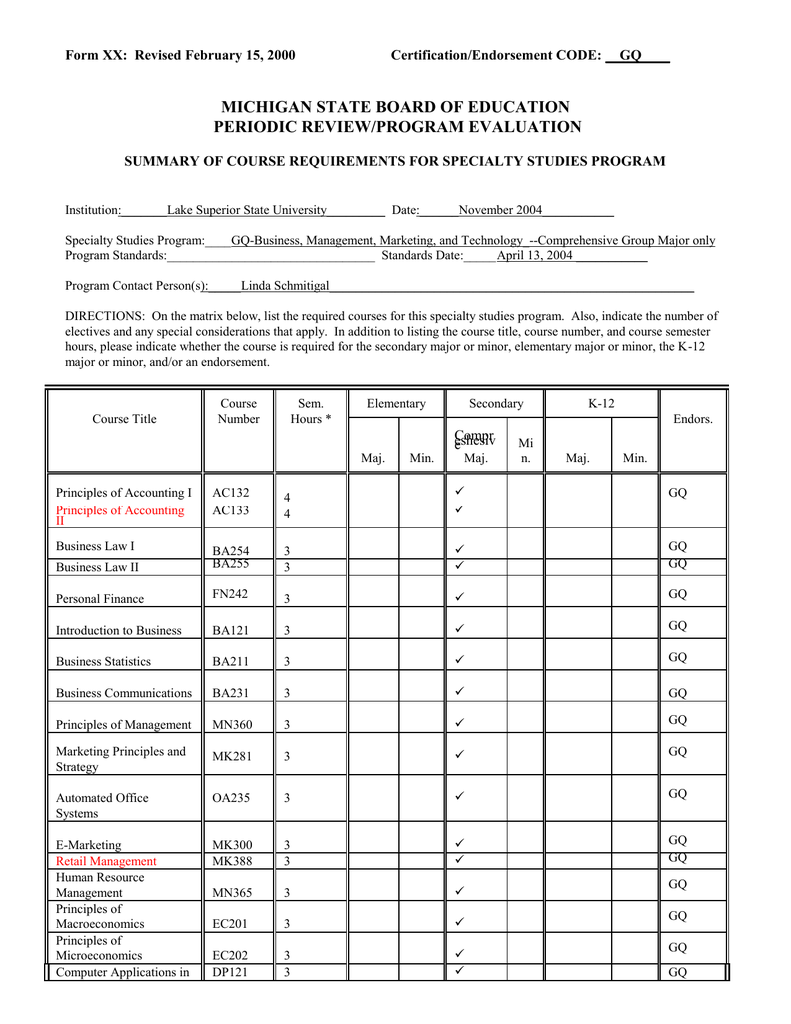 Form XX: Revised February 15, 2000
Certification/Endorsement CODE: __GQ____
MICHIGAN STATE BOARD OF EDUCATION
PERIODIC REVIEW/PROGRAM EVALUATION
SUMMARY OF COURSE REQUIREMENTS FOR SPECIALTY STUDIES PROGRAM
Institution:_______Lake Superior State University_________ Date:______November 2004___________
Specialty Studies Program:____GQ-Business, Management, Marketing, and Technology_--Comprehensive Group Major only
Program Standards:________________________________ Standards Date:_____April 13, 2004 ___________
Program Contact Person(s):_____Linda Schmitigal________________________________________________________
DIRECTIONS: On the matrix below, list the required courses for this specialty studies program. Also, indicate the number of
electives and any special considerations that apply. In addition to listing the course title, course number, and course semester
hours, please indicate whether the course is required for the secondary major or minor, elementary major or minor, the K-12
major or minor, and/or an endorsement.
Course Title
Course
Number
Sem.
Hours *
Elementary
Secondary
K-12
Endors.
Compr
eshesiv
e
Maj.
Min.
Maj.
Mi
n.
Maj.
Min.
Principles of Accounting I
Principles of Accounting
II
AC132
AC133
4
4


GQ
Business Law I
Business Law II
BA254
BA255
3
3


GQ
GQ
Personal Finance
FN242
3

GQ
Introduction to Business
BA121
3

GQ
Business Statistics
BA211
3

GQ
Business Communications
BA231
3

GQ
Principles of Management
MN360
3

GQ
Marketing Principles and
Strategy
MK281
3

GQ
Automated Office
Systems
OA235
3

GQ
E-Marketing
Retail Management
Human Resource
Management
Principles of
Macroeconomics
Principles of
Microeconomics
Computer Applications in
MK300
MK388
3
3


GQ
GQ
MN365
3

GQ
EC201
3

GQ
EC202
DP121
3
3


GQ
GQ
Business
Software Options
Desktop Publishing
Web Page Design
or
Troubleshooting and
Repair of Personal
Computers
Storage Protection and
Recovery of Personal
Computers
Business Education
Methods for Secondary
Teachers
 and
DP261

GQ
3
and
DP263
GQ
CS263
3

GQ
TE446
3

DP250
3
DP261
3
CS163
Total Number of SEMESTER HOURS required for
each option offered:
GQ
62
* If the institution assigns a different type of
credit, please convert to semester hours.
Please provide descriptions for all courses contained on the above listing. Descriptions must provide enough
information to show that standards could logically be met in these courses.
AC132 Principles of Accounting I (4,0) 4
An introduction to the principles of accounting as applied to proprietorships, partnerships
and corporations. Areas of study include the accounting cycle for service, merchandising,
and manufacturing enterprises, internal control and items included in the asset section of
the balance sheet. This course also covers the entire accounting cycle including
understanding the accounting equation; preparing, interpreting, and analyze financial
statements; preparing payroll; and describing accounting ethics and organizational impact
of ethics.
AC133 Principles of Accounting II (4,0) 4
This course emphasizes the role of managerial accounting information within a firm.
Topics include budgeting, responsibility accounting, cost allocations, cost behavior,
decision models, product costs, cost control, performance evaluation, capital budgeting,
cash flows and methods of financial analysis. Prerequisite: Grade of C or higher in
AC132.
BA121 Introduction to Business (3,0) 3
Comprehensive coverage of the major activities of business and the key institutions that
facilitate the business process. Topics covered include the following: American business
enterprise system, international business, forms of business ownership, (entrepreneurship)
management and - organization of human resources, production, marketing, information
management and controls (i.e. acceptable use policies and security issues) business laws
(including the environment and energy) and ethics (and social responsibility), finance,
accounting, contemporary economic issues and business career exploration. Contemporary
business cases may be used for decision- making simulations. Enrollment open to freshman
and sophomore business majors or any non-business major.
BA211 Business Statistics (3,0) 3
An introduction to business statistics. Topics include collection and presentation of data,
measures of central tendency, variation and skewness, probability, probability distributions,
Bayes's Theorem, sampling, sampling distributions, estimation, hypothesis testing, simple
linear regression and correlation. Prerequisite:MA 111.
BA231 Business Communications (3,0) 3
Business and Managerial communications problems. Direct, indirect, and persuasive
letters; memos, short reports and directives. Employment communications. Some
assignments must be typed. . Extensive writing practice. Prerequisite: EN111
BA254 Business Law I (3,0) 3
This portion of business law covers the law applicable to contracts, sales, personal property
and bailments.
BA255 Business Law II (3,0) 3
This portion of business law covers the law applicable to commercial paper, corporations,
partnerships, agency and employment.
CS163 Troubleshooting and Repair of Personal Computers (2,2) 3 A basic introduction
to the architecture, installation, maintenance, troubleshooting and repair of personal
computers. The student will learn elementary principles of electronics, magnetism, and
logic. The disassembly and upgrading of a personal computer will be covered in the
laboratory as well as the use of diagnostic hardware and software. (Inherent in the course is
using critical thinking skills to form solutions to information technology problems.)
CS263 Storage, Protection and Recovery of Personal Computer (2,2) 3 Continues and
expands upon DP163 with emphasis on disk; drives; formatting disks, editing, virus
detection, security, prevention and eradication. Prerequisite: CS163
DP121 Computer Applications for Business (3,0) 3 In this course, students will be
exposed to modules of computer software which will include basic word processing,
database, spreadsheet and graphic presentation instruction applicable to business scenarios
i.e. (students will work in teams to develop solutions for various organization problems).
DP250 Desktop Publishing & Presentation Design (3,0) 3 Introduction to document
design and layout, use of font, color and graphics to produce newsletters, brochures and
presentations. Concepts included are presentation preparation and delivery. Graphics
software will be used. Prerequisite: EN111 and a working knowledge of word processing.
DP261 Multimedia Applications (3,0) 3 In this course, students will be introduced to the
design and production of websites. (Contents, communication principles, and ethic
considerations will be part of the design process) Graphics, animation, and sound will be
incorporated in the creation of interactive web pages. Macromedia Studio, which includes
Dreamweaver and Flash, will be used.
EC2O1 Principles of Macroeconomics (3,0) 3
Nature and scope of economics; national income accounting; problems of unemployment
and price instability public revenues and expenditures; money and banking; fiscal and
monetary policies to promote stability and economic growth. Prerequisite: MA086 or
equivalent/satisfactory score on ACT or Placement Exam.
C202 Principles of Microeconomics (3,0) 3
Principles of economic reasoning; supply and demand analysis; theories of production;
price output determination under each of the four market structures; factor returns and
income distribution theories; public policy implications. Prerequisite: MA086 or
equivalent/satisfactory score on ACT or Placement Exam.
FN242 Personal Finance (3,0) 3
An introduction to the principles of personal financial planning. Topics include the
financial planning process, credit and borrowing fundamentals, analysis of savings,
investments and taxes, individual insurance, retirement and estate planning. Prerequisite:
MA086 or equivalent. Satisfactory score on ACT or Placement Exam.
MN360 Principles of Management (3,0) 3
Principles and techniques applicable to the functions of management: Planning, organizing,
directing (staffing and leading) and controlling; development of management thought and
decision-making; current issues and future concerns in management. Foundation course for
study and understanding of management theory and practice. Prerequisite: Junior standing.
MN365 Human Resource Management (3,0) 3
An examination of current practices and recommended techniques by which management
procures, develops, utilizes and maintains an effective work force. The major areas studied
are: recruitment and selection, equal employment opportunity and affirmative action
programs, training and development, career planning and performance appraisal,
compensation and benefits, safety and health issues, employee and labor relations,
including grievance handling, contract negotiations and remaining union-free as an
organization. Prerequisite: Junior standing.
MK 281 Marketing Principles and Strategy (3,0) 3
A study of the marketing principles, variables, institutions, target markets, marketing mix
and the development of marketing strategy. Prerequisite: EN110.
MK300 E-Marketing (3,0) 3 This course focuses on the differences in marketing
strategies and tactics of online versus offline business. The course will examine the
marketing strategies and tactics (financial and technology) used by successful business
operating in the online environment as well as those businesses which operate both online
and offline environments. This course will also prepare students for future careers in
marketing and will discuss possible impact on marketing careers brought about by the
internet. Prerequisite: MK281
MK 388 Retail Management (3,0) 3 A study of the field of retailing. A survey of retail
institutions; store location and organization; buying and merchandising techniques; retail
advertising, sales promotion and image; human resource policies; and store protection.
Prerequisite: MK281
OA235 Automated Office Systems (3,0) 3
Lectures and discussions about effects of new technology on the workplace and the role
students are expected to play in the office. Such topics as technology, communications,
human relations and customer service techniques will be covered. A practice simulation
will be used allowing the student to practice managing, integrating and creating
information. (The practice simulation includes formulating solution to information
technology problems). Prerequisite: Word Processing and a grade of C or higher in EN210
or EN215.
TE446 Business Education Methods for Secondary Teachers (3,0) 3 A study of strategies
and methodologies to facilitate effective business course instruction. Students learn to plan and
present office cluster, accounting, marketing and computer software lessons and units using
contemporary methods. Students use national and state standards and benchmarks in planning
instruction and assessment. Integrated technology component. Field work required.
Prerequisites: TE150, TE250, TE301 and admission to the teacher education program.