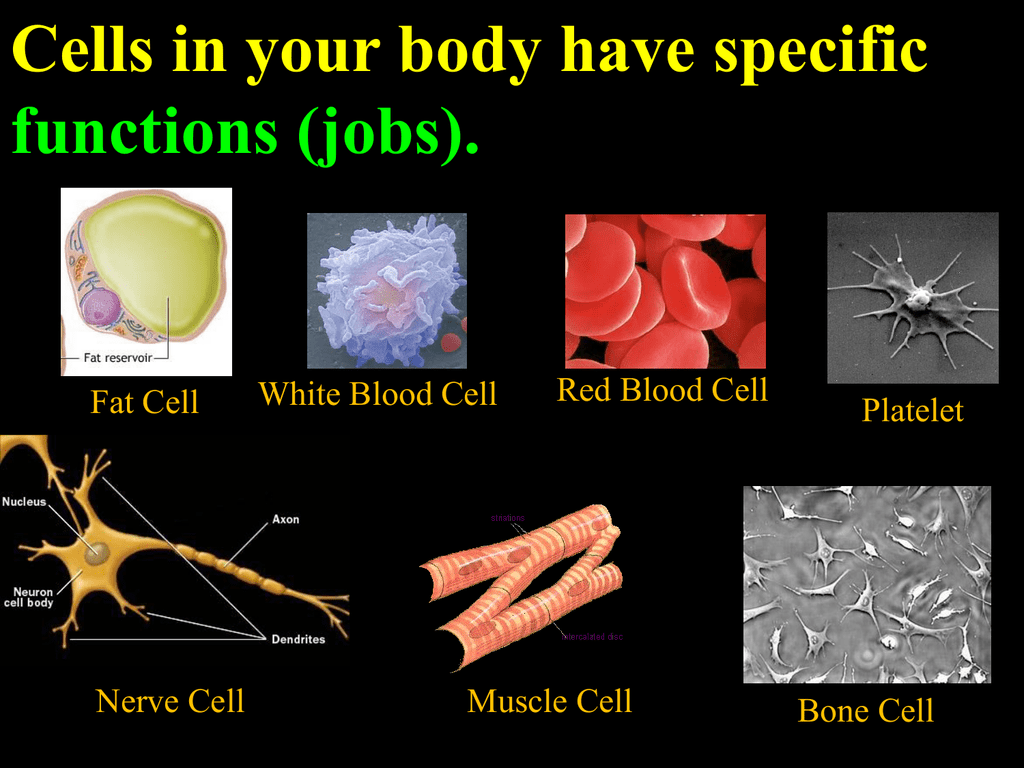 Cells in your body have specific
functions (jobs).
Fat Cell
Nerve Cell
White Blood Cell
Red Blood Cell
Muscle Cell
Platelet
Bone Cell
Cells with similar functions
working together form a TISSUE.
Muscle Tissue
Nerve Tissue
Adipose Tissue
(fat tissue)
Blood
Bone Tissue
Cuboidal cells
EPITHELIAL
TISSUE
(3 types)
Lining of glands, kidneys tubules,
ducts of glands
Squamous cells
Lining of lungs, heart, mouth,
blood vessels, and skin.
Columnar cells
Lining of stomach, intestines,
nose, ears, and tongue
CONNECTIVE TISSUE
adipose tissue (fat cells)
cartilage (chondroblast cells)
blood (platelets, red and white blood cells)
bone (osteoblast cells)
adipose
cartilage
blood
bone
NERVOUS TISSUE
•Brain
•Spinal Cord
•Nerves
Muscle Tissue
Smooth Muscle
Tissue
Skeletal Muscle
Tissue
Cardiac Muscle
Tissue
SMOOTH MUSCLE
Found in blood vessels, stomach,
intestine, esophagus,
•Not striated
•Involuntary
•Not branched
•Slow to tire
SKELETAL MUSCLE
attaches to and moves bones.
•Striated
•Voluntary
•Not branched
•Tires when
working hard
CARDIAC MUSCLE
Found only in the heart.
•Striated
•Involuntary
•Branched
•Never tires
Two or more tissues working
together make up an ORGAN.
Organs working together make up an ORGAN SYSTEM.
Homeostasis
is the state of
having a stable
internal
environment.
OBJECTIVES
•Discuss the functions of
the skeletal system.
•Describe the structure of
a bone.
FUNCTIONS OF THE SKELETAL
SYSTEM
•Provides shape and support
•Allows movement
•Protects vital organs and
tissues
•Stores certain materials
•Produces blood cells
206 bones make up
the skeleton.
The Skeletal System is the
body's living framework.
Most of the skeletal system is made up of
bones, ligaments, tendons, and cartilage
(connective tissues).
The skeleton is divided into
two parts.
•Axial skeleton
•Appendicular skeleton
Axial Skeleton
Appendicular
Skeleton
skull
ribs
shoulders
breastbone
arms
vertebral column
and
hands
pelvis/hips
legs
and
feet
Axial Skeleton
Protects the Organs.
Appendicular Skeleton
Provides Movement
Development of Bone
Structure of Long Bone
Figure 6.3a, c
Copyright © 2003 Pearson Education, Inc. publishing as Benjamin Cummings
Structure of Long Bone
Figure 6.3a,b
Copyright © 2003 Pearson Education, Inc. publishing as Benjamin Cummings
Microscopic Structure of Bone: Compact Bone
Figure 6.5a, b
Copyright © 2003 Pearson Education, Inc. publishing as Benjamin Cummings
Ball and Socket
A ball and socket joint allows for radial movement in almost any
direction. They are found in the hips and shoulders.
Hinge
A hinge joint allows extension and retraction of an appendage.
Injuries to the skeletal
and muscular systems.
•Sprain – ligaments and tendons
are torn or pulled beyond their
stretching range.
•Fracture – a break in the bone.
•Dislocation – when a bone is
forced out of its joint.
The End!