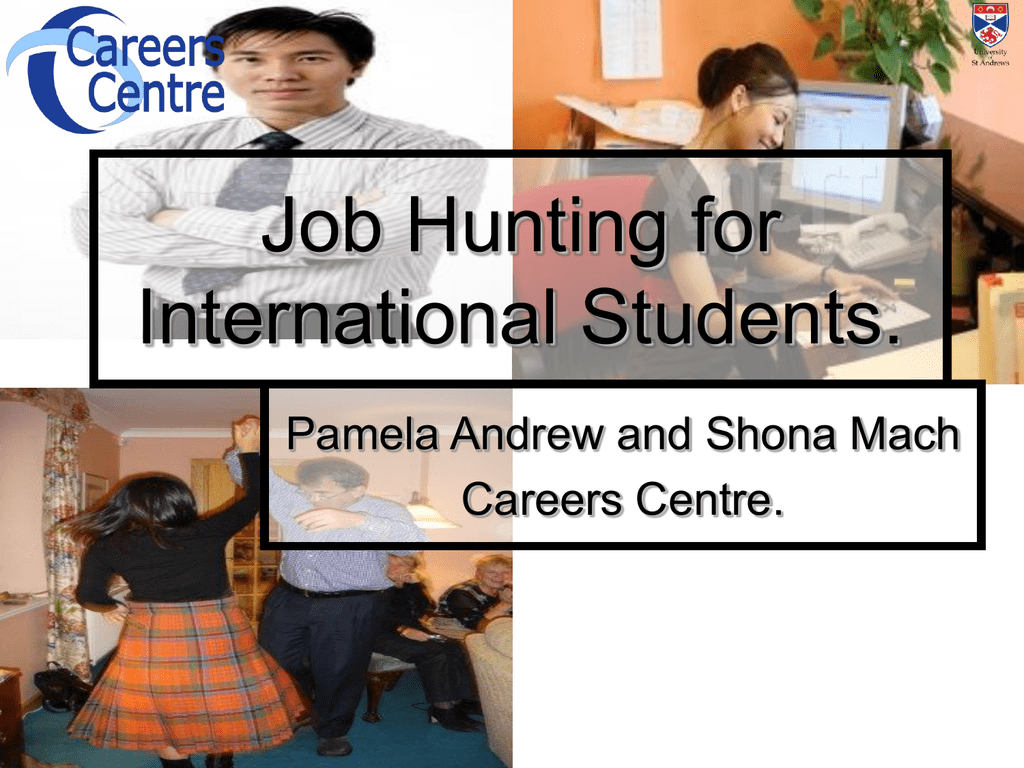 Job Hunting for
International Students.
Pamela Andrew and Shona Mach
Careers Centre.
English is the Key!
"International students get through the CV
and application form but the majority fail in
group work where they do not have a
good enough command of the English
Language" Hong Le , Graduate
Recruiter


Written – CV, covering letter,
application form, assessment centre –
report
Spoken – interview, group work,
presentation
Taking Part.







I would strongly recommend all
students try to be involved in
opportunities where they can practise
their spoken English"
Olivia Morley, Goldman Sachs
International
Take part in hall activities.
Join a university society or group.
Employer Events – Presentation Skills
02/12 – Ernst & Young - http://www.standrews.ac.uk/careers/students/event
s/standrews/
Volunteer, [email protected]
Part-time job.
Internship, work shadowing,
conversation
Talk by Jing
Job Search in the UK





Graduate Entry to the Labour
Market.
How can I identify graduate job
opportunities
Job search back home
Networking – how to go about it
What do employers look for
Graduate Entry to UK Labour
Market



Graduate Training Programmes (only 5%)
 Approx. 70% of jobs are open to graduates
of any degree discipline
 Employers provide initial training of 1-2 years
 May study for a professional qualification
 Masters often enter at same point as
undergraduates.
Small-Medium Enterprises (often not advertised)
 recruit an increasing proportion of graduates
 operate less formal systems of training
Direct Entry
 with specific experience or specialist
qualification
How do you identify
opportunities?
Identifying Job Opportunities - Advertised?






Websites – organisations
Careers Centre – "Search jobs and
internships"
Employer Directories e.g. Prospects.
Recruitment Agencies –
e.g.http://www.chinesegraduate.com/
Print media – newspapers and on-line.
Recruitment fairs and campus-based
employer events – fair programmes http://www.standrews.ac.uk/careers/students/events/fair
s/.
www.st-andrews.ac.uk/careers
Identifying Job Opportunities - Hidden job
Market?






Identify the type of job you are looking for.
Identify the type of organisation you would
like to work for.
Networking – creating your own,
Research the organisation you would like
to work for.
Make contact with the organisation.
Make a speculative application (CV and
covering letter).
Over 70% of jobs are not advertised.
Job Search back Home
Key issues






English language still key.
Networking.
Transferable skills, eg teamwork,
interpersonal.
Work experience.
Research employers – domestic
versus multinationals – know
recruitment process.
Flexibility in your attitude to
employment
Job hunting resources
China
 www.educationuk.cn/alumniuk (free
registration)
 www.zhaopin.com
 www.chinahr.com
 www.51job.com
 www.gradchina.com
Elsewhere
 www.prospects.ac.uk
 www.gradasia.com
 Going Global
http://online.goinglobal.com/default.aspx
Networking








Academics from University.
Friends and Family.
Past and Present Colleagues.
Past and Present Employers.
University Alumni
People doing the job you would like
to be doing.
Careers Alumni Network
https://www.standrews.ac.uk/careers/students/getti
ngstarted/contactalumni/
What do employers of graduates
look for?

Degree + Work experience + Extra curricular activities
= highly employable





Communication: e.g. speaking effectively,
writing concisely
Research and Planning: e.g. problem
solving, goal setting
Interpersonal: e.g. listening, delegating
effectively
Management and Leadership: e.g.
coordinating tasks, supervision
Work Success: e.g. decision making and
implementation, time management
Employers' Top 25 Attributes
1. Willingness to Learn
2. Commitment
3. Dependability
4. Self Motivation
5. Teamwork
6. Communications Skills
(Oral)
7. Co-operation
8. Communications Skills
(Written)
9. Drive/Energy
10. Self-Management
11. Desire to Achieve
12. Problem-Solving
13. Analytical Ability
14. Flexibility
15. Initiative
16. Can Summarise Key Issues
17. Logical Argument
18. Adaptability (Intellectual)
19. Numeracy
20. Adaptability (Organisational)
21. Commercial Awareness
22. Time Management
23. Self Confidence
24. Able to Influence Others
25. Creative Thinking
http://www.wikijob.co.uk/wiki/key-competencies
Other Points.




Timescales - Many organisations start the
recruitment process in Sept – November
2008 for jobs starting in Sept/Oct 2009.
Prospective Employer – Recruitment policy
e.g. Some organisations ask for a visa
before application.
UK Border Agency – Post Study Worker –
(Wendy Houldsworth Student Support.)
www.ukba.homeoffice.gov.uk/workinginthe
uk/tier1/poststudy
Masters students often start at the same
level as undergraduates, may start on a
higher salary level.
Careers Centre











Website - International Student section.
Occupation Information – Tactics sheets, books,
directories.
Careers Wiki – information, case studies
Vacancies, Job Shop – local vacancies
CV, application forms & covering letters
Employer contacts: fairs, career insights, skills
development, presentations
Going Global – resource for finding international
employment and internships.
Psychometric testing
Interview coaching
Information on employers, further study & work
experience
Adviser drop-in sessions.
Any
questions?