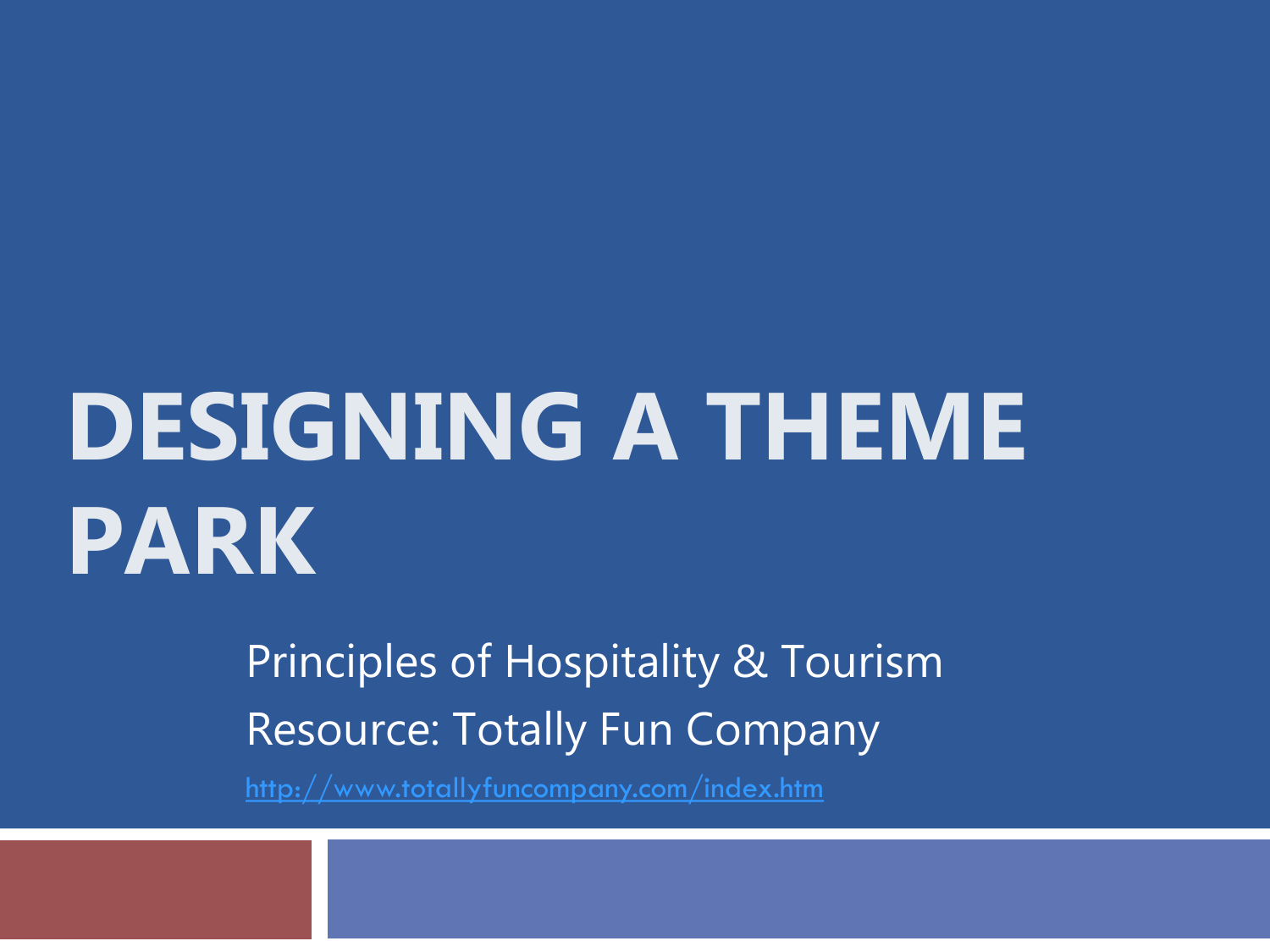 DESIGNING A THEME PARK
Principles of Hospitality & Tourism
Resource: Totally Fun Company
http://www.totallyfuncompany.com/index.htm
Multi-Step Process
1.
2.
3.
4.
Feasibility study
Concept development
Themed architectural design
Project management
1. Feasibility Study

Main Goals
 Determine
 How
big?
 Determine
 How
size of the park
investment level needed
much?
Feasibility Study

Study the market's demographics

Analyze current business trends

Evaluate the competition

Determine the theme

Determine the facility size
Feasibility Study

Establish operating budgets

Predict attendance

Predict guest per capita spending

Determine return on investment
2. Concept Development

Brainstorm ideas for attractions,
restaurants, stores, branding concepts.

Select intellectual property, such as
books, films, TV shows, music, etc.

Develop sub-themes or "lands"

Develop main attractions of "lands"

Develop master plan.
 Include
map, layout, landscaping, graphic
style, rides, shows, food-service areas, retail,
guest services, public areas.

Make sketches and storyboards.
Two Popular Park Layouts
1. The Loop
 Developed
by Randy Duell for Six Flags Over
Texas
 Most
 Big
common layout
promenade that circles the park
 Never
loop.
get lost; you are always somewhere on the
Two Popular Park Layouts
2. Icon Design Philosophy
 Big
visual landmark
 Pulls
you through the park
 Disney
approach
Park Lay Out - Disney Approach
Mickey's 10 Commandments
1.
Know your audience
2.
Wear your guest's shoes
3.
Organize the flow of people and ideas
4.
Create a "come to me"
5.
Communicate with visual literacy
Mickey's 10 Commandments
6.
Avoid overload
7.
Tell one story at a time
8.
Avoid contradiction
9.
For every ounce of treatment,
provide a ton of fun.
10.
Keep it up
3. Architectural Design


Architecture is "Part of the Show." It should
make the guest want to return. Just being there
should be fun!
Make architectural drawings, 3-D renderings,
arial views
Ride Design


Don't just create rides, create adventures.
Click on each of the rides
http://www.totallyfuncompany.com/ride.htm
Live Shows/Special Events

Entertaining

Interactive

Talent Filled

http://www.totallyfuncompany.com/project.htm
Stunt Shows

Special effects

Feel the action

Close to the audience

http://www.totallyfuncompany.com/stunt.htm
4. Project Management

Oversee the actual construction of
the park.