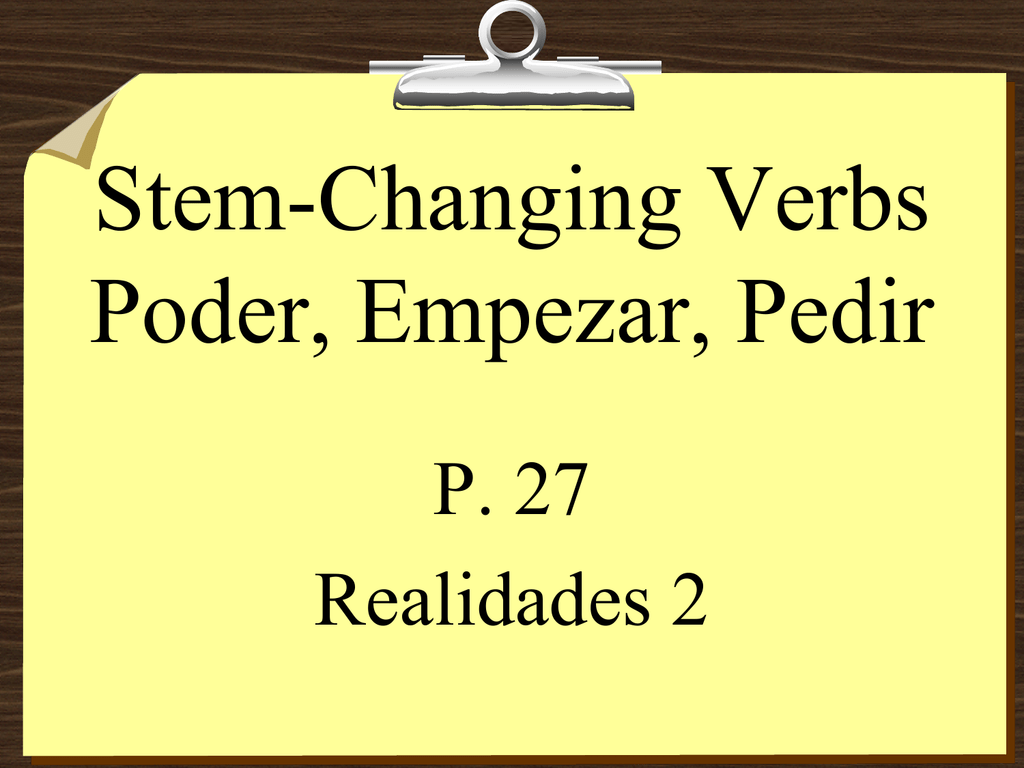 Stem-Changing Verbs
Poder, Empezar, Pedir
P. 27
Realidades 2
Stem-Changing Verbs
The stem of a verb is the part of the
infinitive that is left after you drop
the endings -ar, -er, or -ir.
Stem-Changing Verbs
For example, the stem of empezar is
empez-.
Stem-changing verbs have a
spelling change in their stem in all
forms of the present tense except the
nosotros(as) and vosotros(as) forms.
Stem-Changing Verbs
There are three kinds of stemchanging verbs that you have
learned.
To review them, here are the
present-tense forms of poder (o>ue),
empezar (e>ie), and pedir (e>i)
PODER
Yo
puedo
Nosotros podemos
Tú
puedes
Vosotros podéis
puede
Ellos
Ellas
Uds.
Él
Ella
Ud.
pueden
EMPEZAR
Yo
empiezo
Tú
empiezas Vosotros empezáis
Él
Ella
Ud.
empieza
Nosotros empezamos
Ellos
Ellas
Uds.
empiezan
PEDIR
Yo
pido
Nosotros pedimos
Tú
pides
Vosotros pedís
pide
Ellos
Ellas
Uds.
Él
Ella
Ud.
piden
Stem-Changing Verbs
Si no puedes contestar una
pregunta ¿qué haces?
Generalmente le pido ayuda a otro
estudiante o al profesor.