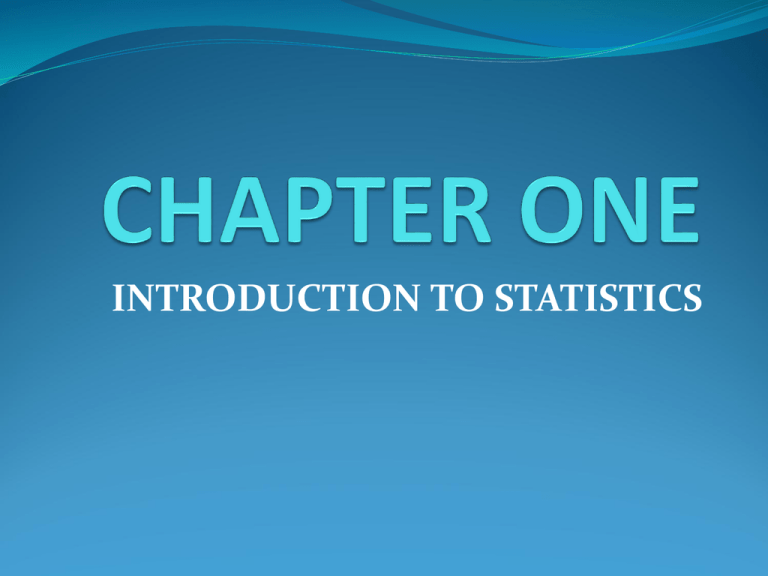 INTRODUCTION TO STATISTICS
An Overview of Statistics
VOCABULARY
 Data: consists of information coming from
observations, counts, measurements, or
responses.
 Statistics: the science of collecting,
organizing, analyzing, and interpreting data
in order to make decisions.
 Population: The collection of ALL outcomes,
measurements, or counts that are of interest.
 Sample: a subset (or part) of the population
EX: Classifying Data Sets
Determine if the set is a population or a sample.
Explain your reasoning.
 The annual salary of each pharmacist at a
pharmacy.
 The cholesterol levels of 20 patients in a hospital
with 100 patients.
EX: Identifying Populations &
Samples
 A study of 33, 043 infants in Italy was conducted to
find a link between a heart rhythm abnormality
and sudden infant death syndrome. (source: New
England Journal of Medicine)
 A survey of 1442 US adults found that 36% received
an influenza vaccine for the current flu season.
(source: Zogby International)
More Vocab!
 Parameter: a numerical description of a
POPULATION characteristic.
 Statistic: a numerical description of a SAMPLE
characteristic.
 There are 2 branches of Statistics…
 1. Descriptive Statistics: involves organization,
summarization, and display of data.
 2. Inferential Statistics: involves using a sample
to draw conclusions about a population.