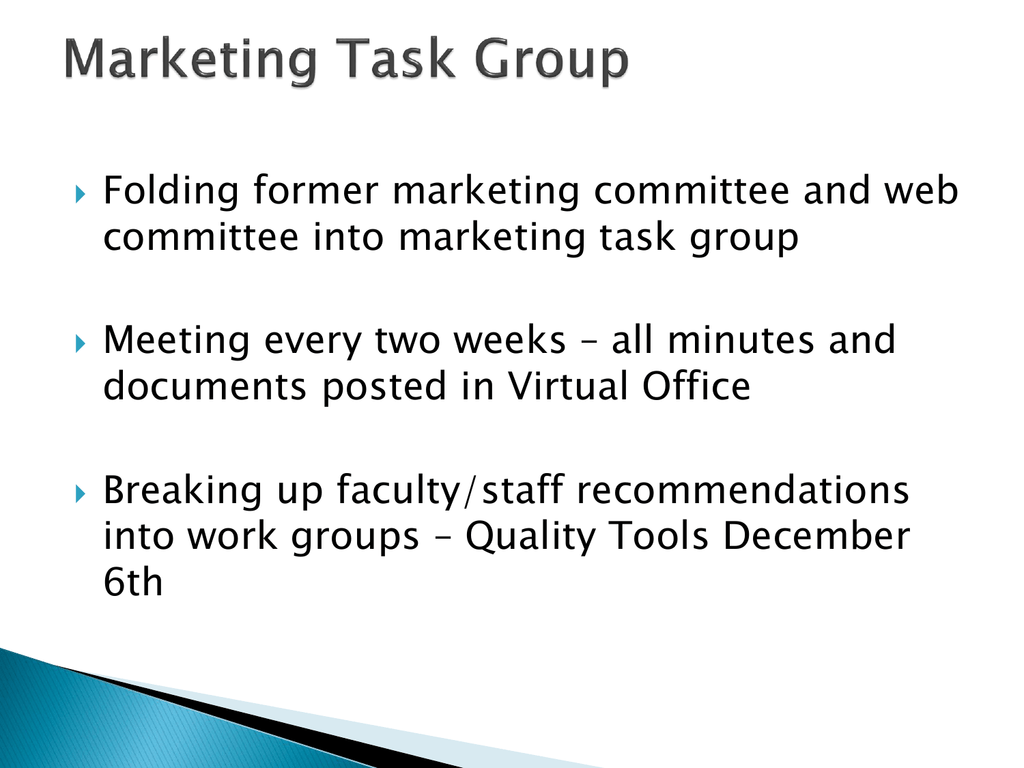 


Folding former marketing committee and web
committee into marketing task group
Meeting every two weeks – all minutes and
documents posted in Virtual Office
Breaking up faculty/staff recommendations
into work groups – Quality Tools December
6th



File posted on the N Drive, college Share,
12 05 07 Employee update folder
"NCTC Welcome"

All ads have a "call to action" – All say to "register
now online, Classes start January 14, Make more of
the winter months – take a class"

Radio ads running now with new jingle (Examples
"nctcjan14th")

If faculty will submit their "top five" to Mark, we'll do
a program-specific radio ad

Running now: Health Careers, Cosmetology, General
"Take a Class"

Stations: Wild 102 Roseau, XL93, Cat Country, KJ108,
KXPO-Grafton



TV ads running now: 2 General, Nursing
Testimonial (Examples "Nursing TV," "Fall
2007 General I")
Heavy Rotation: CW Network, Midcontintent
Cable, Adding Sjoberg's
Monday Night Football sponsor (2 spots per
game), Rotation on MTV, E!, TLC




Three full-page ads in GF Herald – Featuring a list of
open classes (mostly Liberal Arts, mostly East Grand
Forks) (Example "1209.Northland")
Another GF Herald ad coming soon – To feature TRF
Liberal Arts & Technical
Full-page ads in Northern Watch – (All TRF Classes –
Liberal Arts in the First, Technical this Friday)
(Example "Spring Semester TRF")
Full-page ads in McIntosh, Oklee,
Clearbrook/Gonvick, Grygla papers next week – TRF
Technical & Liberal Arts





Radio ads complete – Good response, several
applications from Winnipeg nursing students
(Example)
Ran two banner ads in Sunday Free Press
(Example "Nov25-07 Tearsheet" Scroll to Bottom)
Now running 50,000 web impressions on
Winnipeg Free Press web page – Banner ads link
to NCTC website
Contacted by CBC Radio Reporter doing a story
on our recruiting efforts!
Winnipeg looks like a new target market for
unique programs

Running ads for Nursing (Example "V4EDNorthland")


Autobody -- MNSCU minority relations
advised that young Hmong males are
particularly interested in autobody after
seeing shows like "Pimp My Ride" and "The
Fast and the Furious."
Marketing needs faculty/staff input –
You tell us what you'd like to say, We'll say it!!!