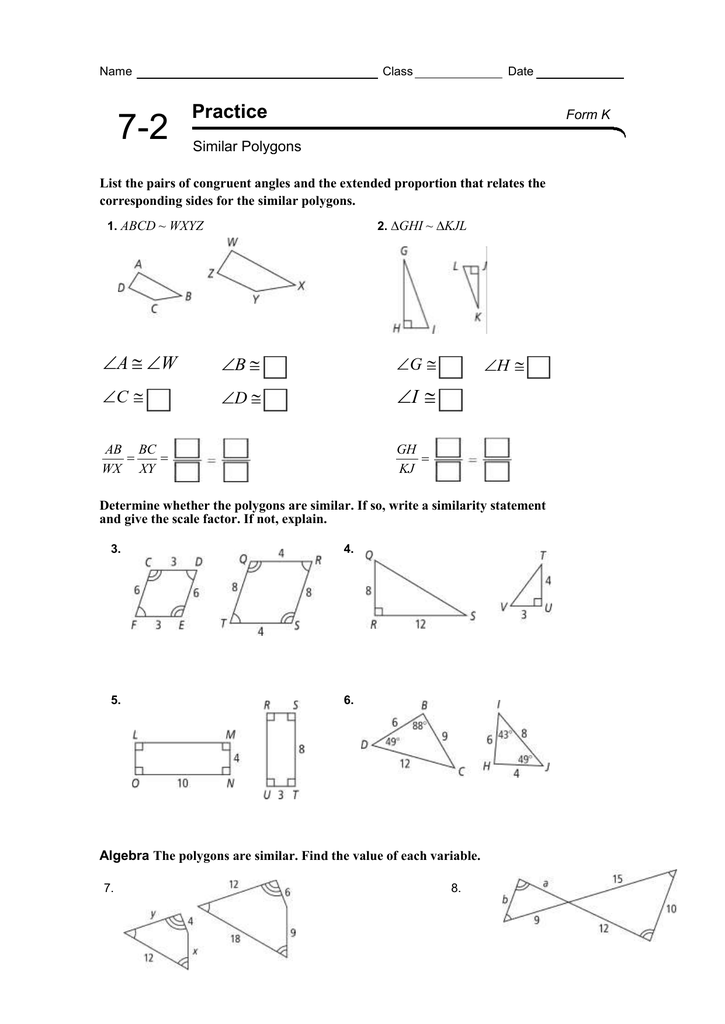 Name
7-2
Class
Date
Practice
Form K
Similar Polygons
List the pairs of congruent angles and the extended proportion that relates the
corresponding sides for the similar polygons.
2. GHI ~ KJL
1. ABCD ~ WXYZ
A  W
B 
G 
C 
D 
I 
H 
GH

KJ
AB BC


WX XY
Determine whether the polygons are similar. If so, write a similarity statement
and give the scale factor. If not, explain.
3.
4.
5.
6.
Algebra The polygons are similar. Find the value of each variable.
7.
8.
9. For art class, you need to make a scale drawing of the Parthenon using the scale 1in. = 5 ft.
The Parthenon is 228 ft long. How long should you make the building in your scale drawing?
10.Ella is reading a map with a scale of 1 in. = 20 mi. On the map, the distance Ella
must drive is 4.25 in. How many miles is this?
Algebra Find the value of z. Give the scale factor of the polygons.
12. JKL ~ QRS
13. The scale factor of ABCD to EFGH is 7 : 20. What is the scale factor of
EFGH to ABCD?
In the diagram below, NOP ~ WXY . Find each of the following.
14. the scale factor of NOP to WXY
15. mX
16. mY
17.
NP
WY
18. WX
19. NP
20. A company makes rugs. Their smallest rug is a 2 ft-by-3 ft rectangle. Their largest rug is a
similar rectangle. If one side of their largest rug is 18 ft, what are the possible dimensions of
their largest rug?
21. You make a scale drawing of a garden plot using the scale 2 inches = 17 feet. If the length of
a row of vegetables on the drawing is 3 inches, how long is the actual row?
22. Harold has a photograph that is 8 in. wide by 10 in tall, that he wants to print at a
reduced size to fit into a frame that is 6 in. tall. What will be the width of the reduced
picture?