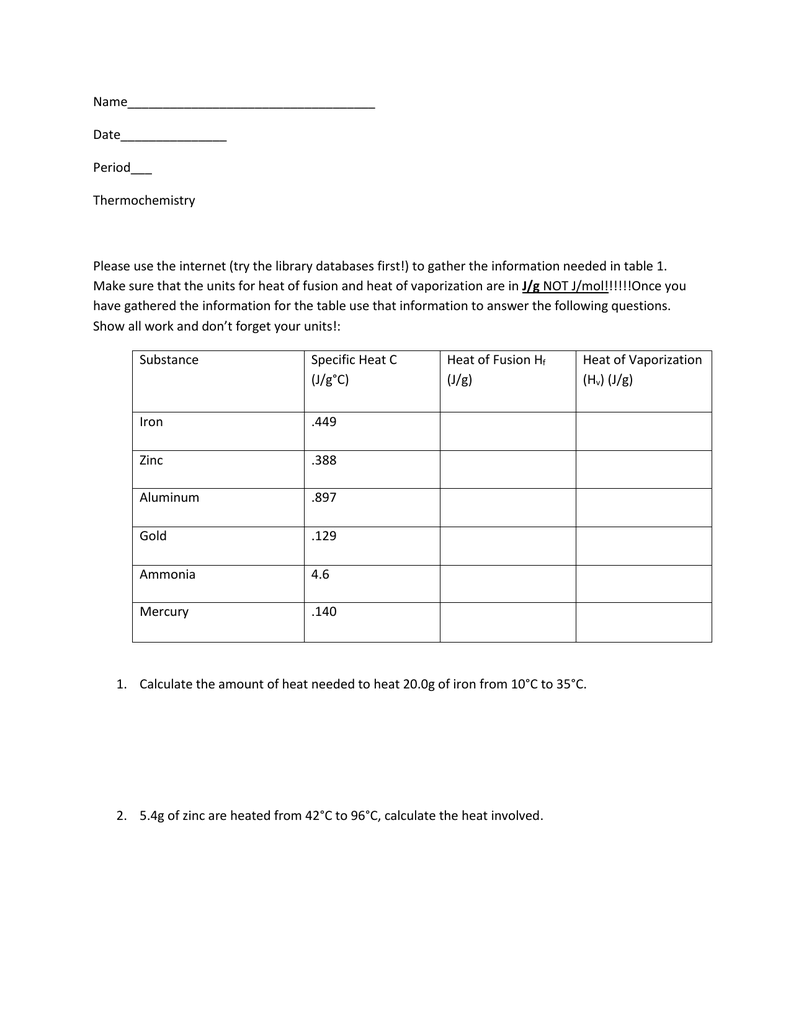 Name___________________________________
Date_______________
Period___
Thermochemistry
Please use the internet (try the library databases first!) to gather the information needed in table 1.
Make sure that the units for heat of fusion and heat of vaporization are in J/g NOT J/mol!!!!!!Once you
have gathered the information for the table use that information to answer the following questions.
Show all work and don't forget your units!:
Substance
Specific Heat C
(J/g°C)
Iron
.449
Zinc
.388
Aluminum
.897
Gold
.129
Ammonia
4.6
Mercury
.140
Heat of Fusion Hf
(J/g)
Heat of Vaporization
(Hv) (J/g)
1. Calculate the amount of heat needed to heat 20.0g of iron from 10°C to 35°C.
2. 5.4g of zinc are heated from 42°C to 96°C, calculate the heat involved.
3. 435g of aluminum are melted. How much heat is required?
4. 50g of ammonia are boiled. How much heat was involved?
5. 125mg of gold are heated from 25°C to 55°C. How much heat is required?
6. 230g of mercury are cooled from 43°C to 21°C. Calculate the heat involved.
7. If 45000mg of water evaporate calculate the heat involved.
8. Determine the specific heat of a substance if 40g of the substance is heated from 20°C to 80°C at
the expense of 81000J of heat.
9. Calculate the total heat if 30g of water is heated from 25°C to 130°C.