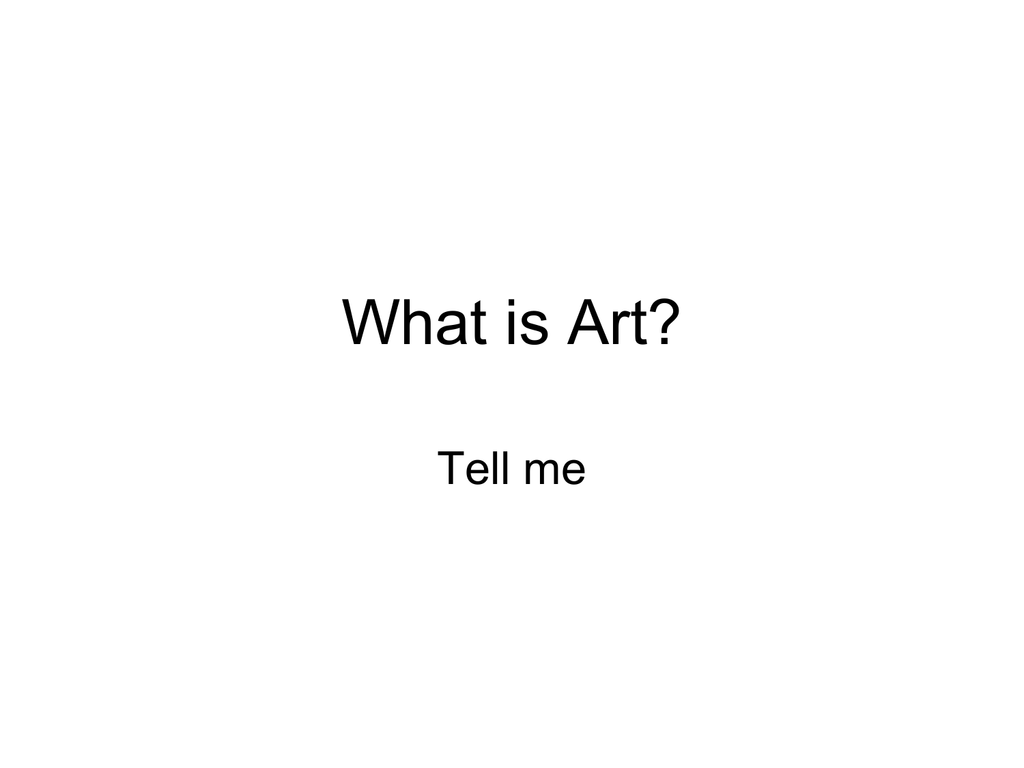 What is Art?
Tell me
What is Art?
• Form of expression with aesthetic
– Aesthetic – Values that allow the viewer to judge art
as satisfying.
– Beauty is in the eye of the beholder
– Aesthetics the branch of philosophy dealing with
such notions as the beautiful, the ugly, the sublime,
the comic, etc., as applicable to the fine arts, with a
view to establishing the meaning and validity of
critical judgments concerning works of art, and the
principles underlying or justifying such
judgments.2.the study of the mind and emotions in
relation to the sense of beauty.
Aesthetics
Janet Fish
Piet Mondrian
Jackson Pollock
Marla Olmstead…..
Marcel Duchamp
Ready-mades
Dadaism
http://www.mnstate.edu/gracyk/courses/phil%20of%20art/duchamp2.htm
Perception
• Art is how we organize perception
• http://en.wikipedia.org/wiki/Perception
• How we see
• How we sense something
–
–
–
–
–
Sight
Sound
Taste
Smell
Sound
Perception Exercise…
• Choose an object
• Perceive it
•
•
•
•
•
Look
Touch
Listen
Smell
Taste
Homework
•
•
•
•
•
•
•
•
•
•
Perceive an object
Practice really looking at an object
Choose one interesting object
Look
Feel
Listen
Smell
Taste
One paragraph for each sense
Must type, 12pt type, double spaced, ½" margins
Refer to example
Language
• Art is communication, a language that
artists use to express what everyday
words can not.
• A picture is worth 1,000 words
• Universal language
"The Aesthetic Experience"
Types of Art….
• Visual Arts….
– Audience primarily
uses sight
– Permanent
Visual Art
• Fine Art
– Deals with process
– Motivation – self
enjoyed for own sake
Commercial Art
•
•
•
•
•
•
•
Commercial
Commerce
To sell
Money
Deals with product
Client needs
Commercial trade –
art used to sell
• Allure customer,
make you stop and
buy
Fine vs. Commercial
•
•
•
•
•
•
Is a painting fine or commercial art?
Is a photograph fine or commercial art?
Motivation in fine art is self.
No necessary medium
Does not have to be beautiful
Modern term…Fine Art term changed to visual
arts. Fine meaning fine quality or academic art.
• Difference is the intention of the artist
Macy's vs. Adams….
Performing Art
• Human Body is the
medium
• Occupies space and
time
• Audience uses sight
and hearing
• Process – rehearsal
• Product –
performance (show)
Forms of Expression
• Realism
– Represents the
external world in an
objective and factual
manner.
– Jeannette Pasin Sloan
Representational
• To reproduce
recognizable subject
matter with a slight
distortion due to
personal
interpretation and
style.
• Vincent van Gogh
Abstract
• Imagery that
simplifies, distorts, or
exaggerates the
concept with personal
interpretation and
style.
• Technique overrides
the representation.
• Pablo Picasso
Non-Objective
• Non-Representational
• Not intending to
represent actual
objects or elements of
nature.
• No subject matter.
• Christopher Goodwin
Materials
• Objects used in the
creation of the art
(Drawing paper)
Tool
• The object that
manipulates the
material/medium
(Paint brush)
Medium
• Method of expression
• The material that is
the art
(watercolors)
Homework
• Complete the worksheet given.
• Use your textbook to draw examples of
each form of expression.
Da END!