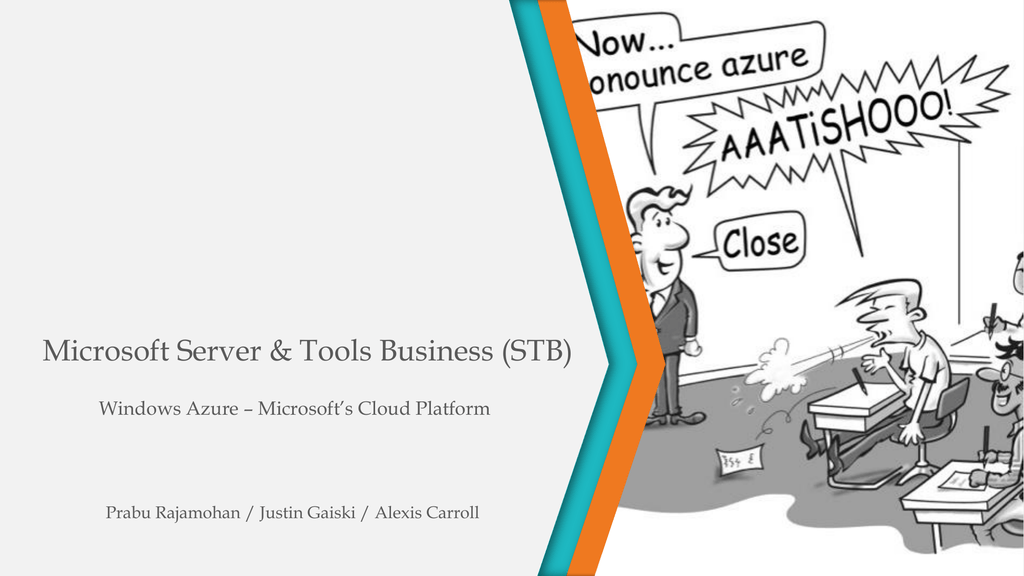 Microsoft Server & Tools Business (STB)
Windows Azure – Microsoft's Cloud Platform
Prabu Rajamohan / Justin Gaiski / Alexis Carroll
What's up with Microsoft? (as of April, 2013)
• Satya Nadella has been appointed as the president of Microsoft's
Server & Tools Business unit.
• People still think of Microsoft as the Windows PC company.
• Continue to fall behind the other (new) technology giants in the
areas of Cloud, Mobile and disruptive technologies like Big Data.
• Facing significant challenges in competing with leading cloud
computing providers such as Amazon (800-pound gorilla of the
cloud), Google, Rackspace, IBM (OpenStack), and Salesforce.com.
• Can Windows Azure (Microsoft's Cloud Platform) become a
leading Cloud provider with the new leadership?
Packaged Products Vs. Azure
With each of the major (STB's) packaged products doing so well,
how would Nadella persuade the organization to start looking
beyond the current products?
• Microsoft's STB (i.e. Windows Server, SQL Server) is the largest
revenue generator but,
• Open Source communities offer similar packaged products and
services at less cost (i.e. Linux)
• The traditional packaged products model is on a declining path
• Using their current talents, resources and money, Microsoft can
come up with a unique Windows Cloud Platform that will put
them at pace with other leading technology companies
• Look back at the recent history: The company already missed an
opportunity to be a leader in internet based technologies (a late
adopter of internet)
• See the picture to your right!
STB's Internal Challenges
Should Nadella keep Azure separate from the ongoing products or merge it into the group?
•
Keep Azure suite of products development separate from each business line but share the
resources
•
Develop a cross functional approach to sales and marketing to retain client relationships
•
Communication at the highest levels must be maintained to maintain a cohesiveness between
the products
Key players: Srivastava and Liang - Who should lead the new Azure team?
•
Srivastava – the development lead of Windows Azure. Liang – Windows Server's Subject
Matter Expert
•
Both of them must be retained in the effort to buil Microsoft's cloud platform
•
Someone from outside the group or company can be a better leader by establishing synergies
among different STB's product lines in order to build a strong cloud computing platform
•
The new leader must ensure the picture to the right is not applicable to the other employees
How many of the 9,000 employees should focus on Azure? Should we really have more than
half of our organization working on something we make no money on?
•
The talents from other product lines can be slowly trained and pulled based on the need for
Azure
STB As a Service Provider
Who is the target customer; startups looking for low cost and
implementation speed or large corporations looking for high
service levels?
• The target customer is large corporations, because Microsoft is
better positioned to service their needs and desire for a hybrid
solution of on-premise service in combination with a cloud
solution. Also, there are less established competitors in this space
Could STB keep up with the faster development cadence that a
cloud service provider must maintain?
•
Yes. They have the in-house expertise and resources to meet the
demands of cloud consumers.