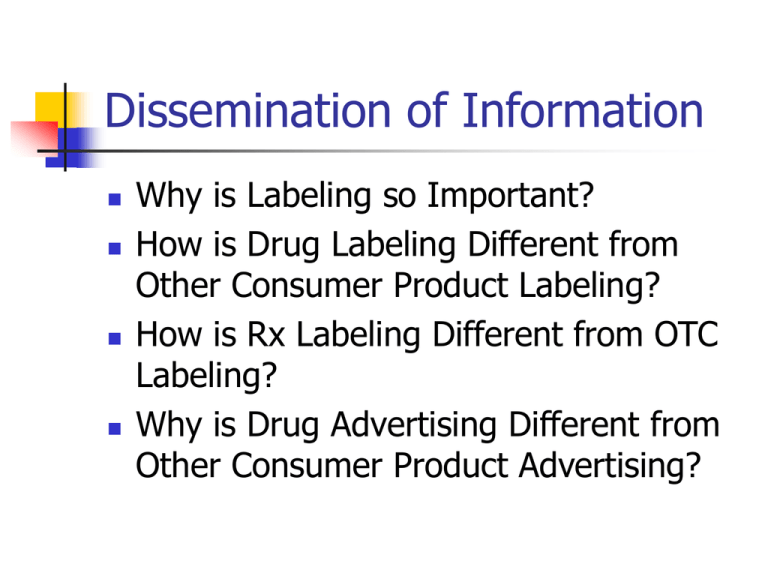 Dissemination of Information




Why is Labeling so Important?
How is Drug Labeling Different from
Other Consumer Product Labeling?
How is Rx Labeling Different from OTC
Labeling?
Why is Drug Advertising Different from
Other Consumer Product Advertising?
Legal Regulation of Speech
Personal and political speech



Ideas can be stupid, wrong, and
dangerous
Deadly diets and self-help books
Violent movies
Legal Remedies



No prior restraint
Usually cannot prevent publication
Can sue afterwards if the speech is
actionable
Defamation



Exceptions for public figures
Opinions are protected
Truth is a defense
Intentional interference with a
business relationship



Like defamation but of a business
Can be easier to prove than defamation
because truth is not a defense
Product disparagement laws are
constitutionally suspect


Oparh's comments about burgers
Hollywood personalities comments about
pesticides in apples
Invasion of Privacy



Publishing sensitive personal
information
Truth is not a defense
Key is usually that you violate the law in
getting it, and that is an important part
of the action
Copyright


You cannot use other's words
Some rights of fair use
Trade secrets



Can be enjoined (prior restraint)
Treated as taking another's property,
not as speech
Can be difficult to undo publication on
the Internet
National security


Cannot tell government secrets
What if you develop a code that the
government wants suppressed?
Commercial speech



Speech in conjunction with selling
products and services
Traditionally Not Subject to 1st
Amendment Protections
New Jurisprudence Recognized
Commercial Speech Protections in the
1970s
Regulation of Commercial
Speech




Much less protection
More like action than speech
Extensively regulated for Deceptive
Key Question


Can the Government Regulate or Ban
Truthful Commercial Speech?
Why Would the Government Want to?
Drug names

Chemical name


Established name


a long, descriptive name that allows a chemist to draw the
structure of the molecule
7-chloro-1,3-dihydro- 1-methyl-5-phenyl-2H-1,4-benzodiazepin-2one
a generic name for the chemical which anyone may use in lieu of
the chemical name, i.e., a name that is not a trademark
diazepam
Trade name

the trademarked name of that a specific manufacturer uses to sell
a drug, which can only be used by the manufacturer or with its
permission. For example, the patent has long expired on Valium
and it is sold as a generic, but only the owner of the trade name
can call it Valium.