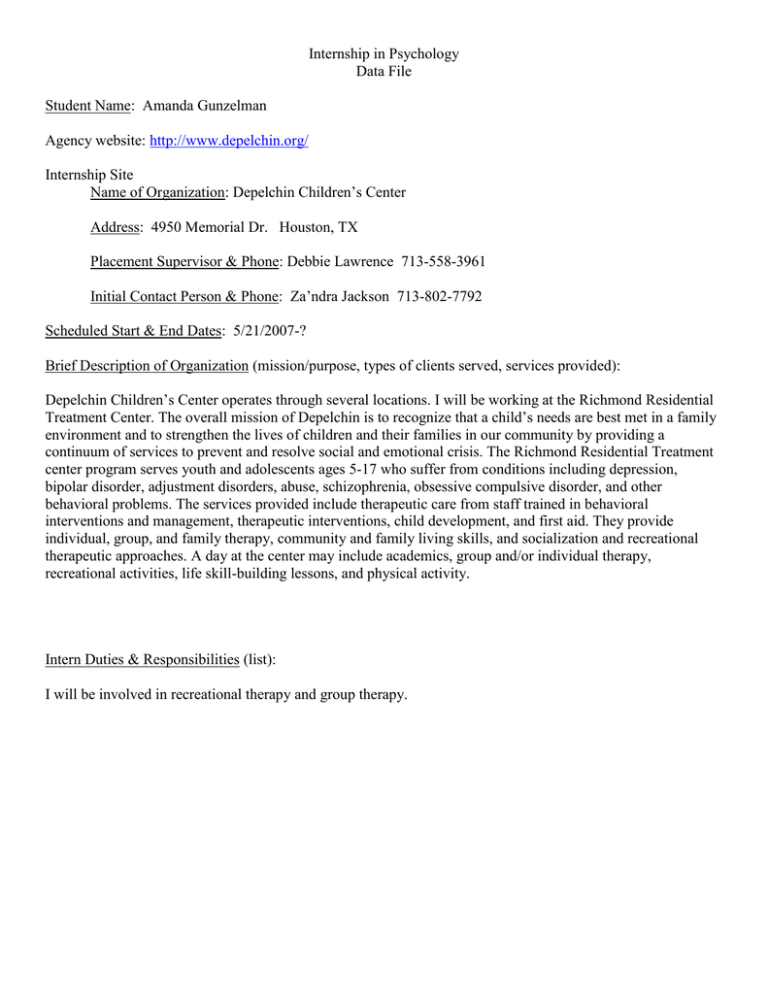 Internship in Psychology
Data File
Student Name: Amanda Gunzelman
Agency website: http://www.depelchin.org/
Internship Site
Name of Organization: Depelchin Children's Center
Address: 4950 Memorial Dr. Houston, TX
Placement Supervisor & Phone: Debbie Lawrence 713-558-3961
Initial Contact Person & Phone: Za'ndra Jackson 713-802-7792
Scheduled Start & End Dates: 5/21/2007-?
Brief Description of Organization (mission/purpose, types of clients served, services provided):
Depelchin Children's Center operates through several locations. I will be working at the Richmond Residential
Treatment Center. The overall mission of Depelchin is to recognize that a child's needs are best met in a family
environment and to strengthen the lives of children and their families in our community by providing a
continuum of services to prevent and resolve social and emotional crisis. The Richmond Residential Treatment
center program serves youth and adolescents ages 5-17 who suffer from conditions including depression,
bipolar disorder, adjustment disorders, abuse, schizophrenia, obsessive compulsive disorder, and other
behavioral problems. The services provided include therapeutic care from staff trained in behavioral
interventions and management, therapeutic interventions, child development, and first aid. They provide
individual, group, and family therapy, community and family living skills, and socialization and recreational
therapeutic approaches. A day at the center may include academics, group and/or individual therapy,
recreational activities, life skill-building lessons, and physical activity.
Intern Duties & Responsibilities (list):
I will be involved in recreational therapy and group therapy.