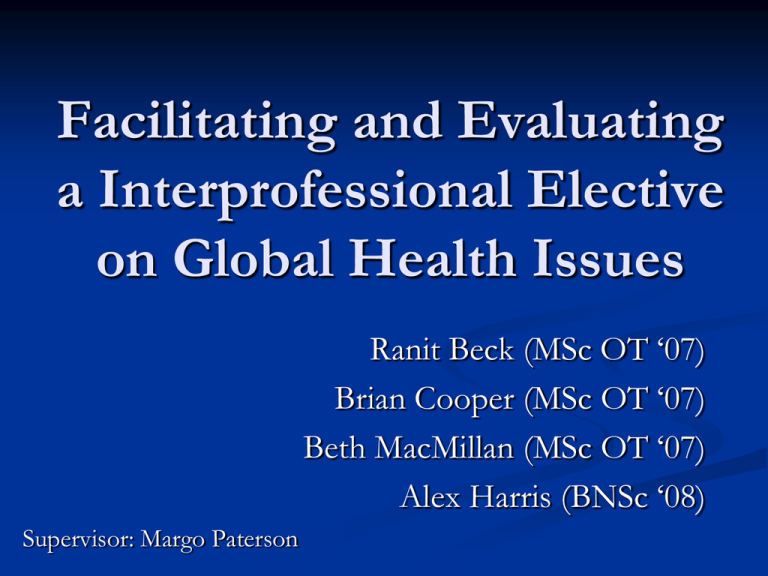 Facilitating and Evaluating
a Interprofessional Elective
on Global Health Issues
Ranit Beck (MSc OT '07)
Brian Cooper (MSc OT '07)
Beth MacMillan (MSc OT '07)
Alex Harris (BNSc '08)
Supervisor: Margo Paterson
In the Beginning …

Why this project?



On campus - large interest in international
health
Limited opportunities for interprofessional
education
Last year

Build upon pilot project to include a more
varied mix of speakers and students
The Elective:
"Health in the Global Context"
8
Guest speakers
 Representing
Medicine, Nursing & Rehab
 Focus group/case study session
 The
 95
participants:
applications
 28 chosen
 8 Rehab, 12 Medicine, 8 Nursing
Evaluation


24 participants completed the course
Pre and Post course questionnaire
Interprofessional Education Perception Scale (IEPS)
(Luecht et al., 1990)
 Questions developed by QUIPPED



Weekly short reflection
Focus groups
Concepts that Emerged
1) Sharing a Common Interest
 "I
just think it's nice to let people find a
common interest and work from there to
integrate the backgrounds of the different
disciplines as opposed to…if there were an
evening elective on 'working with other
disciplines', I don't think you'd get such a
great attendance".
Concepts that Emerged
2) Global

Sharing Similar Goals


"…we all come with our specialties from our discipline but in the
end what I got from the presentations was that they're all doing the
same thing… we're all trying to get to the same goal."
Role Blurring


Health as a Vehicle for IPE
"…I don't feel that I gained a better perspective of what each
professional does here, but it's bettered my understanding of how
they could contribute here."
Value of Teamwork

"Promoting strong partnerships and mutual respect between
different professions seems essential…the only way to make a
positive, sustainable impact in care abroad is by working together."
Concepts that Emerged
3) Perceived

Empowerment of one's own profession:


Implications for Practice
"From a first year nursing perspective, I thought that nurses were
kind of the bottom of the barrel when it comes to the chain but I
found out now that there really isn't a chain and that my opinion on
things can matter."
Building respect for other professions:

"Being aware of [other professions'] potential contributions in an
international context, no one profession has any more power or any
more influence than any other discipline which is something that [I'd]
originally thought."
Perceived Implications for Practice
(cont.)

Challenging Stereotypes:


[Other professions] were setting policy and leading trips overseas
whereas the traditional models have, if anything, a physician lead a
team like that…Whereas [HGC] has given me a better
understanding of why would we work towards having [IP] teams
internationally."
Establishing Relationships and Trust

"…it just made me realize that you have to work so much more
together cause you do have different views on how you tackle a
problem, so I though that was really beneficial to see how that
happens."
Strengths of a Student-Run
Initiative

Building Leaders



Integration of students from diverse groups



Driven by student interest
Facilitate students to actively take ownership of their education
Increase socialization
Socialization beyond the classroom
Fewer limitations than those found in standard IPE curriculum



Cost effectiveness
Administrative organization
Students are equal
Recommendations
More focus on practical and narrative
presentations
 Speakers should expand further on their
experiences working within a team
 Increase inter-professional socialization

Assign groups from day 1
 Include more of an orientation at the beginning

Thank-you!
Questions?