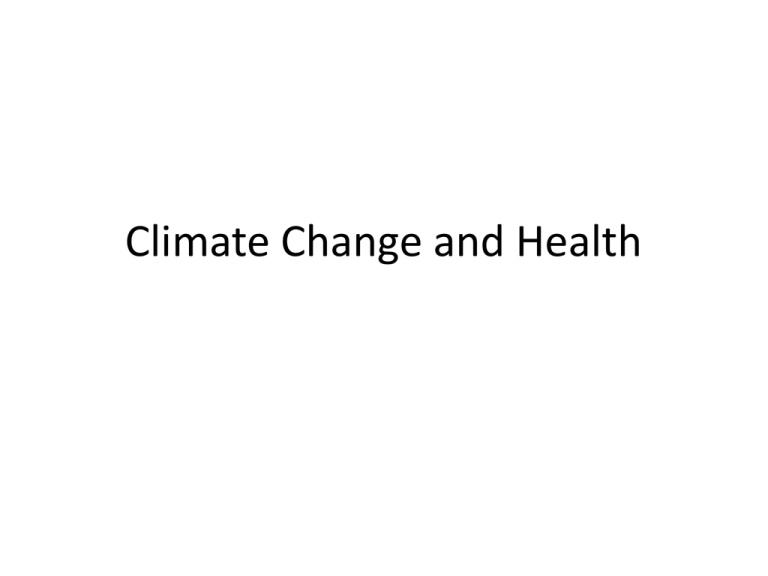 Climate Change and Health
• "Every species has a climatic niche which is a
set of temperature and precipitation
conditions in the area where it lives and
where it can survive", (Wiens 2013)
• sustained population health requires the life
supporting benefits of the ecosystem
• Climate stability is vital for food and water
resources, freedom from infectious diseases,
physical safety and comfort
• "Health is a state of complete physical,
mental, and social well-being and not merely
the absence of disease or infirmity" (WHO)
• Not biologically reductionist
• Context matters
• Complex relationship between health, culture,
and environment
Health
• "access to and control over the basic material
and nonmaterial resources that sustain and
promote life at a high level of satisfaction.
Health is not some absolute state of
(biological) being but an elastic concept that
must be evaluated in a larger sociocultural
(and environmental) context"
(Baer and Singer 2008)
Climate Time Fames of Analysis
• Weather-short term events
• Climate-long term patterns
• Three intervals of time
1. Days—weather
2. Years-climate
3. Generations-climate variability/change
Other Concerns
• Increase in frequency of extreme weather
events
• Nutritional scarcity (Changes in food and
water supply)
• Changes/modifications in vector borne
diseases
• 7 Billion people producing and consuming at
an incredible rate
• Complex relationship between humans and
the environment
• Data from 1993-2012
• 530,000 people died
• 15,000 events ; 2.5 trillion dollars
• There's nothing 'natural' about health
problems associated with climate change
• Pre-disaster social issues
• Climate change is a 'threat multiplier'— "it
magnifies and exacerbates existing social,
economic, political, and environmental trends,
problems, issues, tensions, and challenges"
•
(Crate and Nuttal 2009)
• Studies of the health impact of climate change
are in effect studies of society and culture
-prediction, prevention, response, coping,
planning, resources, resources allocation, etc.
Vulnerability
• "degree to which geophysical, biological, socioeconomic systems, cultural systems are
susceptible to, and unable to cope with, adverse
impacts of climate change" (IPCC 2007)
• Individual (group) Vulnerability
-Poverty
-Lack of education
-Marginalization/discrimination
-Disability
Social Determinants of Health
(WHO)
• The social determinants of health are the
conditions in which people are born, grow,
live, work and age.
• They are shaped by the distribution of money,
power and resources at global, national and
local levels.
• They are responsible for health inequities - the
unfair and avoidable differences in health
status
Such as…………
• Individual life style factors
• Social and community networks
• General socio-economic, cultural, and
environmental conditions (Putnam and Galea 2008)
• Access to secure and stable resources (Grady and
Goldblatt 2012)
Mel Brooks
• "It's good to be King"!!!!!!
• If you want to live a long, prosperous, healthy
life, try not to be born into poverty.
Potential Health Effects of Climate Change
Climate
change:
• Weather
extremes
• Sea level rise
• Ecosystem
changes
HEAT

Heat stress, cardiovascular
failure
SEVERE WEATHER

Injuries, fatalities
AIR POLLUTION

Asthma, cardiovascular
disease

Respiratory allergies, poison
ivy
VECTOR-BORNE DISEASES

Malaria, dengue, hantavirus,
encephalitis, Rift Valley
fever
WATER-BORNE DISEASES

Cholera, cryptosporidiosis,
campylobacter, leptospirosis
WATER AND FOOD SUPPLY

Malnutrition, diarrhea,
harmful algal blooms
MENTAL HEALTH

Anxiety, post-traumatic
stress, depression, despair

Forced migration, civil
conflict (Frumkin 2009)
ALLERGIES
ENVIRONMENTAL
REFUGEES
With Warming; Vector borne diseases
•
•
•
•
•
•
Acceleration of dissemination
Faster mutation, inability of humans to adapt
Rapid evolution, development
Increase in resistance strains
Increased virulence
Biologically diverse regions(ecosystems)dampen infectious disease transmission
Implications for Physical Therapy
Practice
• Professional responsibility(all areas of
practice)
• Civic responsibility
• Political responsibility
References
• Baer, H. and M. Singer (2008) Global Warming and the Political Economy
of Health; Emerging Crisis and Systemic Solutions, Left Coast Press.
• Crate S. and M. Nuttall, eds. Anthropology and Climate Change
From Encounters to Actions (2009)
• Frumkin, H. (2009) Emerging Health Threats of Climate Change, CDC The
Climate Change Project
• Grady, M and P. Goldblatt, eds. (2012) "Addressing the social determinants
of health; the urban dimension and the role of local government". WHO.
• Intergovernmental Panel on Climate Change (2007) 4th Annual Report
• Putnam, S. and S. Galea (2008) "Epidemiology and the Macrosocial
Determinants of Health" Journal of Public Health Policy, 29(3):275-289.
References
• World Health Organization Preamble to the Constitution of the World
Health Organization as adopted by the International Health Conference,
New York, 19-22 June, 1946; signed on 22 July 1946 by the representatives
of 61 States (Official Records of the World Health Organization, no. 2, p.
100) and entered into force on 7 April 1948.