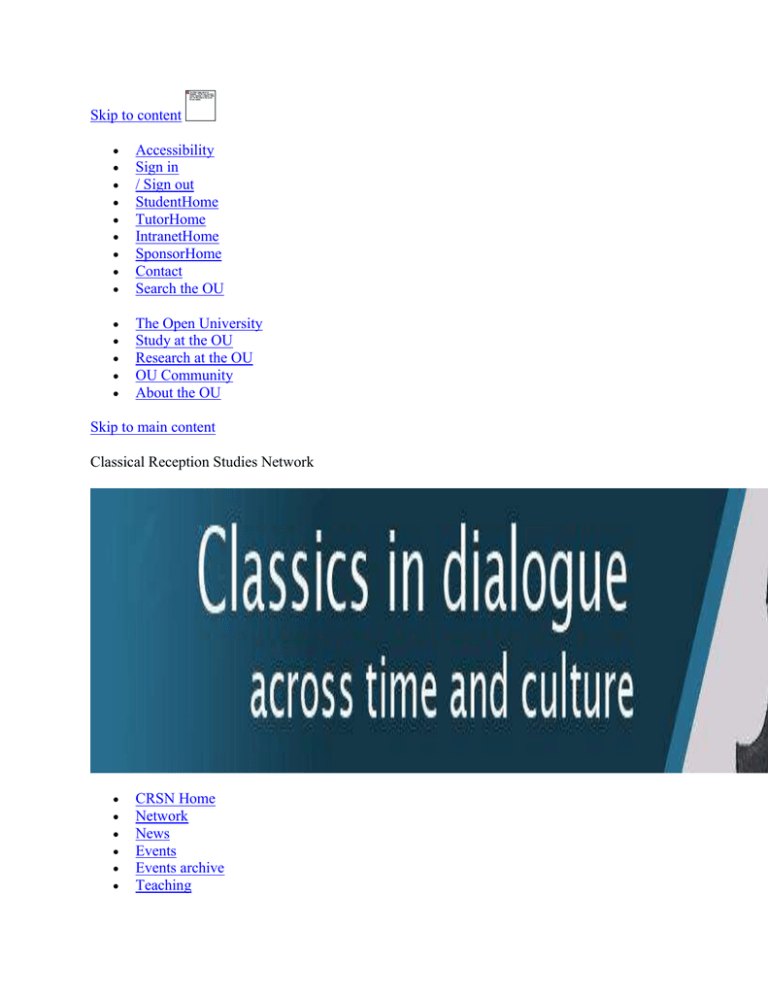 Skip to content









Accessibility
Sign in
/ Sign out
StudentHome
TutorHome
IntranetHome
SponsorHome
Contact
Search the OU





The Open University
Study at the OU
Research at the OU
OU Community
About the OU
Skip to main content
Classical Reception Studies Network






CRSN Home
Network
News
Events
Events archive
Teaching



Reports
Links
Contact Us
1. Classical Reception Studies Network
Welcome to CRSN
The Classical Reception Studies Network (CRSN) aims to facilitate the exchange of information
and to encourage collaboration in the field of classical reception studies by bringing together
departments and individuals from across the world. Classical Reception Studies is the inquiry
into how and why the texts, images and material cultures of Ancient Greece and Rome have been
received, adapted, refigured, used and abused in later times and often other places.
For more information on the Network and its history, please go to the Network page which
explains who we are and what we do. The Events section lists current and future Classical
Reception conferences, seminars, workshops and performances. We also have a new blog which
we will be using to communicate with members and the wider academic community.
Happy 10th Birthday to the CRSN (2004-14)
"Happy Birthday, everyone - and many happy returns!" Paul Cartledge
"Congratulations to the Classical Reception Studies Network on the first ten years, which have
done so much to make the UK an exciting centre for the study of all aspects of classical
reception. The network has been indispensable for the growing numbers of classicists who are
interested in this crucial area of our subject." William Fitzgerald
"CRSN has offered a supportive framework for my research in reception firstly as a doctoral
student and now as a lecturer. It's kept me informed of events and developments in the field,
which in turn enabled collaborations and the exchange of ideas. I cannot imagine Classical
reception studies in the UK without it!" Rosie Wyles
"Reception studies has completely transformed the field of Classics in the last fifteen years, and
the Classical Reception Studies Network has been at the forefront of this transformation. It has
been a galvanizing force for reception and has brought interested scholars and colleagues
together from around the world. Long may it flourish!" Phiroze Vasunia
"As an early career researcher, I have found the network to be a collegial environment in which
to share new ideas and receive supportive advice and constructive feedback from those more
established in the field. Although I do not work in 'reception studies' per se, I have found CRSN
events interdisciplinary and stimulating." Arlene Holmes-Henderson
The CRSN on Twitter
Follow us (@CRSN_UK) for news of CRSN and related events, as well as other items of
interest, from new publications to upcoming films and exhibitions. Tweet or email us if you
would like us to help publicise your event or announcement on Twitter.
Events

22 Jul
'Revolutions and Classics', a one-day workshop at University College London, Friday
July 22nd 2016.

13 Jun
Femi Osofisan, Post-Negritude Tradition and 50 Years of Nigerian Literary Drama
Conference Centre, University of Ibadan,
See all
News

Revolutions and Classics: Postgraduate Bursaries Reminder

'Revolutions and Classics', a one-day workshop at University College
London, Friday July 22nd 2016.
more
Back to top









The Open University







Contact
Search
Privacy and cookies
Copyright
Conditions of use
Cymraeg
0300 303 5303



















Undergraduate
Postgraduate
Research degrees
Employers
OU explained
Faculties and centres
Admin and governance
Press Room
Alumni
Jobs
Donate
Platform
OpenLearn
Facebook
Twitter
YouTube
StudentHome
Learning Support
Library
© Copyright . All rights reserved
+44 (0)300 303 5303
Contact us
Study at the OU
Research
Community
About
Accessibility
The Open University is incorporated by Royal Charter (RC 000391), an exempt charity in
England & Wales and a charity registered in Scotland (SC 038302). The Open University is
authorised and regulated by the Financial Conduct Authority.