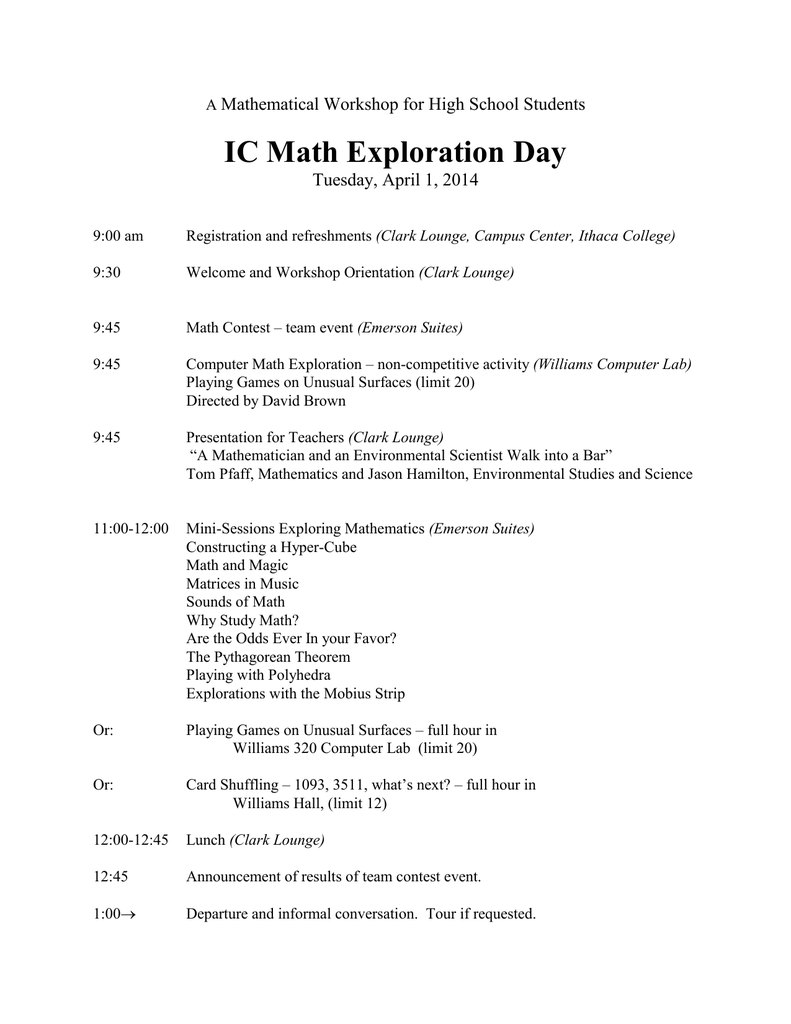 A Mathematical Workshop for High School Students
IC Math Exploration Day
Tuesday, April 1, 2014
9:00 am
Registration and refreshments (Clark Lounge, Campus Center, Ithaca College)
9:30
Welcome and Workshop Orientation (Clark Lounge)
9:45
Math Contest – team event (Emerson Suites)
9:45
Computer Math Exploration – non-competitive activity (Williams Computer Lab)
Playing Games on Unusual Surfaces (limit 20)
Directed by David Brown
9:45
Presentation for Teachers (Clark Lounge)
"A Mathematician and an Environmental Scientist Walk into a Bar"
Tom Pfaff, Mathematics and Jason Hamilton, Environmental Studies and Science
11:00-12:00
Mini-Sessions Exploring Mathematics (Emerson Suites)
Constructing a Hyper-Cube
Math and Magic
Matrices in Music
Sounds of Math
Why Study Math?
Are the Odds Ever In your Favor?
The Pythagorean Theorem
Playing with Polyhedra
Explorations with the Mobius Strip
Or:
Playing Games on Unusual Surfaces – full hour in
Williams 320 Computer Lab (limit 20)
Or:
Card Shuffling – 1093, 3511, what's next? – full hour in
Williams Hall, (limit 12)
12:00-12:45
Lunch (Clark Lounge)
12:45
Announcement of results of team contest event.
1:00
Departure and informal conversation. Tour if requested.