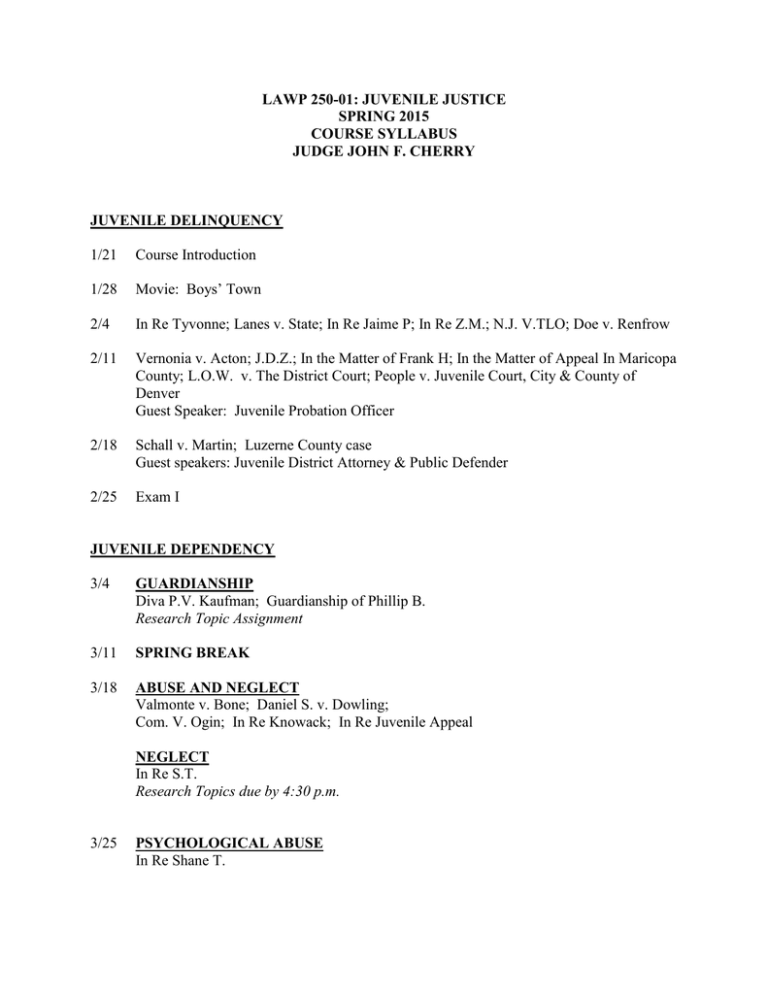 LAWP 250-01: JUVENILE JUSTICE
SPRING 2015
COURSE SYLLABUS
JUDGE JOHN F. CHERRY
JUVENILE DELINQUENCY
1/21
Course Introduction
1/28
Movie: Boys' Town
2/4
In Re Tyvonne; Lanes v. State; In Re Jaime P; In Re Z.M.; N.J. V.TLO; Doe v. Renfrow
2/11
Vernonia v. Acton; J.D.Z.; In the Matter of Frank H; In the Matter of Appeal In Maricopa
County; L.O.W. v. The District Court; People v. Juvenile Court, City & County of
Denver
Guest Speaker: Juvenile Probation Officer
2/18
Schall v. Martin; Luzerne County case
Guest speakers: Juvenile District Attorney & Public Defender
2/25
Exam I
JUVENILE DEPENDENCY
3/4
GUARDIANSHIP
Diva P.V. Kaufman; Guardianship of Phillip B.
Research Topic Assignment
3/11
SPRING BREAK
3/18
ABUSE AND NEGLECT
Valmonte v. Bone; Daniel S. v. Dowling;
Com. V. Ogin; In Re Knowack; In Re Juvenile Appeal
NEGLECT
In Re S.T.
Research Topics due by 4:30 p.m.
3/25
PSYCHOLOGICAL ABUSE
In Re Shane T.
SEXUAL ABUSE
N.J. Division of Youth and Family Services v. P.W.;
C.G. v. State of Alabama; State v. Le Tourneau
4/1
NEWBORNS/TOXICOLOGY
In Re Dante M.
DUTY TO INVESTIGATE
DeShaney v. Winnebago County Dept. of Social Services;
REASONABLE EFFORTS REQUIREMENT
In Re N.M.W.
Guest Speaker: Children and Youth Specialist
4/8
TERMINATION OF PARENTAL RIGHTS
In Re Ashley; In Re Jeffrey R.L.
ADOPTION
Adoption of M.A.; State v. Brown; In Re Petition of John Doe
4/15
MEDICAL TREATMENT
In Re J.J.; In Re D.K.; In Re D.L.E.
4/22
Guest Speaker: Dependency Attorneys and Guardian ad Litem
4/29
Exam II
5/4
Research Papers due by 4:00 p.m.