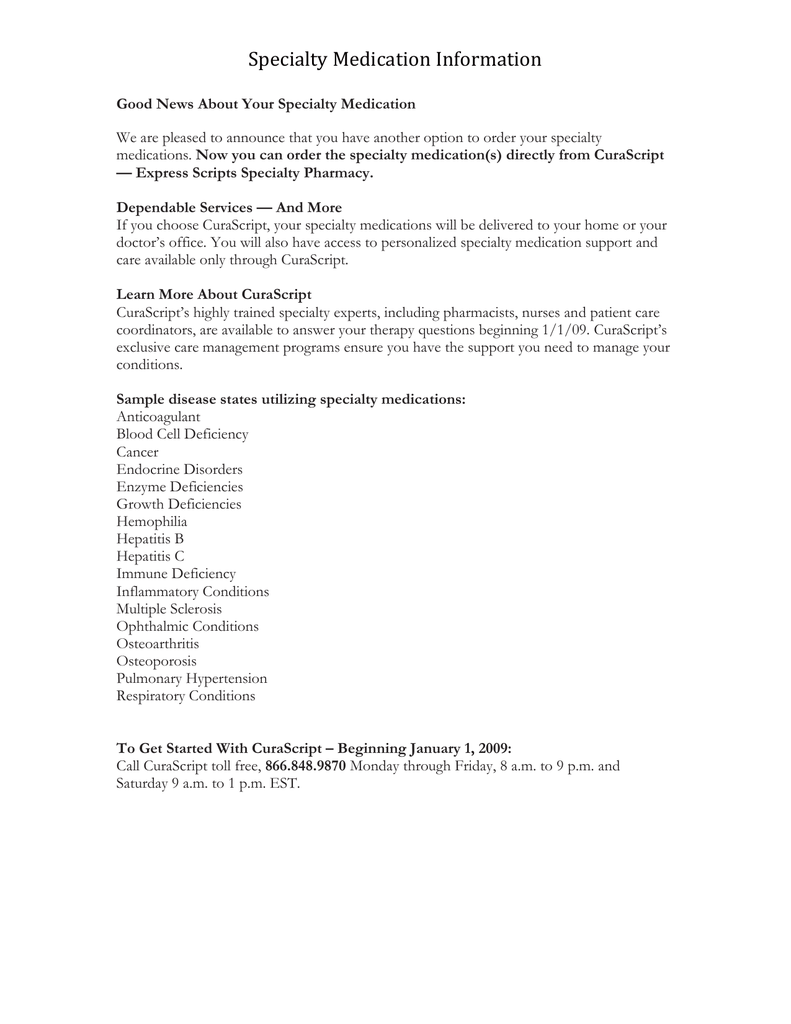 Specialty Medication Information
Good News About Your Specialty Medication
We are pleased to announce that you have another option to order your specialty
medications. Now you can order the specialty medication(s) directly from CuraScript
— Express Scripts Specialty Pharmacy.
Dependable Services — And More
If you choose CuraScript, your specialty medications will be delivered to your home or your
doctor's office. You will also have access to personalized specialty medication support and
care available only through CuraScript.
Learn More About CuraScript
CuraScript's highly trained specialty experts, including pharmacists, nurses and patient care
coordinators, are available to answer your therapy questions beginning 1/1/09. CuraScript's
exclusive care management programs ensure you have the support you need to manage your
conditions.
Sample disease states utilizing specialty medications:
Anticoagulant
Blood Cell Deficiency
Cancer
Endocrine Disorders
Enzyme Deficiencies
Growth Deficiencies
Hemophilia
Hepatitis B
Hepatitis C
Immune Deficiency
Inflammatory Conditions
Multiple Sclerosis
Ophthalmic Conditions
Osteoarthritis
Osteoporosis
Pulmonary Hypertension
Respiratory Conditions
To Get Started With CuraScript – Beginning January 1, 2009:
Call CuraScript toll free, 866.848.9870 Monday through Friday, 8 a.m. to 9 p.m. and
Saturday 9 a.m. to 1 p.m. EST.