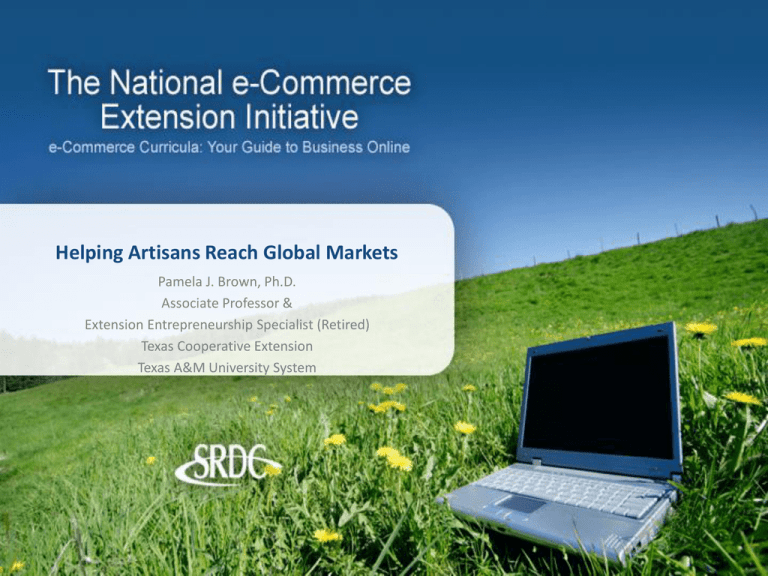 Helping Artisans Reach Global Markets
Pamela J. Brown, Ph.D.
Associate Professor &
Extension Entrepreneurship Specialist (Retired)
Texas Cooperative Extension
Texas A&M University System
Introduction to Artisan E-Commerce Curriculum
•
•
•
•
Promote the artisan industry
Support artisan economy
Strengthen the artisan business
Analyze the e-commerce
opportunities for artisans
• "Making your craft business better –
online"
craft
• Definition: (Noun) making things by hand: a
profession or activity involving the skillful
making of decorative or practical objects by
hand, e.g. weaving, pottery, or woodcarving
( often used in combination )
• Definition: (Can be used in the plural) object
produced by skillful and work: something
produced skillfully by hand, especially in a
traditional manner, e.g. a piece of pottery or
carving ( often used in the plural )
Media of Artist with Web Sites
Media of Artist Selling Online
•
•
•
•
•
•
•
•
•
•
•
•
•
•
•
•
•
•
•
•
•
•
•
•
•
•
•
•
Clocks
Paper
Book Art
Garden Art
Ceramics
Metal
Jewelry
Glass
Furniture
Wood
Baskets
Toys
Fiber
Leather
Clocks
Paper
Book Art
Garden Art
Toys
Ceramics
Metal
Jewelry
Glass
Furniture
Wood
Baskets
Fiber
Leather
•
•
Wood
With the many available
woods, each with its unique
grain, the possibilities are
endless for creating works
from wood.
•
Keywords: stain, grain,
whittling, carving, Windsor,
Mission, Shaker, Duncan
Phyfe, mortise-and-tenon
Works: furniture, sculpture,
cabinetry, toys
•
•
Fiber
Fiber has an important place
in history and the
present. From cloths used to
wrap mummies in ancient
Egypt to intricately
patterned tapestries
hanging in The Vatican,
fiber, like all objects in craft,
shares and practical and
decorative heritage.
•
Keywords: linen, merino
wool, cotton, needlepoint,
embroidery, crewel, knitting,
crochet, cut, drape,
weaving
•
Works: garments, tapestries,
rugs, blankets, dolls, baskets,
purses, sacks, sails
Creativity is the single most sought-after
attribute in the business world today—not
surprisingly, since it is unquestionably the
driving force behind today's global
economy."
–Harvey Seifter, Director, Creativity
Connection, Arts & Business Council
Activity – 10 to15 minutes
• "How can you use your creativity in
managing your business better?"
• "What is the most challenging part of
being an artisan business?"
• "What is your biggest challenge of doing
business through e-commerce?"
• "What kind of craft do you make that
you would like to sell online?"
E-Impact on Craft Businesses
Conducting business
Costs
Profit
Time
Customer relations
Employees
Vendors
Policy
Less than 60% of all small businesses have a web page!
Location, Location, Location
• Why do you live and work where you do?
– Rural
ScenicQuality of life
• How can you leverage the desirable traits of
where you live with the need to reach more
customers?
• Downside – less/no visibility
It's all about marketing. . . Using the Internet . .
. And more marketing . . . And planning.
Where (or how) do you sell most of your art?
•Walk-in art galleries
•Ebay auctions
•Imagekind
•Artist Rising
•Art.com
•Boundless Gallery
•Yessy
•PicassoMio
•ArtByUs.com
•Artflock
•GoZabo.com
•OriginalArtOnline
•RedBubble
•My own website
Source: The
Crafts Report,
2004
Who is Using Internet Facts
GLOBAL
U.S.
- 445 Million people
- 51% of most developed
countries
– 81% of teens
– 63% of adults
• 18-29 80%
• 30-39 74%
• 50-64 60%
• 65+
26%
– 60% women
– 66% men
Directories:
http://www.searchengines.com/general
Directories.html
Search Engines:
http://www.searchengines.com/general
Search.html
Meta search engines:
http://www.searchengines.com/general
Meta.html
Internet Usage by Age Group . . .
Who Are YOUR Customers?
Why Would The Following Web Sites Find Online Business Beneficial?
• www.purcifuls-toys.com
What do you think? Is this a handcraft site?
• www.awildsoapbar.com
Do these links make sense to the viewer?
• www.santafeweavinggallery.com
Does this make you want to buy their
product?
• www.oiseauxsisters.com
What does this site tell you? What do they
offer?
What Do You/Artisan Want?
• To be found?
• To be found on the first page?
• To be found at the top of the
first page?
Activity
How are a
store front
and an online
similar and
different?
In Store
Online
Business
cards-name,
logo, business
type, contact
info,
Similar
information
Brochures
Ditto
How Are A Store Front And An Online
Similar And Different?
In Store
Online
Check-out stand Transaction siteshopping cart
How Are A Store Front And An Online
Similar And Different?
In Store
Online
Yellow
pages
Signage
Search
engines
Keywords,
paid
placement
Banner
ads, links
News ads
In Store
Online
Newsletters,
mailings
Newsletters,
listservs
Subscriptions Ditto
, freebies
Drawings,
events,
shows
Ditto
In Store
Online
Home
Studio
Consignment,
special
events
Retail
Web mall,
location array affiliates
More Resources For Artisans
• Texas Commission on the Arts
– http://www.arts.state.tx.us
– http://www.arts.state.tx.us/craft/ciform
.asp
• A registry for Texas artisans
• Look for the Arts Commission in Your home state.
• American Crafts Council
– http://www.craftcouncil.org
Learn from Multiple Resource
• Do online searches of business in the same
medium
• Join local arts council and get feedback
from other members.
• Look at e – businesses you believe are
successful regardless of what they sell.
• Talk to other e – retailers.
• Look for local web developers to assist you.