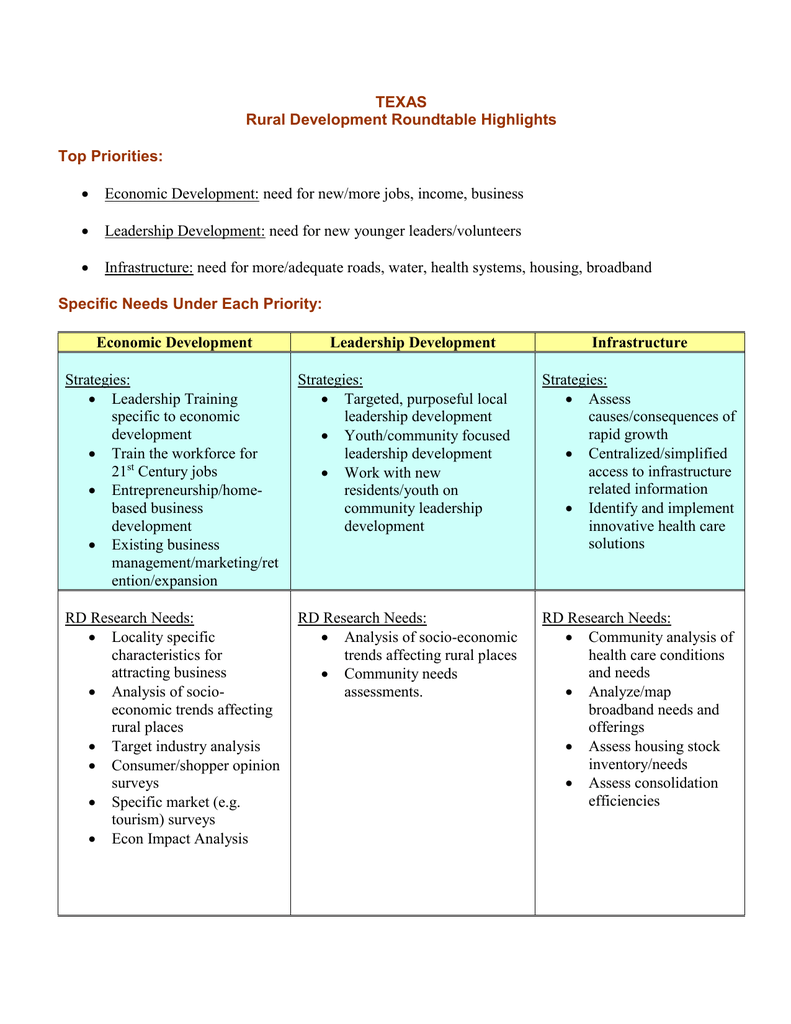 TEXAS
Rural Development Roundtable Highlights
Top Priorities:

Economic Development: need for new/more jobs, income, business

Leadership Development: need for new younger leaders/volunteers

Infrastructure: need for more/adequate roads, water, health systems, housing, broadband
Specific Needs Under Each Priority:
Economic Development
Leadership Development
Infrastructure
Strategies:
 Leadership Training
specific to economic
development
 Train the workforce for
21st Century jobs
 Entrepreneurship/homebased business
development
 Existing business
management/marketing/ret
ention/expansion
Strategies:
 Targeted, purposeful local
leadership development
 Youth/community focused
leadership development
 Work with new
residents/youth on
community leadership
development
Strategies:
 Assess
causes/consequences of
rapid growth
 Centralized/simplified
access to infrastructure
related information
 Identify and implement
innovative health care
solutions
RD Research Needs:
 Locality specific
characteristics for
attracting business
 Analysis of socioeconomic trends affecting
rural places
 Target industry analysis
 Consumer/shopper opinion
surveys
 Specific market (e.g.
tourism) surveys
 Econ Impact Analysis
RD Research Needs:
 Analysis of socio-economic
trends affecting rural places
 Community needs
assessments.
RD Research Needs:
 Community analysis of
health care conditions
and needs
 Analyze/map
broadband needs and
offerings
 Assess housing stock
inventory/needs
 Assess consolidation
efficiencies
RD Extension Needs:
 Develop alternative
products (eg biofuels,
nature tourism.
 Identify/obtain/support/coo
rdinate technical skill
training
 Value Added agriculture
economic possibilities.
 Nature tourism
development
 Youth job and selfemployment
(entrepreneurship) training.
 Business management,
marketing and finance
training.
RD Extension Needs:
 Coordinate follow-up on
rural development efforts
 Local gov't management
training and info provision.
 Facilitate/guide community
support for alternative
enterprises.
 Work with schools on
leadership training.
 Community pride and
appearance.
RD Extension Needs:
 Increased efficiencies
residential/commercial
water use.
 Address economic
impacts new
transportation systems.
 Better
understanding/utilizatio
n of emerging
technology fund.
 Identify/increase
support for rural health
care.
 Single local contact for
all rural development
resources.