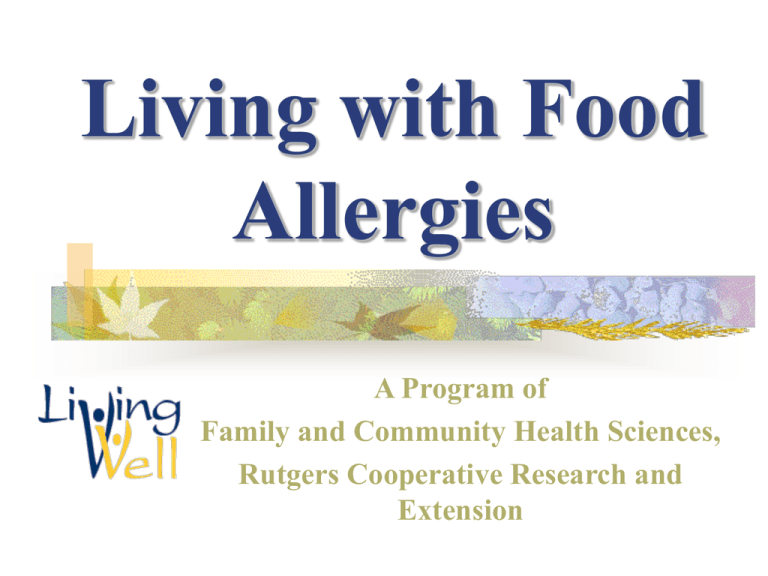 Living with Food
Allergies
A Program of
Family and Community Health Sciences,
Rutgers Cooperative Research and
Extension
The food of one may be poison
for another.
Lucretius
De Rerum Natura
Food Allergies




Leading cause of anaphylaxis outside the hospital
Lead to 30,000 emergency room visits annually
Estimated to cause 150 – 200 deaths each year
Symptoms can occur within minutes to 2 hours
In many cases of reactions, the patient believed she/he
was eating a safe food
What does it mean to have a
food allergy?



No cure
Many are lifelong
Strict food avoidance is only way to
prevent a reaction
Just one little bite can hurt!
How Many People Have Food
Allergies?
2 – 2.5% of U.S. population
 Infants
4-6%
 Young children
1-2%
 Adults
1-1.5%
6 - 7 million Americans
Big Eight Allergens


90% of all reactions come from
peanuts, tree nuts, milk, eggs,
soy, fish, shellfish & wheat.
10% come from over 160 other
foods
Tips for Living with Food
Allergies




Learn terms for ingredients specific to the allergy
Read food labels every time
Prepare food carefully
Be careful when eating out



Tell wait staff & manager about allergy
Ask questions about ingredients & preparation.
Speak to chef.
Visiting Family & Friends





Bring or send medication
Teach about food allergies
& emergency care
Tell them which foods are
safe or unsafe
Send or bring safe foods
Understand that host may
be nervous
FCHS Outreach




Parent & child care provider workshops
Professional Training – teachers, health care
providers, dietitians & others
Exhibit
Food Service Provider Training
For information or to schedule a program contact:
Daryl Minch, FCHS Educator & Project Coordinator
908-526-6295 or Minch@rcre.rutgers.edu
Website: www.rcre.rutgers.edu
Resources




Food Allergy & Anaphylaxis Network
foodallergy.org, 800-929-4040
American Dietetic Association
eatright.org, 800-877-1600
Asthma & Allergy Foundation of America
800-7-ASTHMA
International Food Information Council
Foundation
www.ificinfo.health.org, 202-296-6540
Curriculum Components

2 Power Point Presentations with Speaker Notes






Public Version: food allergic people, caregivers, school
teachers, etc.
Food Service Version- school cafeteria, camps,
restaurants, etc.
Evaluations
Marketing Materials – news releases & brochure
Newsletter Article
Resource List
Format: Curriculum on CD ROM Available June 1, 2008.
Cost: $40 including S&H Available June 1, 2008.