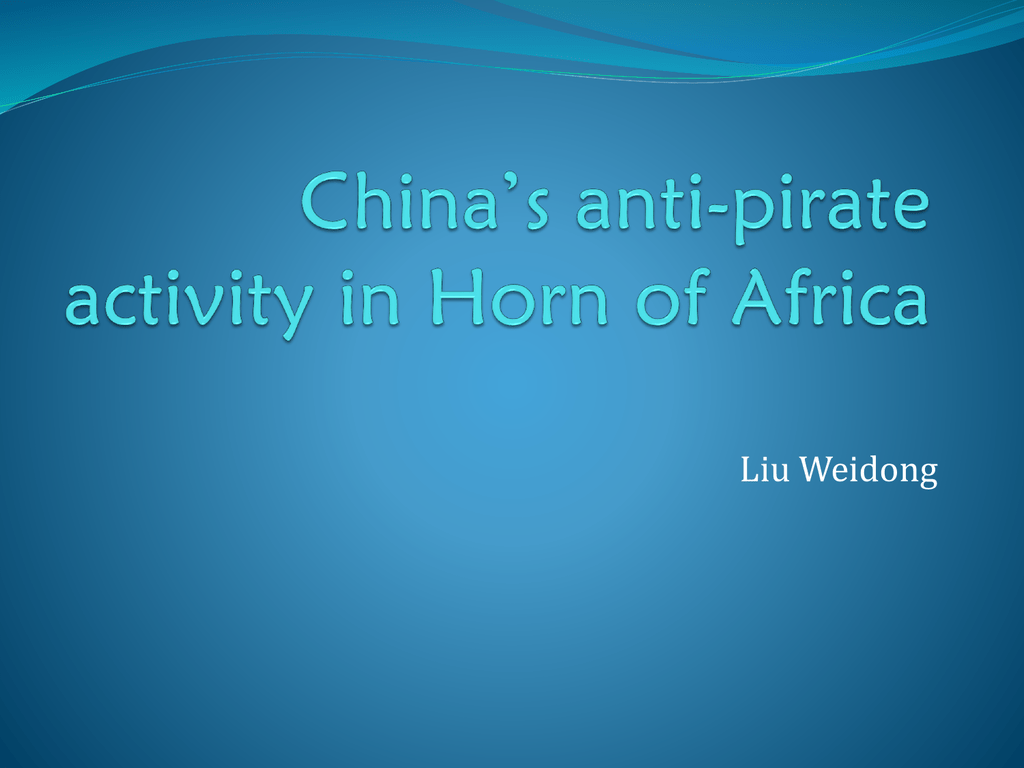 Liu Weidong
Background
 75% of China's oil import is from Middle East and Africa.
 2000 Chinese ships pass through the Gulf of Aden and horn of Africa each






year.
Economic losses caused by Somali pirates are between 7-12 billion
annually.
UN Security Council passed resolution 1816 in 2/6/2008, which calls on
international cooperation on anti pirate and has prolonged it twice till now.
From 5/2008 on, senior officials from France, Spain, Germany have
respectively encouraged Chinese government to dispatch warships to this
area.
11/2008, Both Foreign Minister of Somali Transitional Government and its
ambassador to China issued invitation to China.
At the end of Nov., soldiers in Zhenghe training ship made an anti pirate
drill。
12/20/2008, Chinese Department of Defense and Foreign Affairs declared
simultaneously that China will dispatch a fleet to escort in Somali sea area.
General Mission
 Security of vessels and crews passing through Gulf of Aden and Somali sea
area.
 Security of vessels of international organizations such as World Food
Programme which conveying humanitarians aid materials.
 Cooperating with warships from other countries to escort in this area to
keep peace and stability.
 Participating in humanitarian relief activities when necessary.
Primary process
 First formation, 12/26/2008 from Sanya, missile destroyer Wuhan and
Haikou , combined with comprehensive supply ship Weishanhu.
 Second formation, 4/2/2009 from Zhanjiang, destroyer Shenzhen, frigate
Huangshan and Weishanhu.
 Third formation, 7/16/2009 from Zhoushan, frigate Zhoushan and
Xuzhou, with supply ship Qiandaohu.
 Forth formation, 10/30/2009 from Zhoushan, frigate Maanshan and
Wenzhou, with Qiandaohu.
 Fifth formation, 3/4/2010 from Sanya, destroyer Guangzhou, frigate Caohu,
with Weishanhu.
 Sixth formation, 6/30/2010 from Zhanjiang, destroyer Lanzhou, landing
ship Kunlunshan, with Weishanhu.
 Seventh formation, 11/2/2010 from Zhoushan, Zhoushan and Xuzhou with
Qiandaohu.
 Eighth formation, 2/21/2011 from Zhoushan, Wenzhou and Maanshan first
joined the seventh formation, then with Qiandaohu.
 Ninth formation, 7/2/2011 from Zhanjiang, Wuhan, frigate Yulin with
supply ship Qinghaihu joined eighth formation, then escorted
independently till now.
Achievement
 From 12/2008-7/2011, Chinese warships had supplied escort for more
than 4000 ships from 50 countries and districts, kept 40 ships from
potential attack, and rescue 8 ships kidnapped by pirates.
 Evacuate Chinese citizens from Libya.
 Successes in cooperation with foreign navy in such a long period.
o host an international cooperation and coordination meeting on escort
o
o
o
o
in bay of Aden.
join the united navy formation conduced by U.S., NATO and EU.
propose a subarea escort plan.
construct a mechanism of information share and regular meeting with
commanders of foreign formations.
participate in multilateral joint exercise. And etc.
 Dropping in many harbors and cities ranging from Africa, Middle East to
South East Asia that has never happened before.
 Obtain positive appraise from UN, Europe countries, South Korea, even
America. (Build up positive image and deliver active messages of
cooperation)
Strategic Goal
 Set up an image of responsible stake holder in the international society.
 Secure the important international waterway against disruptive behavior of
pirates.
 Train and test Chinese Navy's capability of fighting , cruising and
coordinating in far ocean without a solid land logistical support system.
 Improve mutual understanding and impress foreign countries favorably by
the "Warship Diplomacy".
 Satisfy domestic requirements for involvement of international affair and
enhance the cohesions.
Policies Analysis
 Repeatedly emphases on the importance of authorization from UN and the




agreement of the Somali government means China neither wants to change
her long-insisting policy of no interference in internal affairs nor hopes to
stir up more uncomfortable feelings among those who have vigilance on her
navy's modernization.
All warships dispatched are modern models and made in China. It reflects
the government expects to test the reliability of self-made equipments and
inspires the people and shows state power by this expedition.
Driving away instead of direct conflict with the pirates shows that the
government is more prudent in using forces abroad, especially when this
may lead to a more complicated situation in area of which Chinese ships can
not get efficient protection.
Information sharing is important for international cooperation. It indicates
they still concern over operations abroad and cooperation with foreign
soldiers and are reluctant to take any potential risk.
The warships visited more foreign cities than ever before during and after
their escort mission, which is unusual especially when considering their
main task. It means Chinese government rates below affairs the same: fight
against pirates. develop and improve relations with other countries.
Existing Difficulties
 Shortage of competent warships results in so high rate of attendance.
 Possessing no overseas base makes the escort mission more difficult.
 Current policies shows inefficiency comparing with flexible tactics of
pirates.
Internal Disputes
 Whether to undertake the rotating chairman of the international joint fleet?
 Whether to establish independent supply bases in riparian states?
 Whether to chase pirates to land and destroy their bases?
Future expectation
 China will continue the escort activity.
 China will try to find more effective ways to fight against pirates.
 China will cooperate more with foreign countries in various fields.
Thank you!