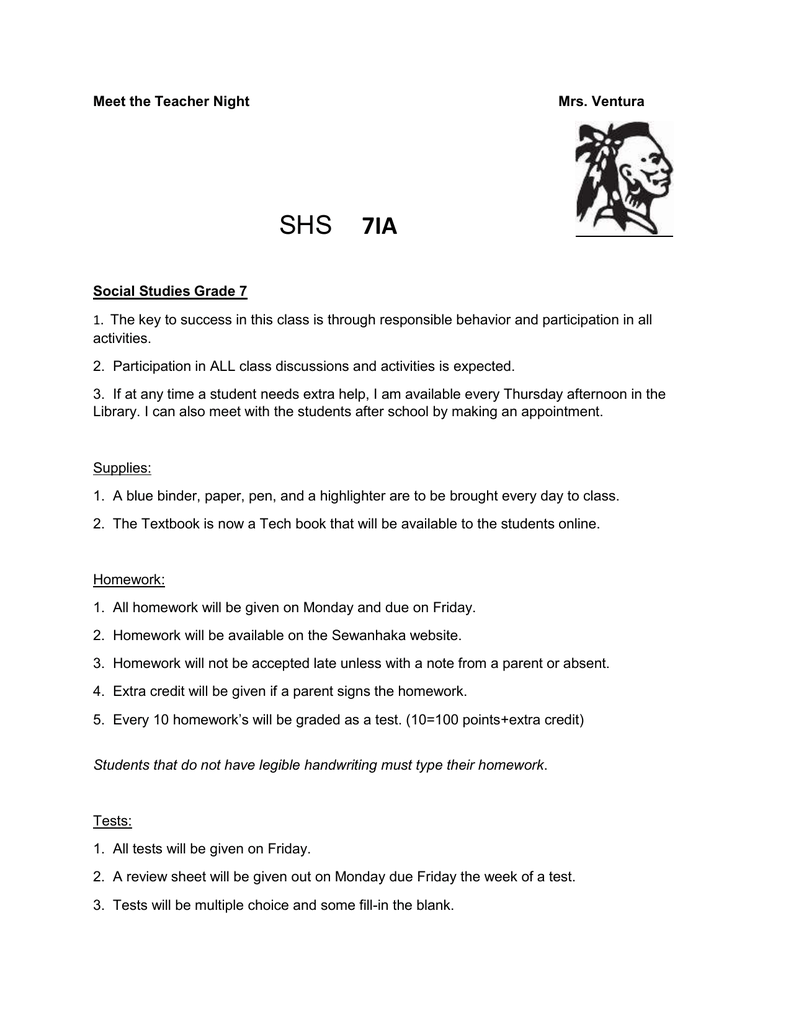 Meet the Teacher Night
Mrs. Ventura
SHS
7IA
Social Studies Grade 7
1. The key to success in this class is through responsible behavior and participation in all
activities.
2. Participation in ALL class discussions and activities is expected.
3. If at any time a student needs extra help, I am available every Thursday afternoon in the
Library. I can also meet with the students after school by making an appointment.
Supplies:
1. A blue binder, paper, pen, and a highlighter are to be brought every day to class.
2. The Textbook is now a Tech book that will be available to the students online.
Homework:
1. All homework will be given on Monday and due on Friday.
2. Homework will be available on the Sewanhaka website.
3. Homework will not be accepted late unless with a note from a parent or absent.
4. Extra credit will be given if a parent signs the homework.
5. Every 10 homework's will be graded as a test. (10=100 points+extra credit)
Students that do not have legible handwriting must type their homework.
Tests:
1. All tests will be given on Friday.
2. A review sheet will be given out on Monday due Friday the week of a test.
3. Tests will be multiple choice and some fill-in the blank.
4. Essays will be given on Monday- the first essay will be a take home test.
5. If a student is absent for a test, the day they return they must take the test.
Community Service:
1. All students are required to complete 26 hours of Community Service throughout the year.
2. I will be giving out a detailed explanation of the project to the students.
3. The Community Service Project is a yearlong project that is due in June.
Curriculum for U.S. History:
1. The 7th graders will be learning about United States History from the First Americans to
Reconstruction.
2. For each unit of study we will be doing readings, map skills, re-enactments, and connecting
history to our lives.