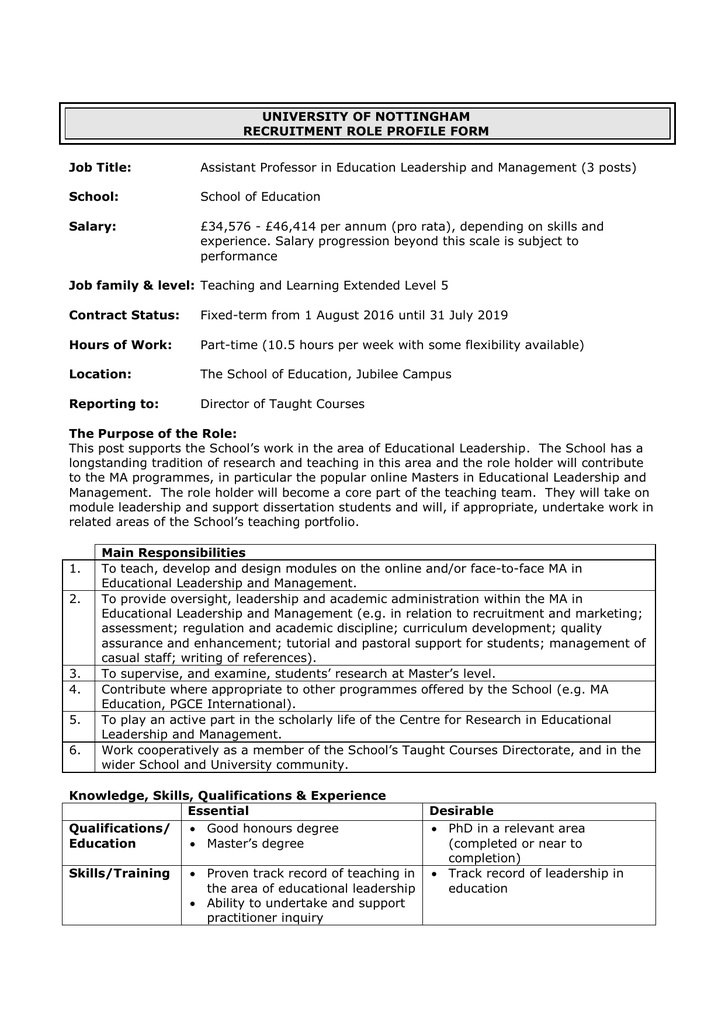 UNIVERSITY OF NOTTINGHAM
RECRUITMENT ROLE PROFILE FORM
Job Title:
Assistant Professor in Education Leadership and Management (3 posts)
School:
School of Education
Salary:
£34,576 - £46,414 per annum (pro rata), depending on skills and
experience. Salary progression beyond this scale is subject to
performance
Job family & level: Teaching and Learning Extended Level 5
Contract Status:
Fixed-term from 1 August 2016 until 31 July 2019
Hours of Work:
Part-time (10.5 hours per week with some flexibility available)
Location:
The School of Education, Jubilee Campus
Reporting to:
Director of Taught Courses
The Purpose of the Role:
This post supports the School's work in the area of Educational Leadership. The School has a
longstanding tradition of research and teaching in this area and the role holder will contribute
to the MA programmes, in particular the popular online Masters in Educational Leadership and
Management. The role holder will become a core part of the teaching team. They will take on
module leadership and support dissertation students and will, if appropriate, undertake work in
related areas of the School's teaching portfolio.
1.
2.
3.
4.
5.
6.
Main Responsibilities
To teach, develop and design modules on the online and/or face-to-face MA in
Educational Leadership and Management.
To provide oversight, leadership and academic administration within the MA in
Educational Leadership and Management (e.g. in relation to recruitment and marketing;
assessment; regulation and academic discipline; curriculum development; quality
assurance and enhancement; tutorial and pastoral support for students; management of
casual staff; writing of references).
To supervise, and examine, students' research at Master's level.
Contribute where appropriate to other programmes offered by the School (e.g. MA
Education, PGCE International).
To play an active part in the scholarly life of the Centre for Research in Educational
Leadership and Management.
Work cooperatively as a member of the School's Taught Courses Directorate, and in the
wider School and University community.
Knowledge, Skills, Qualifications & Experience
Essential
Qualifications/
 Good honours degree
Education
 Master's degree
Skills/Training
 Proven track record of teaching in
the area of educational leadership
 Ability to undertake and support
practitioner inquiry
Desirable
 PhD in a relevant area
(completed or near to
completion)
 Track record of leadership in
education
Experience
Other
 Evidence of professional
development
 High level of ICT literacy
 Excellent oral and written
communication skills
 Ability to develop learning
programmes and support student
research projects
 Ability to build relationships and
collaborate with others, internally
and externally
 Experience of curriculum
development
 Record of professional and/or
academic conference participation
and presentation at national level
 Experience of working with or
belonging to professional
organisations in the sector
 Experience of teaching and
supervision at Masters level
 Experience of online teaching
 Experience of working on
successful research projects
 Experience of developing and/or
leading research bids
 Evidence of publication record
 Record of conference
participation and presentation at
international level
 Ability to travel
Decision Making
i) taken independently by the role holder;
Advice to students on matters of pedagogy, course expectations, time management etc.
Planning teaching sessions
Advice to prospective students as part of the recruitment and admissions process
ii) taken in collaboration with others;
Curriculum review and development of ELM modules and courses in collaboration with other
PGT staff
Decisions on individual applications
iii) referred to the appropriate line manager the role holder.
Student and staff disciplinary issues to be referred to Director of Taught Courses
Financial approval for guest speakers and other additional spend to be referred to Director of
Taught Courses
Scope of the Role
The person appointed will make a significant contribution to the work of the School's
Educational Leadership and Management team via teaching, module leadership and strategic
development.