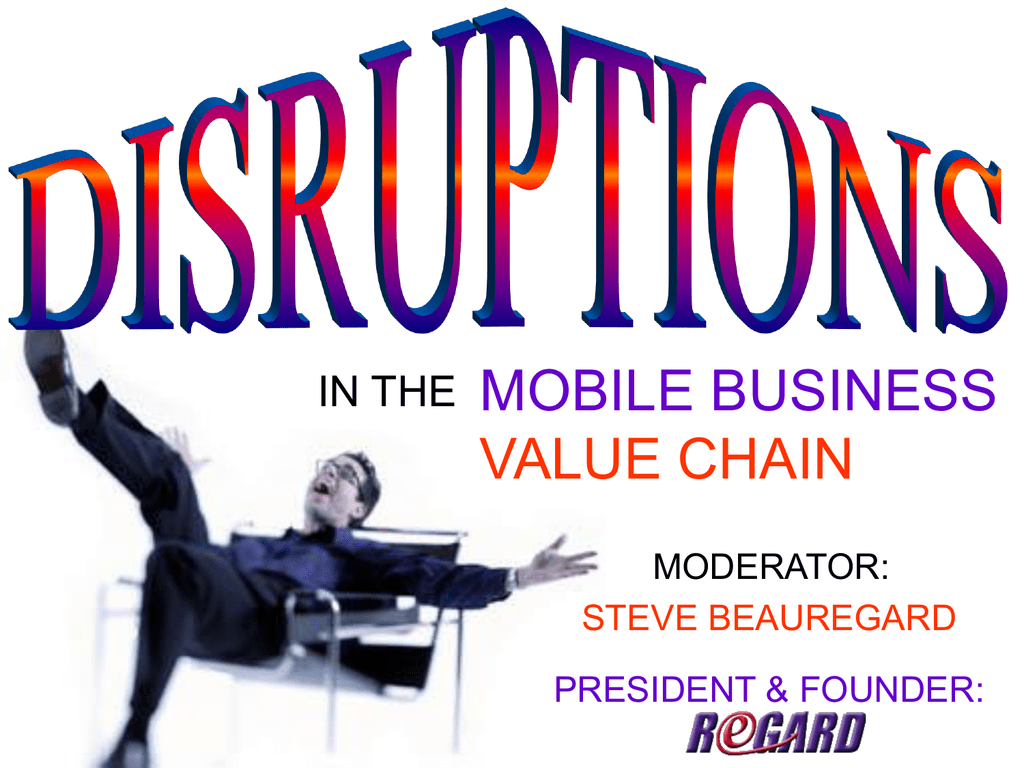 IN THE
MOBILE BUSINESS
VALUE CHAIN
MODERATOR:
STEVE BEAUREGARD
PRESIDENT & FOUNDER:
REGARD develops
mobile business applications
for wireless users.
REGARD products put
business intelligence
into the hands of
decision-makers.
13 years of service
* sytems integration
* custom application development
* wireless solutions
* wireless products
The Panel:
Companies from
different spheres need
to coordinate their
efforts & develop
strategic relationships.
JAMES SPAHN
VP Biz Development
Cell Co., Ltd.
FRANK CHINDAMO
President
Fun Little Movies
JEFF FREEBAIRN
President & CEO
Big G Mobile
The Mobile Value Business Chain
Mobile Application
Solution Providers
Aggregators
Handset
Manufacturer
Wireless
Operators
Mobile
Subscriber
Business
Environment
Universal
Broadband
Access
Wireline
Consumer
Environment
Wireless
Satellite
Service
Aware
Edge
&
Data
Aware
Transport
Service
Delivery
Platform
Any Content
Every Terminal, Everywhere
Each User
Basic Issues:
Mobile
Operations & Business Support Systems
Integration & Operations
Simplicity for end-user requires
infrastructure & service provisioning complexity.
Rich service portfolio requires
multitude of serive / content providers
Ubiquitous service availability requires
harmonized eveolution & convergence of separate networks
Access type independence requires
interworking & common principles
among fixed & mobile access networks
- How big is the market for mobile content and entertainment services in Western
Europe, and how quickly is it likely to grow?
- What are the drivers of adoption of specific services?
- What are the barriers preventing this market from significantly contributing to the
total mobile service revenues?
- What needs to be done to eliminate the barriers, and when is it likely to happen,
given the current trends in the market?
- What is the forecast value of different types of mobile content and entertainment in
Western Europe, split by key countries, market segments and technology
generation?
- What categories of content are likely to dominate the mobile content and
entertainment market?
- What trends are shaping the emerging value chain in this market? What industry
players are likely to benefit and lose out because of these trends?
- How will the revenue for mobile content and entertainment services split along the
value chain?