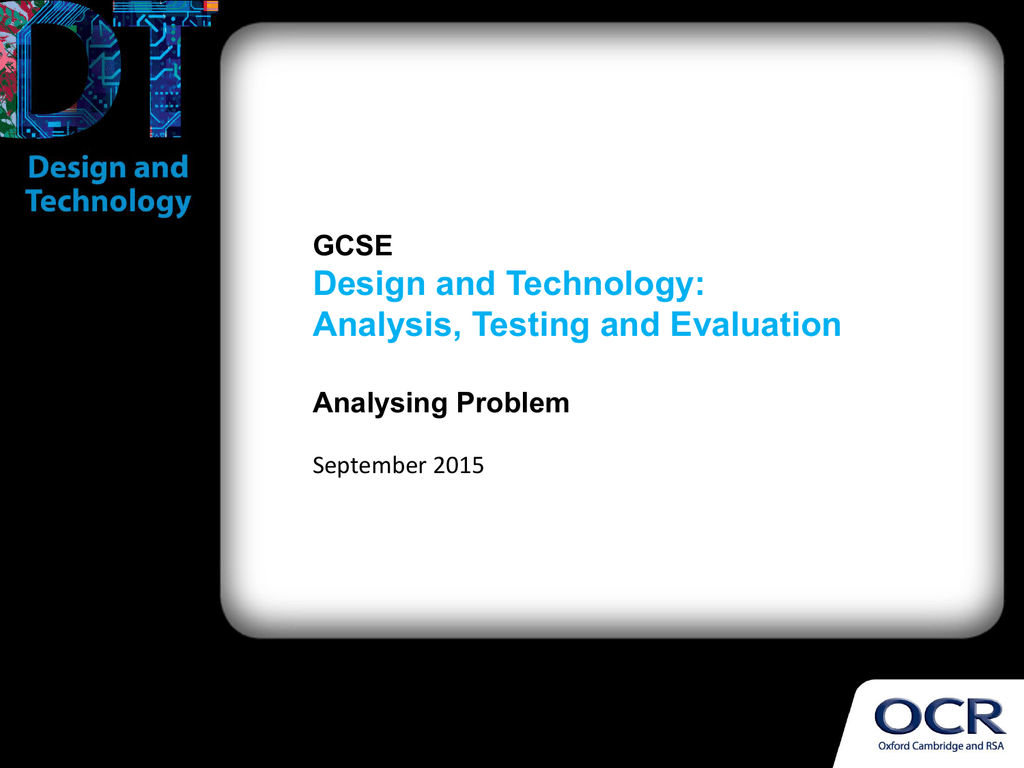 GCSE
Design and Technology:
Analysis, Testing and Evaluation
Analysing Problem
September 2015
Model 1
I am going to design and
make a package for an
MP3 player.
Logo/name
Sealed for security
Suit female
More
modern
Basic information
Award to show they have
won something because
of there product
Ethan
Sealed for security
Suits male
Very eye
catching from
bright colours
Big letters
Ethan
Information
Boring and dull
design
Suits male
Sealed for
security
Information
by picture
Ethan
Common features
The common features are they all have a seal for security
so no one steals them out of the packet and they all have
some sort of information to inform the buyer about the
product and its features but they show it in deferent ways
e.g. by pictures/symbols or writing.
Model 1, continued
Common Features
• They all have Logos.
• They all have multiple colours.
• They are all blister packs.
• They all show the actual MP3 Player in a
clear window.
• They all use the colour blue and red
(masculine colours) extensively.
• They all have a euro slot so they can be
hung up.
• They all use at least two different
materials (mainly card and plastic).
• They are all around three times bigger
than the MP3 player
Model 1, continued
My MP3 player must
1.
2.
3.
4.
5.
6.
7.
8.
9.
10.
11.
12.
Be made from thin card.
Have appealing surface graphics.
Allow all, or part of the MP3 player to be seen.
Have information on the specifications of the MP3.
Include the company logo.
Protect the MP3 player from damage.
Be able to be hung up from a euro slot.
Appeal to the target audience.
Be safe to use by children.
Be easy to open.
Be re-cycle able and eco-friendly.
Have relevant safety symbols on it.
Model 2
I am going to design
and make a package
for an MP3 player.
Model 2, continued
Model 2, continued
The existing package is difficult to open. It
could only be opened by cutting with scissors
and was still difficult to do.
Once open the package cannot be re-sealed.
The card and plastic were difficult to separate
for recycling.
Model 2, continued
I am going to re-design and make an easy to
open and environmentally friendly package for
a MP3 player.
Brief Activity Sheet
Initial Brief
What existing
solutions
exist?
Problems with
existing
solutions
Revised brief
Design and make a protective cover for a phone
Details and
images of an
existing phone
cover
Details and
images of an
existing phone
cover
Details and
images of an
existing phone
cover
• Difficult to fit.
• Tears easily.
• Covers up the
headphone
socket.
• Doesn't fit
well.
• Doesn't feel
nice.
• Only available
in two colours.
• Too expensive.
• Makes phone
too bulky to fit
in pocket.
Design a strong
cover that is
easy to fit and
allows the
headphones etc
to be plugged in.
Design and
make a well
fitting cover with
a pleasant
texture
Design a slim fitting
cover, that costs
less than £10 and
is available in a
range of fashionable
colours
.