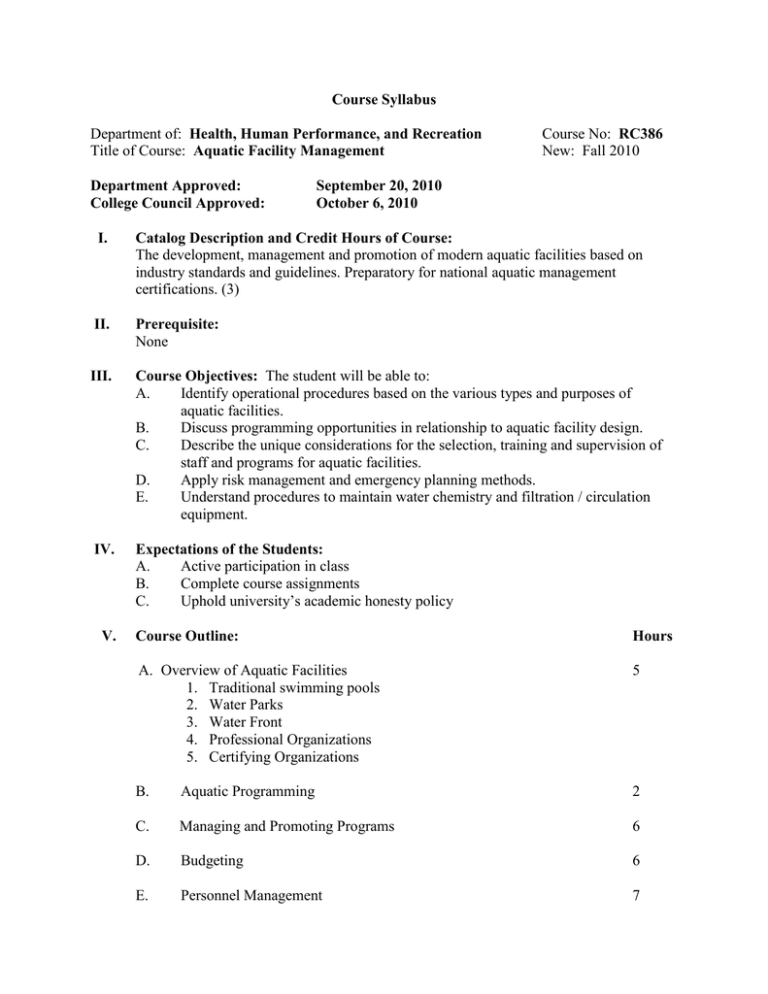 Course Syllabus
Department of: Health, Human Performance, and Recreation
Title of Course: Aquatic Facility Management
Department Approved:
College Council Approved:
Course No: RC386
New: Fall 2010
September 20, 2010
October 6, 2010
I.
Catalog Description and Credit Hours of Course:
The development, management and promotion of modern aquatic facilities based on
industry standards and guidelines. Preparatory for national aquatic management
certifications. (3)
II.
Prerequisite:
None
III.
Course Objectives: The student will be able to:
A.
Identify operational procedures based on the various types and purposes of
aquatic facilities.
B.
Discuss programming opportunities in relationship to aquatic facility design.
C.
Describe the unique considerations for the selection, training and supervision of
staff and programs for aquatic facilities.
D.
Apply risk management and emergency planning methods.
E.
Understand procedures to maintain water chemistry and filtration / circulation
equipment.
IV.
Expectations of the Students:
A.
Active participation in class
B.
Complete course assignments
C.
Uphold university's academic honesty policy
V.
Course Outline:
Hours
A. Overview of Aquatic Facilities
1. Traditional swimming pools
2. Water Parks
3. Water Front
4. Professional Organizations
5. Certifying Organizations
5
B.
Aquatic Programming
2
C.
Managing and Promoting Programs
6
D.
Budgeting
6
E.
Personnel Management
7
F. Risks and Planning for Emergencies
9
G. Water Chemistry
3
H. Operations
7
45 hours
VI.
Textbook:
Kinetics
VII.
Basis for Student Evaluation;
25% Class assignments, oral reports, homework, field trips
50% Exams
25% Projects: Staff training and policy manual.
100-90%
89-80%
79-70%
69-60%
Facet, P., (2005). Aquatic Facility Management. Champaign, IL: Human
=A
=B
=C
=D
The weight of evaluation criteria may vary at the discretion of the instructor and will be
indicated at the beginning of each course.
Students with Disabilities: Reasonable accommodations for students with disabilities
may be arranged by contacting the instructor of this course on an individual basis.