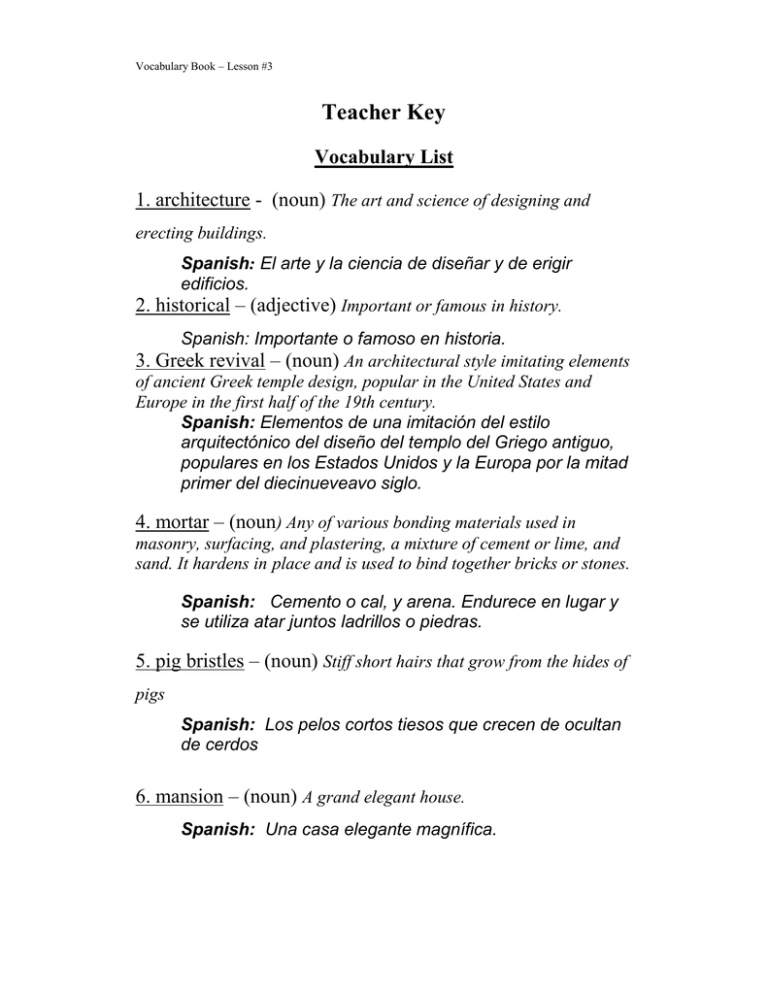 Vocabulary Book – Lesson #3
Teacher Key
Vocabulary List
1. architecture - (noun) The art and science of designing and
erecting buildings.
Spanish: El arte y la ciencia de diseñar y de erigir
edificios.
2. historical – (adjective) Important or famous in history.
Spanish: Importante o famoso en historia.
3. Greek revival – (noun) An architectural style imitating elements
of ancient Greek temple design, popular in the United States and
Europe in the first half of the 19th century.
Spanish: Elementos de una imitación del estilo
arquitectónico del diseño del templo del Griego antiguo,
populares en los Estados Unidos y la Europa por la mitad
primer del diecinueveavo siglo.
4. mortar – (noun) Any of various bonding materials used in
masonry, surfacing, and plastering, a mixture of cement or lime, and
sand. It hardens in place and is used to bind together bricks or stones.
Spanish: Cemento o cal, y arena. Endurece en lugar y
se utiliza atar juntos ladrillos o piedras.
5. pig bristles – (noun) Stiff short hairs that grow from the hides of
pigs
Spanish: Los pelos cortos tiesos que crecen de ocultan
de cerdos
6. mansion – (noun) A grand elegant house.
Spanish: Una casa elegante magnífica.
7. Texas limestone - (noun) A common sedimentary rock
consisting mostly of calcium carbonate used as a building stone.
Spanish: roca sedimentaria a que consiste sobre todo
en el carbonato de calcio usado como piedra de edificio.
8. master builder – (noun) an experienced overseer of a building
project.
Spanish: trabajo forman con experiencia de un proyecto
de edificio
9. preserve – (verb) To keep in perfect or unaltered condition;
maintain unchanged.
Spanish: Para mantener condiciones perfectas o
inalteradas; mantenga sin cambiar.