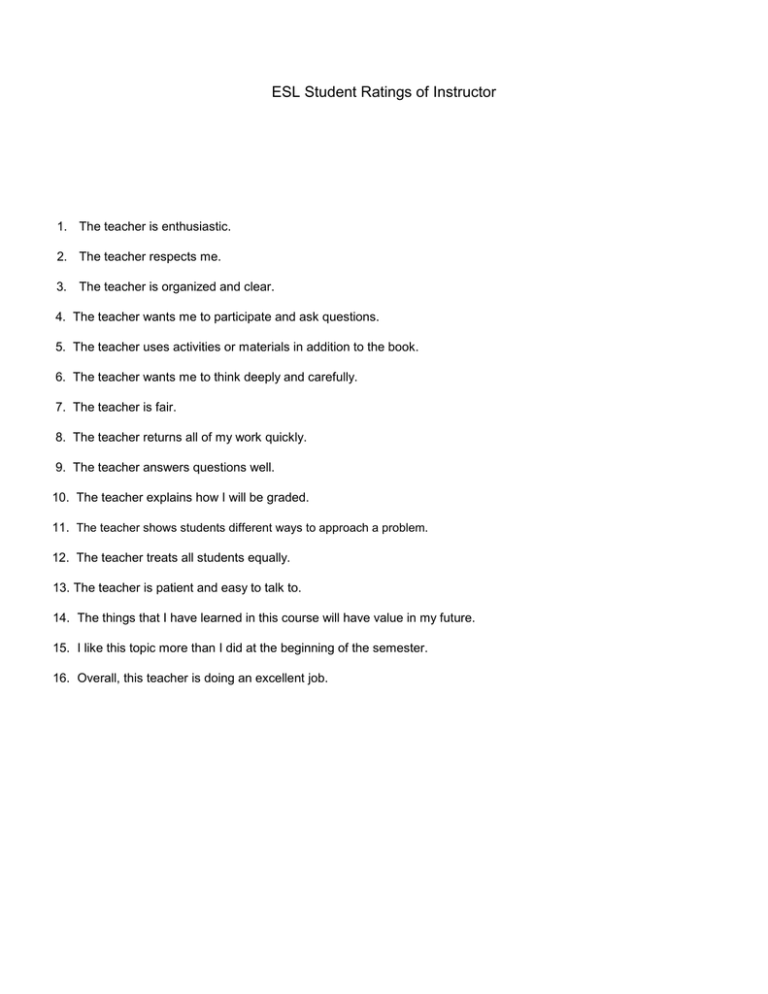 ESL Student Ratings of Instructor
1. The teacher is enthusiastic.
2. The teacher respects me.
3. The teacher is organized and clear.
4. The teacher wants me to participate and ask questions.
5. The teacher uses activities or materials in addition to the book.
6. The teacher wants me to think deeply and carefully.
7. The teacher is fair.
8. The teacher returns all of my work quickly.
9. The teacher answers questions well.
10. The teacher explains how I will be graded.
11. The teacher shows students different ways to approach a problem.
12. The teacher treats all students equally.
13. The teacher is patient and easy to talk to.
14. The things that I have learned in this course will have value in my future.
15. I like this topic more than I did at the beginning of the semester.
16. Overall, this teacher is doing an excellent job.
YOUR COMMENTS WILL BE TYPED BEFORE THEY ARE GIVEN TO THE INSTRUCTOR.
What are this instructor's teaching strengths?
How might this instructor improve this class?
What teaching methods does your instructor use that help you learn the material?
Do you have any additional comments?