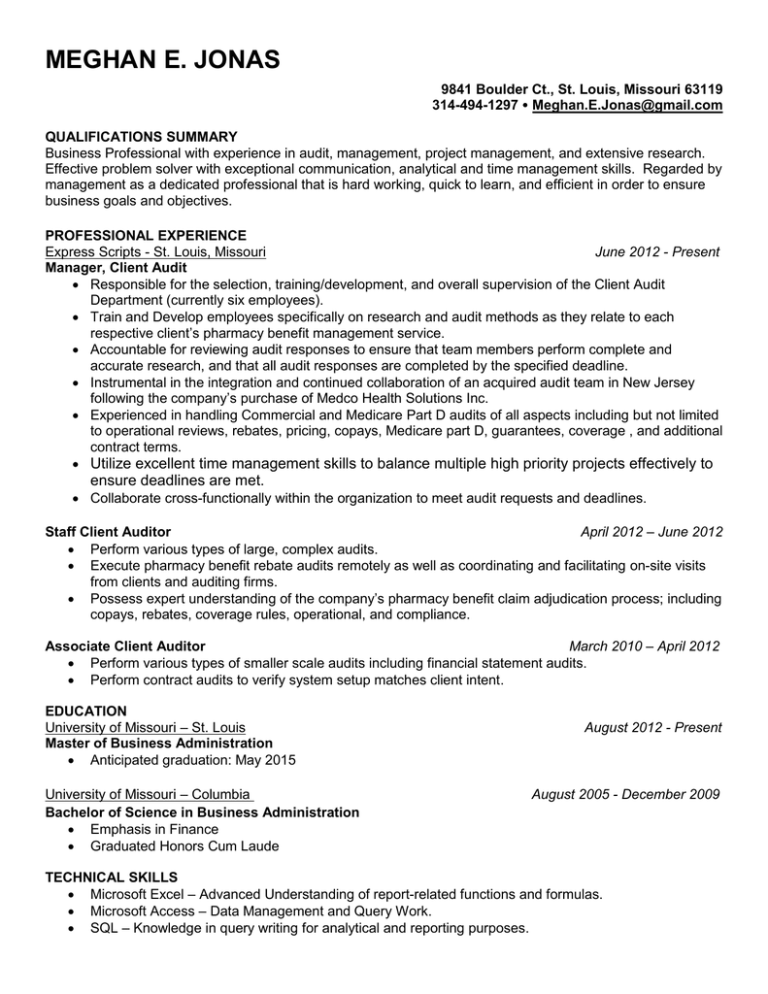 MEGHAN E. JONAS
9841 Boulder Ct., St. Louis, Missouri 63119
314-494-1297  Meghan.E.Jonas@gmail.com
QUALIFICATIONS SUMMARY
Business Professional with experience in audit, management, project management, and extensive research.
Effective problem solver with exceptional communication, analytical and time management skills. Regarded by
management as a dedicated professional that is hard working, quick to learn, and efficient in order to ensure
business goals and objectives.
PROFESSIONAL EXPERIENCE
Express Scripts - St. Louis, Missouri
June 2012 - Present
Manager, Client Audit
 Responsible for the selection, training/development, and overall supervision of the Client Audit
Department (currently six employees).
 Train and Develop employees specifically on research and audit methods as they relate to each
respective client's pharmacy benefit management service.
 Accountable for reviewing audit responses to ensure that team members perform complete and
accurate research, and that all audit responses are completed by the specified deadline.
 Instrumental in the integration and continued collaboration of an acquired audit team in New Jersey
following the company's purchase of Medco Health Solutions Inc.
 Experienced in handling Commercial and Medicare Part D audits of all aspects including but not limited
to operational reviews, rebates, pricing, copays, Medicare part D, guarantees, coverage , and additional
contract terms.
 Utilize excellent time management skills to balance multiple high priority projects effectively to
ensure deadlines are met.
 Collaborate cross-functionally within the organization to meet audit requests and deadlines.
Staff Client Auditor
April 2012 – June 2012
 Perform various types of large, complex audits.
 Execute pharmacy benefit rebate audits remotely as well as coordinating and facilitating on-site visits
from clients and auditing firms.
 Possess expert understanding of the company's pharmacy benefit claim adjudication process; including
copays, rebates, coverage rules, operational, and compliance.
Associate Client Auditor
March 2010 – April 2012
 Perform various types of smaller scale audits including financial statement audits.
 Perform contract audits to verify system setup matches client intent.
EDUCATION
University of Missouri – St. Louis
Master of Business Administration
 Anticipated graduation: May 2015
University of Missouri – Columbia
Bachelor of Science in Business Administration
 Emphasis in Finance
 Graduated Honors Cum Laude
August 2012 - Present
August 2005 - December 2009
TECHNICAL SKILLS
 Microsoft Excel – Advanced Understanding of report-related functions and formulas.
 Microsoft Access – Data Management and Query Work.
 SQL – Knowledge in query writing for analytical and reporting purposes.