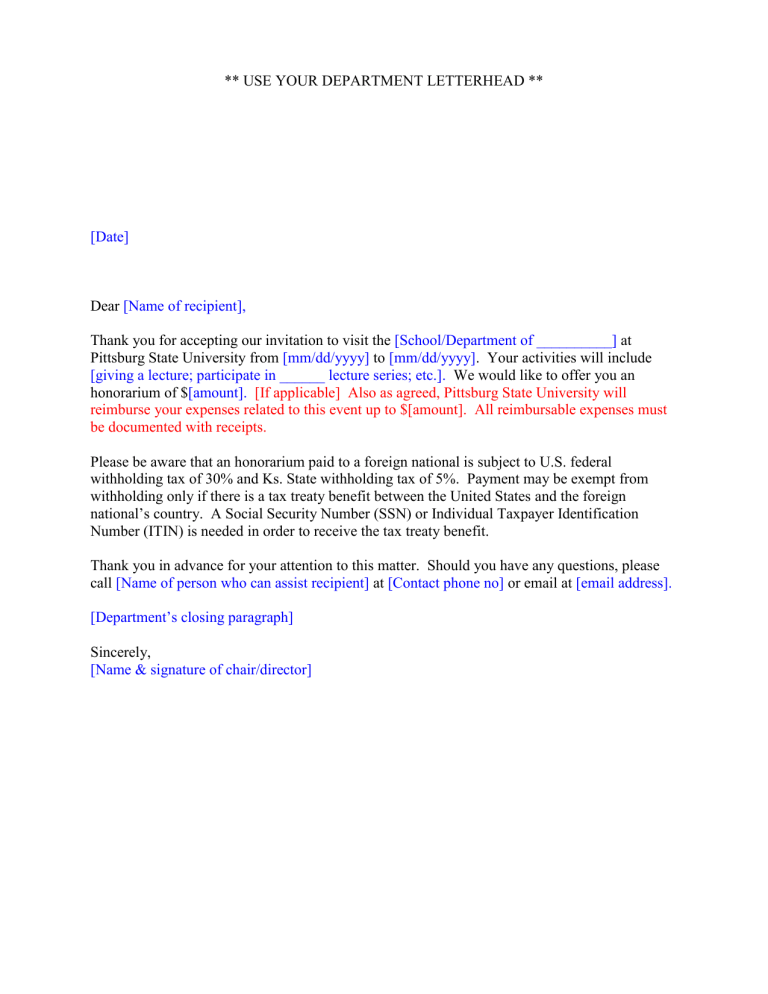 ** USE YOUR DEPARTMENT LETTERHEAD **
[Date]
Dear [Name of recipient],
Thank you for accepting our invitation to visit the [School/Department of __________] at
Pittsburg State University from [mm/dd/yyyy] to [mm/dd/yyyy] . Your activities will include
[giving a lecture; participate in ______ lecture series; etc.].
We would like to offer you an honorarium of $ [amount]. [If applicable] Also as agreed, Pittsburg State University will reimburse your expenses related to this event up to $[amount]. All reimbursable expenses must be documented with receipts.
Please be aware that an honorarium paid to a foreign national is subject to U.S. federal withholding tax of 30% and Ks. State withholding tax of 5%. Payment may be exempt from withholding only if there is a tax treaty benefit between the United States and the foreign national's country. A Social Security Number (SSN) or Individual Taxpayer Identification
Number (ITIN) is needed in order to receive the tax treaty benefit.
Thank you in advance for your attention to this matter. Should you have any questions, please call [Name of person who can assist recipient] at [Contact phone no] or email at [email address].
[Department's closing paragraph]
Sincerely,
[Name & signature of chair/director]