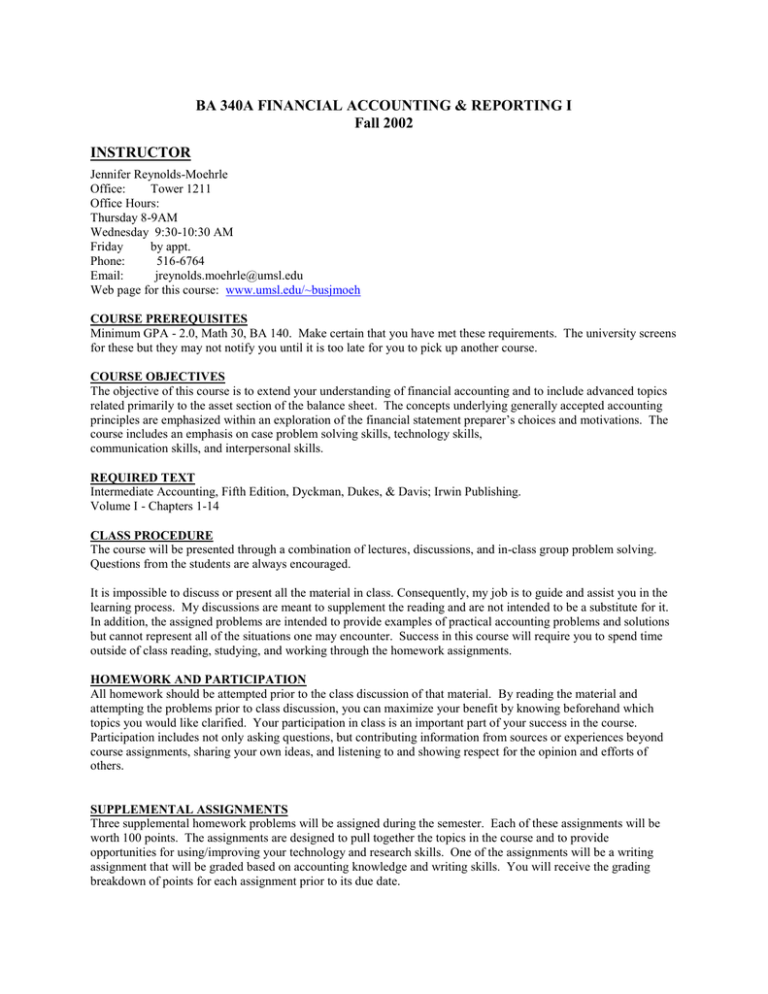 BA 340A FINANCIAL ACCOUNTING & REPORTING I
Fall 2002
INSTRUCTOR
Jennifer Reynolds-Moehrle
Office:
Tower 1211
Office Hours:
Thursday 8-9AM
Wednesday 9:30-10:30 AM
Friday
by appt.
Phone:
516-6764
Email:
[email protected]
Web page for this course: www.umsl.edu/~busjmoeh
COURSE PREREQUISITES
Minimum GPA - 2.0, Math 30, BA 140. Make certain that you have met these requirements. The university screens
for these but they may not notify you until it is too late for you to pick up another course.
COURSE OBJECTIVES
The objective of this course is to extend your understanding of financial accounting and to include advanced topics
related primarily to the asset section of the balance sheet. The concepts underlying generally accepted accounting
principles are emphasized within an exploration of the financial statement preparer's choices and motivations. The
course includes an emphasis on case problem solving skills, technology skills,
communication skills, and interpersonal skills.
REQUIRED TEXT
Intermediate Accounting, Fifth Edition, Dyckman, Dukes, & Davis; Irwin Publishing.
Volume I - Chapters 1-14
CLASS PROCEDURE
The course will be presented through a combination of lectures, discussions, and in-class group problem solving.
Questions from the students are always encouraged.
It is impossible to discuss or present all the material in class. Consequently, my job is to guide and assist you in the
learning process. My discussions are meant to supplement the reading and are not intended to be a substitute for it.
In addition, the assigned problems are intended to provide examples of practical accounting problems and solutions
but cannot represent all of the situations one may encounter. Success in this course will require you to spend time
outside of class reading, studying, and working through the homework assignments.
HOMEWORK AND PARTICIPATION
All homework should be attempted prior to the class discussion of that material. By reading the material and
attempting the problems prior to class discussion, you can maximize your benefit by knowing beforehand which
topics you would like clarified. Your participation in class is an important part of your success in the course.
Participation includes not only asking questions, but contributing information from sources or experiences beyond
course assignments, sharing your own ideas, and listening to and showing respect for the opinion and efforts of
others.
SUPPLEMENTAL ASSIGNMENTS
Three supplemental homework problems will be assigned during the semester. Each of these assignments will be
worth 100 points. The assignments are designed to pull together the topics in the course and to provide
opportunities for using/improving your technology and research skills. One of the assignments will be a writing
assignment that will be graded based on accounting knowledge and writing skills. You will receive the grading
breakdown of points for each assignment prior to its due date.
EXAMS
There will be three examinations during the semester and a final exam. The first three exams will emphasize
material covered since the previous exam and are required. The final exam will be comprehensive and is optional.
The final exam can be used to replace a grade on a previous exam.
The examinations will consist of both practice and theory questions. Some questions will require multiple choice
responses while others will require journal entries, financial statement presentation, short answers, and solution of
problems.
GRADING
Following is a breakdown of the total points available for this course.
Exams (3 @ 200 points each)
Supplemental Homework assignments (3 @ 100 pts)
Quizzes (1 take-home worth 20 pts, 4 in-class, drop 1)
Attendance (Take 12, count 10)
Total
Extra credit
600 points
300 points
50 points
50 points
1000 points
30 points
Therefore, there are 1000 points possible for this course. Letter grades will be based on total points earned and will
be determined based on a curve developed at the end of the course. My expectation is that the grades will be
distributed as: 90% - A; 80% - B; 70% - C; 60% - D. The University has adopted a plus/minus grading system. I
will be using pluses and minuses in final grades.
One final note about grades. For most of you, this course is the first upper division course in your major. Make
certain that you understand the College of Business standards for maintaining good standing and graduating. In
particular, the College of Business requires you to maintain a 2.0 GPA to continue to take upper division courses
and to graduate. In addition, the Accounting department requires you to maintain a 2.0 GPA in your accounting
classes to graduate with an accounting degree. The Accounting department will use the GPA that includes ALL
accounting courses taken, even if you have grade modified on your transcript. The Business school follows this
same policy. In other words, all of your grades matter.
DROP POLICY
Your attention is directed to two critical dates. According to UMSL rules, anyone dropping a course after Sept. 18
must receive a grade for that course. Nov. 12 is the last day anyone may drop a course for the semester. It is my
intent to firmly abide by these rules with this exception. I will allow anyone to drop the course with an excused
grade regardless of the grades earned at this time until Oct. 7. Between Oct. 7 and Nov. 12 you will only be given
an excused grade if you are earning a 60% at the time the request is made. There will be no withdrawals of any type
after Nov. 12.
MAKEUP EXAM POLICY
The final exam will be used as a makeup exam for those cases where your absence from the regularly scheduled
examination is for a legitimate, unavoidable and verifiable reason. There will be no other makeup exams offered.
LATE ASSIGNMENTS
At my discretion, I will accept late assignments when there is a valid excuse. Late assignments can never receive
full credit and will at most receive 75% of the credit.
ACADEMIC DISHONESTY
I don't expect to have to deal with academic dishonesty this semester but I feel it is necessary to be clear on where I
stand. Academic dishonesty is never worth the risk. It can not only result in the maximum punishment of expulsion
from school, but can at a minimum send a damaging signal to future employers regarding your integrity. There are
always other options available besides cheating (such as talking to the instructor if you are stressed, late, lost, etc.). I
have always taken cheating very seriously. It has been my personal policy to give any involved student an F for the
course when academic dishonesty is discovered and verified. I make no distinction between cheating on homework,
quizzes, or exams.
In-class examples and class notes
You are responsible for checking the web-site www.umsl.edu/~busjmoeh before each class in order to print and
bring to class any in-class examples or class handouts. I will not bring copies to class if the example is on the website before class.
In addition, I will make available the class notes that I use for each day's class on the web-site AFTER each day's
class. These notes should not substitute for reading the text, but are meant as a guide for clarifying what you read.
Extra credit points
You will have the opportunity to earn up to 30 extra credit points during the semester. Your options are as follows:
Presentation of a class-related article (up to 3)
10 pts. each
Attendance at an Accounting Club or
other other Business Fraternity meeting (up to 3)
10 pts. each
Handing in suppl. homework at least 1 week early
10 pts. each
Practice questions for exam (up to 6),maximum
of 2 per test to be handed in (e-mailed)
1 week before exam date(none for final!)
5 pts. each
BA 340 A
FINANCIAL ACCOUNTING &
REPORTING I
TENTATIVE COURSE SCHEDULE - Fall 2002
DATE
Class
TOPIC
number
READING
ASSIGN
WRITTEN ASSIGN
Aug. 22
1
The Accounting Environment
.
27
2
Conceptual Framework
Chapter 1,2
E2-7,8
29
3
Is it an asset?
Sep. 3
4
The Accounting Process
Chapter 3
E3-1
5
5
Adjusting Journal Entries
E3-10
10
6
AJE's and Closing Entries
P3-4
7
Income Statement and
Comprehensive Income
17
8
Disc. Oper. And Extra.Items
19
9
Balance sheet and cash flows
12
Chapter 4
C4-4, A4-3
Chapter 5
10
24
E4-4,15
E5-4,7
Supp1. HW quiz - 50 pts (first 40
minutes of class)
Cash flows
P5-8, part 1
11
26
E5-18; P5-8 part2; C5-5
Ratios and review
Suppl. HW 1 due – 50 pts B.O.C.
Oct. 1
12
Exam 1
In class
200 pts
3
13
Time Value of Money
Chapter 6
E6-3,12,15, P16-17,19, C6-1
14
Amortization schedule/Intro. to
Chapter 7
15
Revenue & Expense
Chapter 7
E7-7,8
8
10
Recognition
15
16
Revenue & Exp Recognition
.
E7-10,11
17
17
Cash
Chapter 8
E8-1,2
22
18
Cash/Accounts Receivable
.
E8-7, P8-1
19
24
E8-11,P8-8
Accounts Receivable
Chapter 8
Writing assignment due – 100 pts
Beginning Of Class
20
Accounts Receivable
.
P8-14
21
Accounts Receivable and
Review
Nov. 5
22
Exam 2, part 1
In class
7
23
Exam 2, part 2
In class
12
24
Inventory-M&M day/basics
Chapter 9
14
25
Inventory
.
19
26
Inventory
21
27
Inventory
26
28
Inventory
Dec. 3
29
Exam #3
29
31
5
30
E8-29, P8-23
200 pts total
.E9-1,9 , P9-10
E9-19,22
Chapter 10
E10-4,D10-13, E10-15, P10-3
E10-19, P10-20,
In class
Supplemental 3 work day
200 pts.
Supplemental 3 due Dec 9 by
5p.m.- 100 pts.
FINAL EXAM(in our class room)
9:30 class: Tuesday, Dec. 17, @7:45-9:45 AM!!
11:00 class: Tuesday, Dec. 17, @ 10:00-12:00AM!!