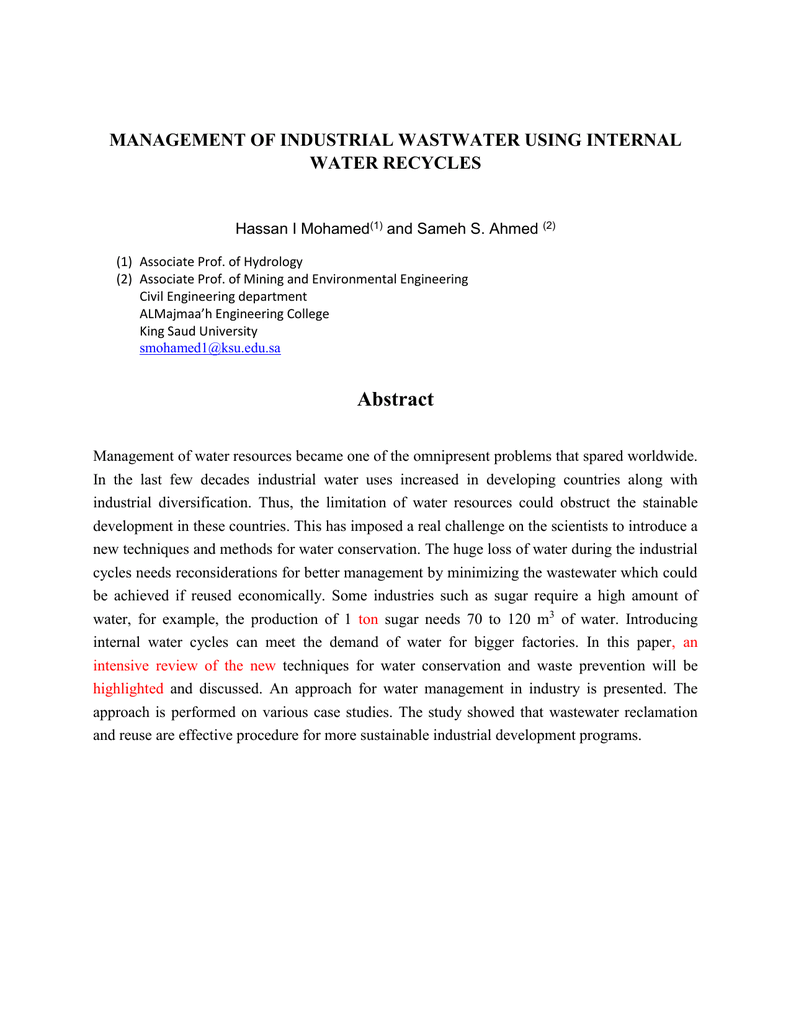 MANAGEMENT OF INDUSTRIAL WASTWATER USING INTERNAL
WATER RECYCLES
Hassan I Mohamed(1) and Sameh S. Ahmed (2)
(1) Associate Prof. of Hydrology
(2) Associate Prof. of Mining and Environmental Engineering
Civil Engineering department
ALMajmaa'h Engineering College
King Saud University
[email protected]
Abstract
Management of water resources became one of the omnipresent problems that spared worldwide.
In the last few decades industrial water uses increased in developing countries along with
industrial diversification. Thus, the limitation of water resources could obstruct the stainable
development in these countries. This has imposed a real challenge on the scientists to introduce a
new techniques and methods for water conservation. The huge loss of water during the industrial
cycles needs reconsiderations for better management by minimizing the wastewater which could
be achieved if reused economically. Some industries such as sugar require a high amount of
water, for example, the production of 1 ton sugar needs 70 to 120 m3 of water. Introducing
internal water cycles can meet the demand of water for bigger factories. In this paper, an
intensive review of the new techniques for water conservation and waste prevention will be
highlighted and discussed. An approach for water management in industry is presented. The
approach is performed on various case studies. The study showed that wastewater reclamation
and reuse are effective procedure for more sustainable industrial development programs.