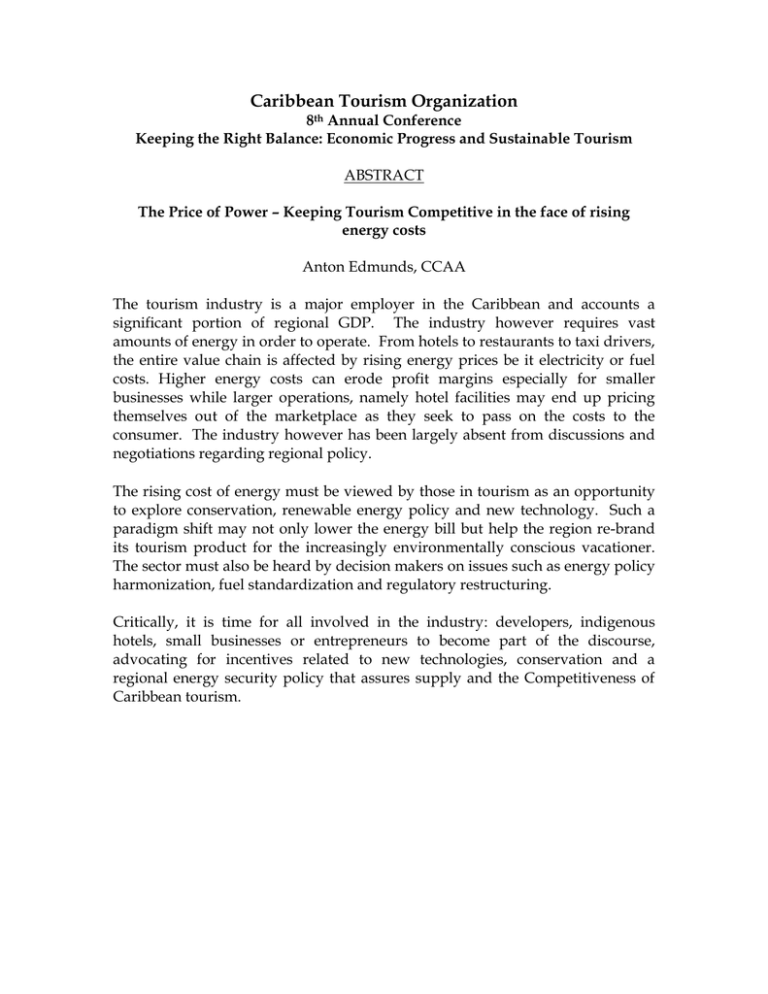 Caribbean Tourism Organization
8th Annual Conference
Keeping the Right Balance: Economic Progress and Sustainable Tourism
ABSTRACT
The Price of Power – Keeping Tourism Competitive in the face of rising
energy costs
Anton Edmunds, CCAA
The tourism industry is a major employer in the Caribbean and accounts a
significant portion of regional GDP. The industry however requires vast
amounts of energy in order to operate. From hotels to restaurants to taxi drivers,
the entire value chain is affected by rising energy prices be it electricity or fuel
costs. Higher energy costs can erode profit margins especially for smaller
businesses while larger operations, namely hotel facilities may end up pricing
themselves out of the marketplace as they seek to pass on the costs to the
consumer. The industry however has been largely absent from discussions and
negotiations regarding regional policy.
The rising cost of energy must be viewed by those in tourism as an opportunity
to explore conservation, renewable energy policy and new technology. Such a
paradigm shift may not only lower the energy bill but help the region re-brand
its tourism product for the increasingly environmentally conscious vacationer.
The sector must also be heard by decision makers on issues such as energy policy
harmonization, fuel standardization and regulatory restructuring.
Critically, it is time for all involved in the industry: developers, indigenous
hotels, small businesses or entrepreneurs to become part of the discourse,
advocating for incentives related to new technologies, conservation and a
regional energy security policy that assures supply and the Competitiveness of
Caribbean tourism.